Test & Measurement
Aug 1st, 2017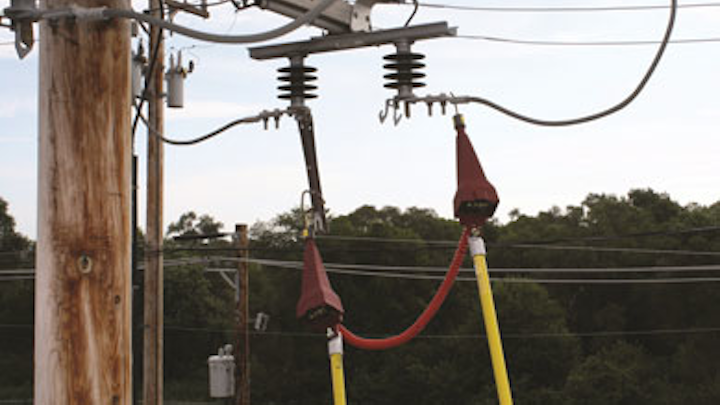 Digital Voltmeter/Phaser Double Vision
Voltage meter: HD Electric Co., a Textron Inc. company, has launched its new Double Vision Dual Display Digital Voltmeter, a compact, high-accuracy, dual-display voltmeter and phasing set with capacitive test point mode and peak hold. It can be used in both overhead and underground applications and is accurate and repeatable to within 1 percent. The voltmeter is lightweight and its weather-resistant construction is ideal for use in tight work environments with minimum approach distances or with storm duty during disaster relief.
The Dual Display Digital Voltmeter, Model DDVM-40, measures voltage from 5V to 40 kV and the voltage is displayed on the two large bright LED displays that can easily be read from a distance or in bright conditions. The two LED displays are synchronized so that the same voltage reading is shown on both displays. There is also a dual battery monitor with automatic shut off.
The Dual Display Digital Voltmeter has a single button interface that controls all modes including: line to line measurements, line to ground measurements, capacitive test point, cable fault testing, real time and peak hold reporting.
There are several probes and accessories that can be added to enhance your work effort.
HD Electric Co.
---
Stakeless Earth Ground Clamp Takes Measurement Quickly, Safely
Test equipment: Testing the grounding components of equipment by disconnecting parallel grounds and finding suitable locations for auxiliary ground stakes can be dangerous and time-consuming. With the new Fluke 1630-2 FC Stakeless Earth Ground Clamp, electricians and maintenance technicians can measure earth ground loop resistances for multi-grounded systems using only the dual-clamp jaw, so measurements can be taken quickly and safely without having to expose conductors.
The clamp automatically records data at pre-set intervals and saves up to 32,760 measurements in memory at the set logging intervals. Its heavy-duty clamp jaw is designed to stay in alignment and calibration even in the harshest industrial environments.
The 1630-2 FC is part of Fluke Connect - a system of more than 40 wireless test tools that communicate through the Fluke Connect app, or Fluke Connect Assets software, a cloud-based solution that gathers measurements to provide a comprehensive view of critical equipment status - allowing technicians to view, record and share measurements from the clamp in real time through their smartphones or tablets and automatically upload them to Fluke Cloud storage along with tags and the GPS location of assets. The clamp is also available in a non-Fluke Connect model.
Fluke
---
Voltage Detectors PRX Proximity
HD Electric Co., a Textron Inc. company, has released its PRX Proximity Voltage Detectors. These voltage detectors come in three versatile, lightweight and weather resistant models that allow linemen to safely and accurately verify the presence of voltage without contacting the conductor, making it flexible to use under any condition.
The PRX Proximity Voltage Detector line features the PRXTM "Sensing Zone," which allows for directional discrimination when working around complex over builds and under builds, making the detectors useful for various working environments.
Each detector in the PRX Proximity Voltage Detector line features a rechargeable Lithium-Ion battery that, with a 15-minute charge, will last a full day and, with a three-hour charge, will last a whole week. All detectors come with dual mounting options - universal spline and shotgun stick - and display a clear warning of voltage with flashing LED lights and a loud audible alarm.
The PRX Proximity Voltage Detector line has three models with voltage ranges from 50V up to 500 kVAC, so different utility professionals can get as specific as they need to:
PRX-500 - Intended for transmission, this detector has nine standard voltage ranges from 120 VAC up to 500k VAC.
PRX-69D - Designed specifically for distribution crews, this detector works on distribution ranges from 120 VAC to 69 kVAC.
PRX-4 - Essentially a HI/LO proximity voltage detector, the PRX-4 serves a wide range of applications such as storm assessment, meter reading, and much more.
HD Electric Co.
---
SF6 Gas Leak Detector Reduces Potential Utility Equipment Damage
Utility testing: Identifying leaks of sulfur hexafluoride (SF6), which is used as an electrical insulator in high-voltage utilities applications, generally requires the purchase or rental of an expensive gas detector or hiring an outside consultant. The alternatives are shutting down equipment and using a sniffer, which after some time, can determine only the approximate area of the leak, or coating the entire equipment in soapy water and inspect, which is time consuming and requires the equipment to be powered down.
The new Fluke Ti450 SF6 Gas Leak Detector combines a high-quality infrared camera with an SF6 leak detector that visually pinpoints the location ofSF6 leaks without shutting down equipment. The Ti450 SF6 allows utility crews to include it as a normal part of their maintenance routine, allowing them to conduct both infrared and gas inspections whenever and wherever necessary. It eliminates the need to wait for special annual or bi-annual leak inspections - and the corresponding expensive equipment rentals or contractors - so maintenance work can be done as required, reducing potential equipment damage.
Fluke
---
Voltage/Continuity Tester Combines Accuracy of Digital Circuitry with Solenoid Vibration Mode
Test products: IDEAL Electrical's Vol-Con Elite is a professional-grade voltage/continuity tester that combines the best attributes of a solenoid tester - including a vibration mode, low impedance and ruggedness - with the advanced safety capabilities and higher test accuracy afforded by digital circuitry.
The Vol-Con Elite does not heat up over extended periods of use, a common problem with solenoid testers. In addition, the digital circuitry eliminates the possibility of the tester creating a spike in the line, another concern when using a solenoid model.
The Vol-Con Elite will identify voltage up to 600 VAC/220 VDC, or as low as 24 VAC/6 VDC, plus it incorporates a non-contact voltage sensor in its tip for identifying AC voltage from 40-600 VAC. An additional benefit is the tester's low impedance that eliminates ghost voltage readings that often occur with lesser quality digital testers.
Bright LED illumination, audible continuity and a comfortable cushion grip make it more than just a basic voltage/continuity tester. Users will also appreciate the tester's field replaceable silicone leads that can withstand abrasions and a wide range of temperatures.
IDEAL Electrical