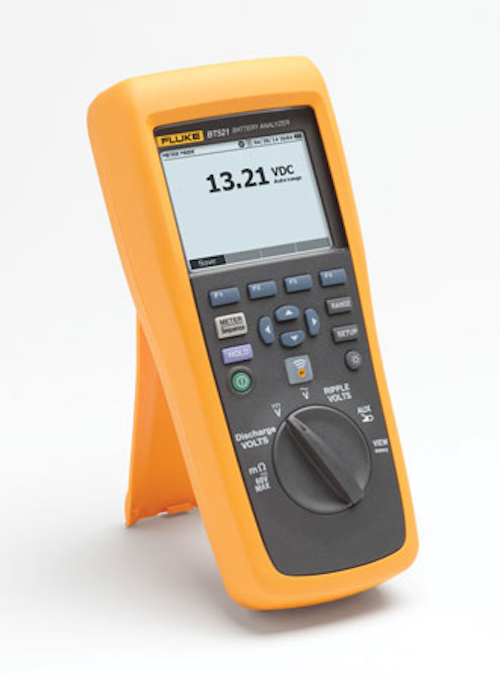 Standby battery backup systems play a critical role in keeping essential operations functional in the event of a utility outage. Knowing where battery systems fail and what tests may indicate an approaching failure can help ensure a system's reliability.
The following box provides the top reasons for battery system failure, the immediate after-effects and the worst-case scenario.
Recommended Battery Tests and Schedule
The Institute of Electronic and Electrical Engineers (IEEE) is the primary source of standard practices for battery maintenance. Over the life of the battery, the IEEE recommends performing a combination of tests on a periodic basis.
The IEEE also recommends the following schedule for discharge testing:
An acceptance test made at the manufacturer's factory or on initial installation;
Periodic discharge testing-at an interval not greater than 25 percent of the expected service life, or two years, whichever is less; and
Annual discharge testing-when any battery has reached 85 percent of the expected service life or dropped >10 percent from capacity.
Because scheduling full scale discharge testing can be difficult, regular maintenance is important. By operating the battery according to manufacturer charging requirements and following the IEEE recommendations for battery testing, it should be possible to maximize the life of the battery system.
Key Indicators of Battery Failure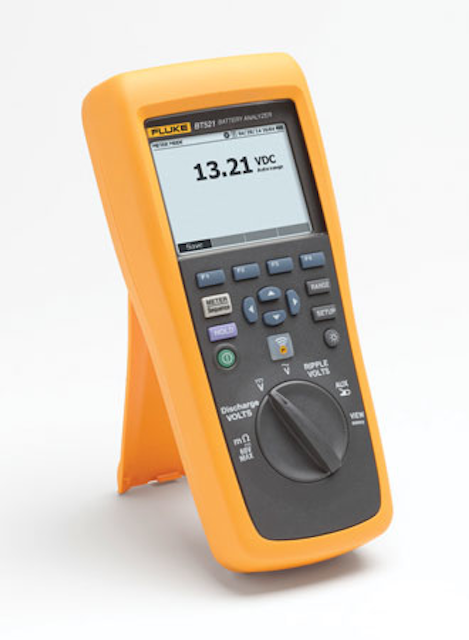 Measuring ohmic values in sequence mode
Healthy batteries should maintain a capacity of some 90 percent of the manufacturer's rating; most manufacturers recommend replacing the battery if it falls below 80 percent. When conducting battery tests, look for these indicators of failure:
Drop in capacity of more than 10 percent compared to the baseline or previous measurement;
20 percent or more increase in resistance compared to baseline or previous;
Sustained high temperatures, compared to baseline and manufacturer's specs; and
Degradation in plate condition.
How to Conduct Standard Battery Tests
It is important to make sure you are wearing the proper personal protective equipment (PPE) before conducting the following tests.
Float voltage
Measure the individual cell voltage or string using a digital multimeter or battery analyzer such as the Fluke 500 Series Battery Analyzers on a monthly basis.
Charger output
Measure the charger output voltage at the charger output terminals using a digital multimeter or battery analyzer such as the Fluke 500 Series Battery Analyzers on a monthly basis.
Observe the output current shown on the charger current meter or use an appropriate DC current clamp meter such as an Amprobe LH41A. Measure monthly.
DC float current
Refer to manufacturers specifications for approximate values for expected float currents.
Use an appropriate DC current clamp meter such as an Amprobe LH41A to measure expected float current on a monthly basis.
Internal ohmic values
Use a battery analyzer such as the BT500 series to measure the individual battery ohmic values on a quarterly basis.
Establish reference values and maintain in the battery database. The 500 Fluke Series Battery Analyzer line comes with a PC Battery management software and report generator to help maintain a database.
Common Battery Terms

Table 1: Inspections recommended by IEEE 1188 standard "Recommended Practice for Maintenance, Testing and Replacement of Valve-Regulated Lead-Acid (VRLA) Batteries for Stationary Applications"
Capacity test: a discharge of a battery at a constant current or a constant power to a specified voltage.
Float voltage: the voltage at which the battery is held by the charging system to compensate for the natural discharge of the connected batteries.
Float current: the current that flows while the battery is held at the float voltage.
Internal ohmic values: the internal resistance of the battery (a characteristic of every battery).
Discharge testing: the battery is connected to a load until the battery voltage falls below a defined preset limit.
AC ripple current: residual AC on the rectified voltage in DC charging and inverter circuits.
The Fluke 500 Series Battery Analyzers were designed from the ground up to match IEEE recommendations for maintenance, troubleshooting and performance testing of individual stationary batteries and battery banks used in critical battery back-up applications.
Top 5 Causes of Battery Failure
Loose terminals and inter-cell connections
Aging
Over-charging and over-discharging
Thermal runaway1
Ripple
The weakest link
When one battery in a string fails, the entire string
goes offline
shortens lifespan2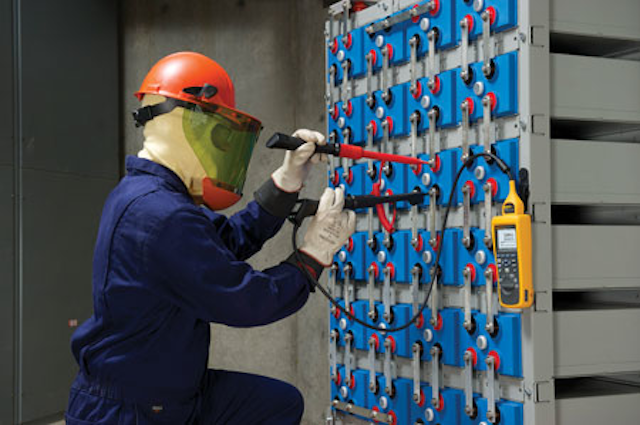 The worst case
A battery with a high level of impedance can overheat and ignite or explode during discharge. Voltage measurements alone will not flag this danger.
1 One of the main causes of battery failure is heat. For every 15 F increase in average temperature, battery life is cut in half.
2 A single bad battery raises the charge voltage of adjacent batteries, because of charger settings, affecting the usable life of the entire string.
More Utility Products Current Issue Articles
More Utility Products Archives Issue Articles