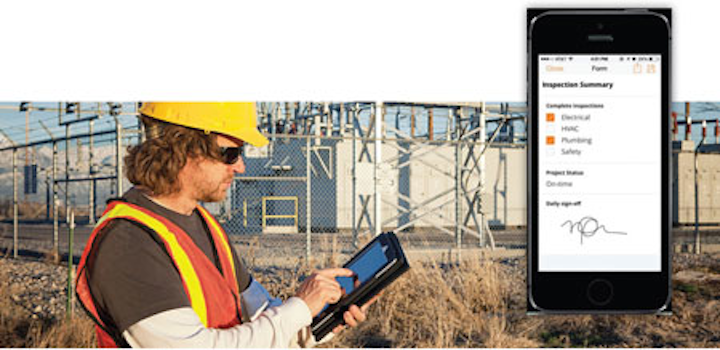 by Michael Gundling
A leading utility company generates some 95 percent of the electricity used in the southern part of the country and some 45 percent of the electricity used in the entire country. The most challenging and time-consuming projects-referred to as Minor Works Agreements-involve delivering service to the most remote locations.
Minor Works projects typically involve significantly more processes, documentation and procedures. Documents and proposals must be filed accurately and quickly by field operations personnel to ensure the work can be completed and projects can be funded. Regulatory specifications mandate that without the necessary paperwork, projects will not be funded, which in turn delays the start date. Time is often lost on site trying to get necessary documentation filled out, signed and filed. The laborious paper process is also prone to errors. And when the documentation is eventually compiled and assessed by the main office, 30 percent of the information is typically missing or incorrect. This means more lost time because crews must return to the job site to finish the necessary paperwork, some days traveling hundreds of miles.
Field operation utility crews in remote locations often can't maintain an Internet or cellular connection, which limits their ability to communicate with dispatch centers, let alone access information electronically. Important data must be gathered and compiled in advance. If something else is needed on-site, someone must return to the dispatch center. The field crews also must be able to map and locate assets using global positioning system (GPS) in conjunction with their distribution network maps. This utility company evaluated using proprietary GPS devices and handhelds for their data collection, but found the cost and maintenance to be too high. In addition, it would take months to train crews to use the product, and they would still need to carry binders of paper forms and maps.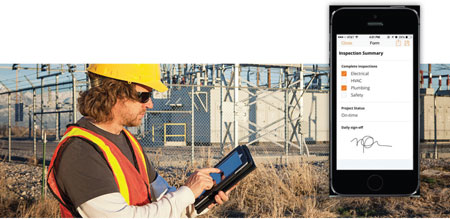 A solution that could be used immediately, with minimal to no training, was required. Field operations evaluated using iPhones and iPads, which were far less expensive than GPS handhelds and offered many additional features. Although the field crews often are in disconnected areas, surveying and field service apps allowed crews to cache maps, forms, even videos and other files on the phone or tablet. In addition, the sub-meter accuracy often required could be achieved with third party GPS receivers paired to the mobile device through Bluetooth. The breakthrough for field operations was that maps, computer-aided design (CAD) diagrams, customer forms and GPS could be delivered on an iPad. The time wasted returning to the main office or dispatch could be eliminated. The time involved with paperwork, mailing forms and waiting on signatures could be greatly reduced.
After reviewing commercial field service and surveying apps for iOS and Android, field operations evaluated and implemented an app on the iPad and iPhone. Field crews were given a one-hour training course where they learned where to find the maps and forms they previously carried in multiple binders. As the rollout progressed, field operations immediately saw an improvement in data collection, timeliness of getting information back to the main office for assessment, and the ability for crews to access information offline that would have previously required a trip to the nearest dispatch center.
Field operations also saw a marked increase in the quality assurance process, quantities of work done, and documents accurately completed with the proper information. There was also a decrease in the amount of time it takes to get the information back to the main office.

Field operations now use the these types of apps on iOS to document every site, every time a change is made, not merely with forms, but with photos and more. Crews now take pictures of work being done, attach it to a form and project. In turn, field operations can supply accurate, up-to-the-minute information to their clients detailing stages of projects, specific locations and work time completed. Projects are streamlined and customer satisfaction has significantly improved because work progress is clearly documented. This app also provided field operations with faster approvals because the national utility now has the ability to see every stage of the Minor Works progress.
For this utility company, smartphones and tablets proved to be a breakthrough for disconnected operations. The field crews were able to bring the entire distribution system, including maps and every necessary form, on their mobile device. Even if a crew was working in a remote location where they couldn't get a signal, they could still access needed information with a tap on their phone. And when they completed forms or collected on-site signatures, these were all saved on the device until the field crew could access the network or find the WIFI at the nearest town's coffee shop to sync up with the cloud server.
"It's good to see the benefits of mobile technology that can help us reach beyond the very networks we're building," the head of operations said.
---
About the author: Michael Gundling serves as vice president of Product Management and Marketing. Gundling is a high-tech product and marketing executive with more than 20 years experience in launching market-leading products and award-winning marketing programs that drive rapid growth for venture-backed software companies. For more information, visit www.terragotech.com.
www.utilityproducts.com November/December 2015 Utility Products
More Utility Products Current Issue Articles
More Utility Products Archives Issue Articles