Magnetic Wristband
Avoid losing small pieces or going back and forth to your tool bags for more parts, saving time and frustration on the job. Klein Tools introduces the Tradesman Pro™ Magnetic Wristband, which helps keep wire nuts, screws, bits, nails and other small pieces and parts close at hand by fitting easily around your wrist, tool belt or bag.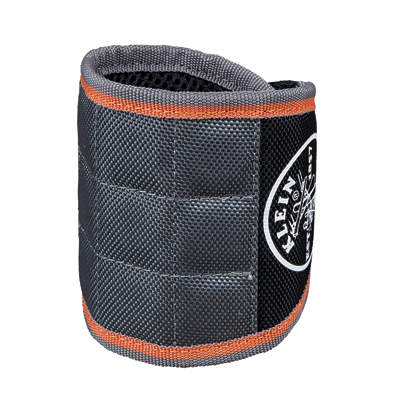 Strong rare earth magnets keep small parts close at hand, while breathable mesh interior and contoured shape provide a comfortable fit around the wrist for all-day use. Made of durable 1680d ballistic material. Adjustable hook and loop closure fits most wrist sizes. Easily wraps around your wrist, belt or tool bag to keep small bits and pieces within reach.
Klein Tools
www.kleintools.com
Rugged Smartphone
Juniper Systems has released its newest Cedar device, the Cedar CP3 Rugged Smartphone™. The CP3 touts a 14- to 16-hour battery life operating at full brightness and running GPS; a 16-megapixel user-facing camera and dual 12-megapixel rear camera; a bright, high-resolution AMOLED display; and 6 gigabytes RAM with 64 gigabytes of internal storage.
The CP3 is powered by a Snapdragon 653 octa-core processor. The processor delivers fast load times and top-tier performance for advanced tasks without draining the battery. Like the entire Cedar product line, the CP3 is dustproof, waterproof, and shockproof. It is rated IP68 and certified to withstand 1.5 meters of water for 30 minutes. In addition, the CP3 can operate in both blazing hot and freezing cold temperatures – from -22˚F to +140˚F. The CP3 boast amenities unique to rugged devices like fingerprint ID, USB type C, and it supports Google's suite of popular apps with Google Mobile Services. The Cedar CP3 includes year-long customer service and support from Juniper Systems. Available globally and works on any GSM network.
Juniper Systems
www.junipersys.com
Insulating Rubber Apron
Cementex announces the availability of its insulating rubber apron, ideal for working on or around battery storage systems. The apron is a good choice for technicians who have to reach over energized conductors to perform standard maintenance.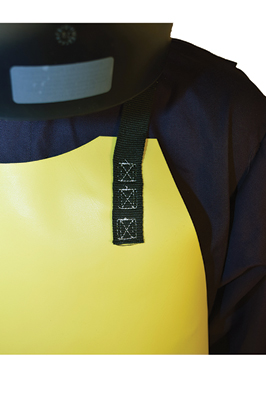 With a base material of Cementex Class 0 Roll Blanket, the apron is composed of high-strength fabric reinforced Type II rubber. Highly puncture- and tear-resistant, the Cementex insulating rubber apron is also flame-resistant (self-extinguishing) and oil- and ozone-resistant. Designed, manufactured, and tested in the U.S., the apron meets ASTM F2320 specifications.
Cementex
www.cementexusa.com
Splicing Tool
BURNDY®, a leading manufacturer and provider of compression connector solutions to the industrial, energy, construction, telecommunications, petrochemical, data center, and transportation industries, is proud to announce that the Type YDS-RL UNISPLICE single-sleeve, full-tension splices can now be installed with the reliable 644 Series and recently introduced PAT444S Series family of nest and indentor tools. Dies are no longer needed to achieve full-tension performance in overhead utility applications.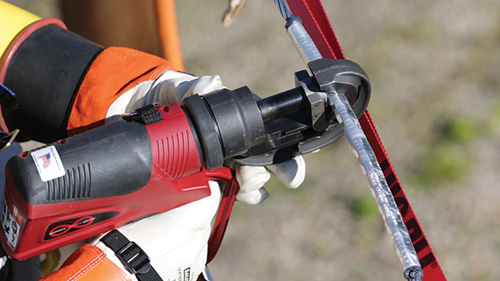 In addition to the tool expansion, BURNDY is introducing a new line of UNISPLICE connectors, Type YDS-RLNI, that provide markings and knurls specific to the new tool offering. Line workers now have the option of installing full-tension overhead splices with their existing tools and die combination or with the choice of the tried-and-true 644 Series latch head design or the new PAT444S Series C-head design. The nest/indentor tools require fewer crimps to install, which reduces installation time and makes them ideal for storm restoration and every day applications. In addition, the resulting connection still utilizes compression technology, which reduces water ingress that may reduce the life of the connection. Because the existing UNISPLICE line contains markings designed for dies, we have introduced the YDS-RLNI connector line that is designed specifically for the 644 and PAT444S tool platforms to facilitate training new users. The tooling expansion and new connector line now allows line workers to use only one tool with no dies to crimp from #4 ACSR to 556 (18/1) ACSR.
BURNDY®
www.BURNDY.com
Remote Switch Actuator
CBS ArcSafe® a leading manufacturer of remote racking and switching solutions for low- and medium-voltage switchgear, introduces its remote switch actuator (RSA) for the Eaton Series G – LG frame molded case circuit breaker (MCCB). The lightweight, portable CBS ArcSafe RSA-230B allows technicians to remotely close or trip the circuit breaker from a safe distance of up to 300 feet while stationed outside the arc-flash boundary.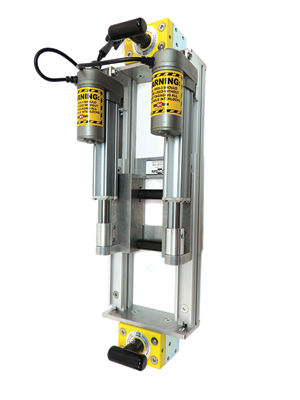 The RSA-230B is compatible with 100–630 A, 240–600 V AC flush-mount Eaton Series G MCCBs with one to four poles, including LG, LGE, LGS, LGH, LGU, and LGX. Typical applications include switching and protection of low-voltage AC and DC systems with high-available fault current. The RSA-230B is a cost-effective solution for keeping operators safe when compared with arc-flash mitigation alternatives. Optional features include a radio remote with a range up to 300 feet, a 24 VDC LED light, a wireless video camera system with an LCD monitor, and a rugged protective case assembly. All RSA units are portable, with fast and easy setup. They offer mechanical and/or electrical safety protection, adjust to fit unique electrical equipment configurations, reduce requirements for personal protection equipment, and meet NFPA 70E arc-flash safety compliance standards.
CBS ArcSafe
www.cbsarcsafe.com
3,000-Watt Sine Wave Inverter
Xantrex, a leading supplier of inverters and inverter charges, has added a new inverter to its Freedom X line — the Freedom X 3000. The inverter is rated at 3,000 watts and is pure sine wave. The Freedom X 3000 was designed to work with high-voltage alternators — up to 18 VDC found on many new vehicle chassis.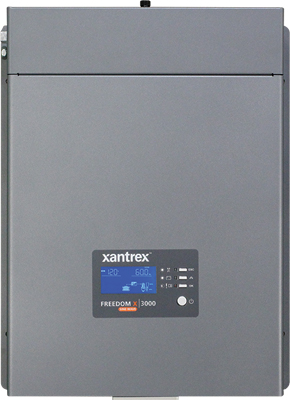 The new inverter features an ignition control, which controls inverter operation via the vehicle's ignition circuit. The Freedom X 3000 is easy to install and has quick-connect AC terminals for fast, reliable and easy wiring. The inverter can be hardwired or installed with an optional GFCI outlet, ideal for a work vehicle or commercial truck with a large battery bank. Like other members of the Freedom X family, the Freedom X 3000 is UL458 certified with marine supplement and meets FCC, Class B standards. It is also tested for environmental stresses and moisture and corrosion resistance.
Xantrex
www.xantrex.com
Drill-free Mounts
Superior Signals Inc. (SSI) introduces a new drill-free mount for your Ford work trucks, allowing you to add additional lighting or accessories without damaging the vehicles' exterior. There is no need to worry about expensive lease penalties and unpleasant rust, scratches and exposed wires with these mounts.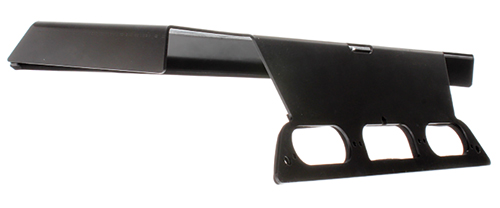 The SYFRM is designed to simply lay beneath your third brake light, giving you a place on the top of your vehicle to install additional accessories directly to the mount versus the hood of the truck. It was custom made specifically for Ford F-150s (2015-­Current) and F-250/550 (2017-Current) with heavy-duty steel and can hold a capacity of 30 pounds. There is also an extension box that can be ordered separately, which gives you extra space to hide your cords and cables.
Superior Signals Inc.
www.superiorsignals.com
Partial Discharge Calibrator
Partial Discharge calibrator KAL 9511 is a successor to the popular Tettex 9216, and covers a wide range of applications. It is compact, easy to use and has the same long battery operation capability of Tettex 9216 but offers higher performance by using more than 10 times smaller injection capacitance. It also has a higher signal-to-noise ratio (SNR) than recommended in the current and proposed future standards.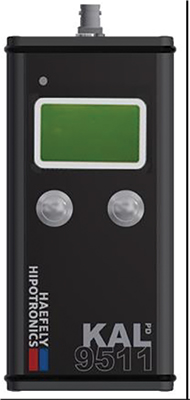 Its unique high-end design ensures flat response of the calibration pulse in the frequency domain far beyond the IEC-recommended measuring band. The PD calibrator is easily controlled by two large buttons. Charge values are displayed on a large display together with battery status and light synchronization indication. A SCS calibration certificate can be delivered with the KAL 9511 upon request. Three different calibrator types provide sufficient charge ranges to cover all potential applications. Due to the included traceable test certificate and the optional SCS (IEC 17025) calibration certificate. Haefely Hipotronics is accredited to calibrate and certify PD calibrators from SCS, Switzerland (Swiss equivalent of DKD, Germany).
Haefely Hipotronics
www.haefely-hipotronics.com
Training course
Light Brigade has expanded its training portfolio of hands-on training courses with the addition of the OTDR and Testing Deep Dive Workshop. The two-day course is designed to improve the attendees' knowledge and skills in fiber-optic testing and troubleshooting.

Light Brigade will hold the first sessions of the new course in Atlanta, Denver, and Seattle. As this is considered an advanced course, attendees will need a basic understanding of fiber optics and fiber testing, potentially including previous training, as a prerequisite for registration. Light Brigade will use equipment from various manufacturers in the course; students are encouraged to bring their own as well.
Light Brigade
www.lightbrigade.com
Hydraulic Puller-Tensioner
The PT1250 hydraulic puller-tensioner from Condux Tesmec provides industry-­leading features like a negative self-acting hydraulic brake, an integrated hydraulic dynamometer, a hydraulic cooling system, advanced user controls and more.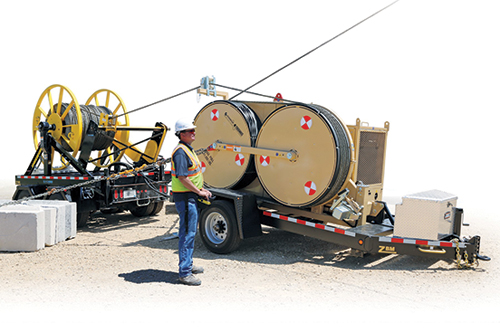 This model offers 11,240 lbf (50 kN) of pulling or tensioning capacity and is designed for stringing one rope or one conductor. The bull-wheel grooves on the PT1250 are made from high-resistance interchangeable nylon sectors. The PT1250 features a new digital interface with automatic power management and full safety controls.
Condux Tesmec
www.conduxtesmec.com
Unidirectional Ethernet network appliance
Belden Inc., a global leader in signal transmission solutions for mission-critical applications, has released the new Hirschmann Rail Data Diode. The appliance secures mission-critical Ethernet networks through guaranteed one-way data traffic, while also transferring data out of the secure part of the system in a highly controlled, deterministic manner.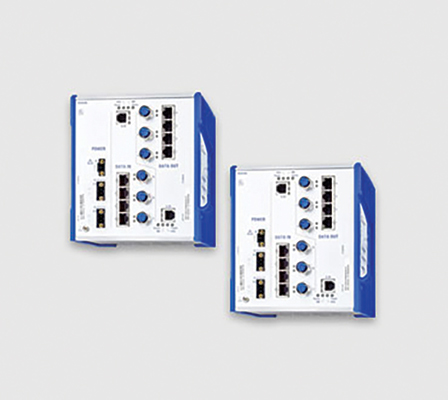 With the Hirschmann Rail Data Diode, industrial organizations can improve overall operations and control, in addition to: reliably protecting networks from external cyber threats through singular data flow; securely transferring Ethernet data to the public Internet without putting the system at risk; and easily explaining product functionality for simpler governmental approval processes. The Hirschmann Rail Data Diode is best used in applications where data from mission-critical systems must be transferred via the public Internet. The appliance is ideal for industries with vital applications, such as critical infrastructures in transportation, power and chemical plants.
Belden
www.belden.com
Auger Bits
Engineered for power utility linemen to drill cleaner, faster holes in a utility pole, Shockwave™ Lineman's Impact Auger Bits feature a single spur design that scores the hole for a cleaner finish. An aggressive feed screw and cutting edge pull the bit through the material for faster drilling, while the optimized wide flute geometry ejects chips faster. A reinforced anti-friction PTFE coating makes for overall smoother drilling and removal of the auger.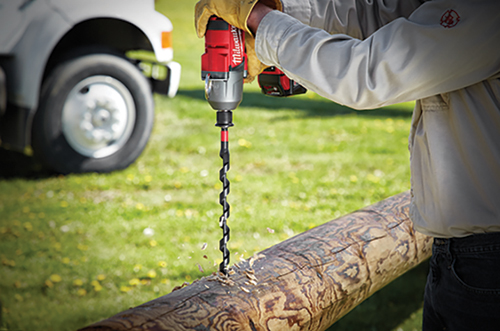 The Milwaukee® Lineman's Impact Auger is also optimized for use in a 7/16" impact wrench to drill fast, effortless holes in dense, treated utility poles. To accommodate a wider range of applications, Milwaukee will add additional sizes to its assortment of Shockwave™ Lineman's Impact Auger Bits. Both 3/8" and 1/2" augers will be added in 18" and 24" lengths for use in pole testing. For larger transmission poles and drilling through more than one pole — which is often needed for temporary support after storms or vehicle accidents — Milwaukee will introduce 30" lengths in the key sizes of 5/8", 11/16", 13/16" and 15/16".
Milwaukee
www.milwaukeetool.com
Customizable 4G LTE Datacom System
Multi-Link has announced the production of the ML-4G LTE Cellular Datacom System (CDS). Designed for any type of M2M cell data collection and remote site equipment access, the ML-4G LTE CDS is a highly customizable communications system featuring a high-speed 4G LTE (3G fallback) gateway that is certified on all major U.S. cellular networks. Improves reliability for cell communications and future-proofs for later expansion needs.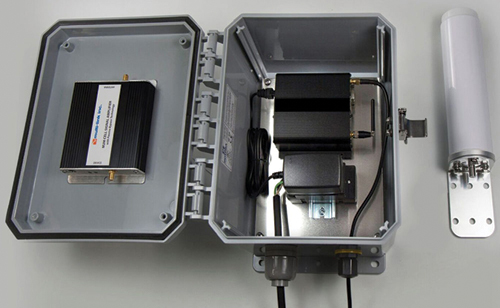 The standard single 10/100 Mbps Ethernet port can be expanded to a combination of four Ethernet ports (PoE or non-PoE), RS232 & RS485 Serial ports, and even Wi-Fi so that multiple connectivity requirements can be satisfied. The system's power input also has two options to choose from, depending on installer preference and existing electrical wiring. Additional system configurations are available to enhance optimal performance. M2M cell signal amplification can be useful in poor signal environments. A two-outlet AC rebooter can be included to give network personnel more control over connected equipment, to automatically reboot on a daily schedule, or when a network fault is detected. Lastly, a 12 VDC battery backup can be added. All datacom equipment and electrical power is housed in an industrial grade 10"x 8"x 6" high-impact polycarbonate hinged enclosure with integrated locking latch and mounting flange. This NEMA 4 cabinet is rated for indoor or outdoor installations. An external 9.5" full band omnidirectional antenna is included. All components are covered under a two-year warranty.
Multi-Link
http://multi-link.net
Explosion Proof Cameras
Larson Electronics offers operators a wide range of security cameras, surveillance equipment and other security and surveillance equipment and accessories. These products include a variety of different types of cameras and other equipment including analog cameras, IP cameras with infrared night vision, thermal cameras, NVR systems, DVR systems, security networking equipment and solutions, cabling and complete turnkey solutions to a variety of security applications and needs, including those within hazardous environments.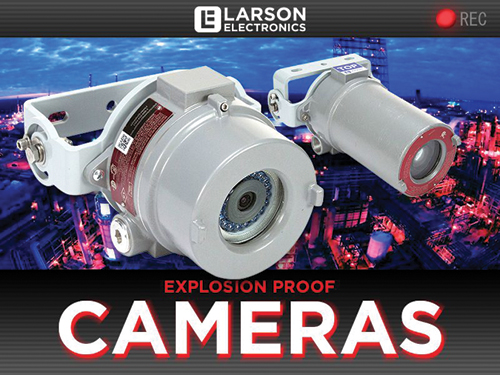 With a full array of explosion-proof cameras and security equipment, Larson Electronics is able to provide operators, security personnel and anyone concerned with the safety and security of a business or other location a comprehensive security solution capable of fitting just about any possible security need or requirement. In addition to security purposes, explosion-proof cameras and surveillance systems can be used for several other applications within hazardous areas. The Larson Electronics line of explosion-proof cameras and surveillance systems are very versatile and can be utilized for very specific applications as well as being custom designed for an operator's individual scenario or requirement. Operators can start from scratch and purchase everything they need for security and surveillance purposes or can supplement existing equipment, such as DVR recording systems, with explosion-proof security cameras and explosion-proof cabling.
Larson Electronics
www.larsonelectronics.com
Lightning Platforms
Vaisala, a global leader in environmental and industrial measurement, including comprehensive lightning data, recently launched the Vaisala Lightning Integrator and Vaisala Lightning Exporter, new platforms used to gather historical lightning data to benefit utility performance. The subscription-based products utilize historical lightning data from Vaisala's National Lightning Detection Network (NLDN) and historical data from Vaisala's Global Lightning Dataset, GLD360.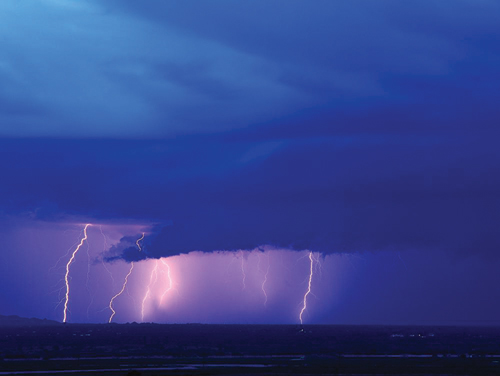 Vaisala Lightning Integrator is an application program interface (API) that allows utilities to ingest lightning data straight into their systems, so engineers can quickly gain historical lightning data after a storm. While Lightning Integrator is more developer friendly, Lightning Exporter is a different platform that is easier to use and doesn't require technical training. The Lightning Exporter website allows personnel to search for lightning data of a precise location based on latitude and longitude. Engineers are continually looking for ways to determine if some lines are more prone to lightning than others. Historical lightning data are used to evaluate whether a certain section of transmission or distribution line is more susceptible to lightning compared with others around it so the utility can address the weakness and repair it for future reliability.
Vaisala
www.vaisala.com
Utility RTV
Kubota Tractor Corporation's Sidekick, the company's largest gas-powered utility vehicles, joins the RTV lineup. With a 48-hp gasoline engine, operators can reach speeds of up to 40 mph, compared to the top speed of 29 mph for its RTV-X models. The company's entire utility vehicle line is assembled in its Gainesville, Ga., facility. The Sidekick's quick acceleration and high transport speed are matched with a Continuously Variable Transmission with a centrifugal clutch (CVT Plus). This gives the vehicle plenty of torque for a quick and smooth take-off.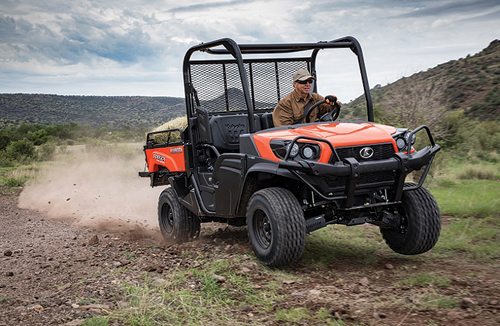 The Sidekick's Idle Speed Control (ISC) and highland correction ensure stable power for hauling or towing. Maneuverability is improved with speed-sensitive Electronic Power Steering (EPS) that offers stability to the machine under load. Tuned front and rear independent suspension offers a smooth ride, and engine-assisted braking allows for greater control and increased safety during descents. A selectable full-time 4WD system gives the operator optimum traction and control on any terrain. The Sidekick has a 2,000 lb. towing capacity, with recommendations of 1,550 lb. on inclines. A trailer hitch comes as standard equipment. There's 15.2 cubic feet of space in the steel cargo box and an optional electric hydraulic lift is available for dumping. The Sidekick offers electrical power for a wide variety of equipment. The regulator and fully-shielded generator are controlled by a microcomputer to ensure stable power for attachments, such as work lights, LED headlight, heater or wench.
Kubota USA
www.kubotausa.com
Auger Drill
Terex Utilities has released the redesigned A650-30 auger drill. The new auger drill series features enhanced control systems and a hydrostatic drive transmission for easier operation and productivity. Additionally, remote diagnostics support troubleshooting. The A330 and A650 have radio remote controls — a first in auger drill operation.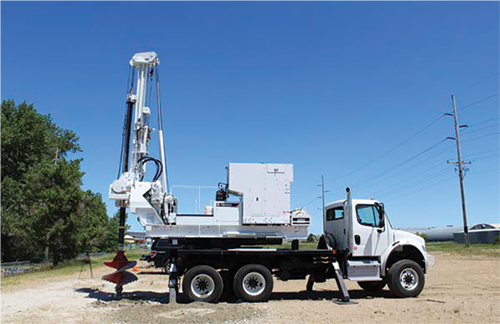 The new control system allows the truck, unit controller, and unit engine to talk to each other, which supports the application of radio remote controls. The advantage for the operator is improved productivity, comfort, and visual reference. The enhanced auger drills have many features that are automated, including auto brake release, inner-Kelly retract stop, inner-Kelly slack stop, home position, return to center and dig depth. The 'return to center' feature allows the operator to return the auger to the drill position used previously. This keeps the hole at the proper diameter and the proper vertical position throughout the dig, regardless of how many times the operator needs to clean the dirt from the auger tool. The A650-30 features a drill depth of 30 ft. and drill diameter up to 72". Terex Utilities also offers a variety of auger tooling — both augers and barrels — designed to dig through soft ground to the most extreme hard rock conditions with diameters ranging from 8" to 144".
Terex Utilities
www.terex.com/utilities
Wire Rope and Cable Cutter
Jonard Tools' newest wire rope and cable cutter is made from chrome vanadium steel and drop forged for high strength and longevity. Jaws are heat treated and precision ground for greater performance. Tool design provides greater leverage for easier cutting.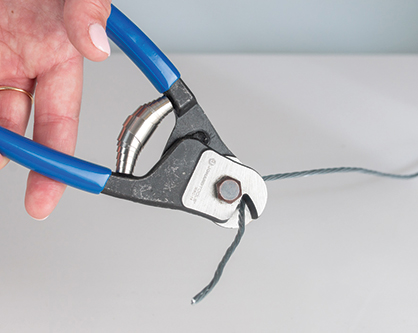 Cuts Soft Wire Rope at a max size of 1/4" (6 mm); hard wire rope at a max size of 3/16" (5 mm); spring wire at a max size of 3/32" (2.4 mm); and copper/aluminum cable at a max size of 3/16" (5 mm). Features include a volute spring and cushioned grip handles for comfort.
Jonard Tools
www.jonard.com
IATF Certification
Sherex Fastening Solutions, a global leader in engineered fasteners, tooling, and automation, is pleased to announce that its Sherex Taiwan production facility has received IATF 16949:2016 certification, which establishes specific quality management system requirements for the automotive market, replacing ISO/TS 16949:2009.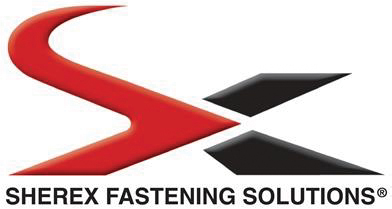 To gain accreditation, businesses must possess quality systems that focus on continuous improvement to prevent defects, and eliminate high variation and waste throughout the supply chain. Since its inception in 2005, Sherex Taiwan, led by Dr. Alex Hsiao, has provided industry-leading new product development and manufacturing utilizing robust quality systems.
Sherex Fastening Solutions
www.sherex.com
Industrial headlamp
The Vizz Industrial headlamp conquers any situation by combining two beam profiles into a compact, self-contained light to add to your hard hat. One Maxbright LED provides a long-throw, bright white spot beam. Four white Ultrabright LEDs provide a flood beam for up-close work and wider viewing angle.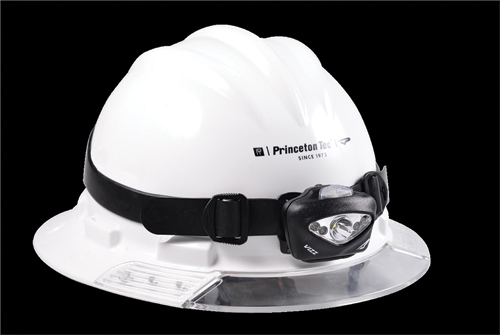 Three AAA alkaline batteries are included. Regulated circuitry makes for consistent power output over battery lifespan. The Vizz Industrial is also lithium compatible for reliable operation in a wider temperature range. This headlamp also has a built-in battery power meter and is waterproof. Included in the Industrial Headlamp Kit are the rubber hard hat strap, 3M dual lock, and standard nylon headstrap. Projects 420 Lumens with 1 Maxbright LED w/Spot (dimmable)and 4 White Ultrabright LEDs (regulated), (dimmable) lights. Burn time is 136 hours, and runs on three AAA alkaline batteries. Made in the USA.
Princeton Tec
http://princetontec.com
Reverse Warning Alarm
The rear blind spot is a huge problem regardless of vehicle/machine with reversing vehicles now accounting for a quarter of all workplace deaths. With 90% of reversing accidents occurring off-road (loading bays, lorry parks, quarry sites, warehouses, etc.) there has never been a greater necessity to carry out effective risk assessments of reversing processes.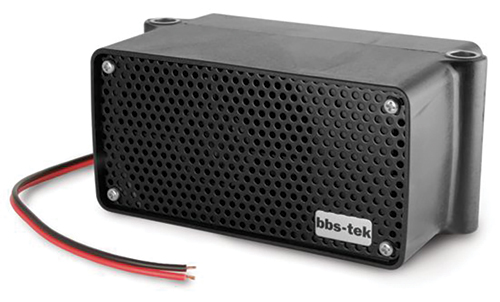 As an alternative to beeping alarms, the bbs-tek® multi-frequency reversing alarms use a wide range of White Sound® frequencies. This enables the listener to instantly locate where and what direction the sound is coming from. The broadband sound also gives workers wearing hearing protection devices (HPDs) and people with hearing difficulties a better chance of hearing the alarm. In addition, the White Sound reverse alarms create a "ssh-ssh" sound which is gentle on the ear and dissipates quickly, meaning the alarm can only be heard in the danger zone. Alarms can continually adjust to 5-10 decibels above ambient noise level, making them ideal for varying environments.
Brigade Electronics
www.brigade-electronics.com
Electric Wire Rope Hoist
The Yale® YK™ hoist from Columbus McKinnon delivers industry-leading technology and safety you need for your lifting applications in a design that is compact and easy to maintain. Precision engineered for optimal performance, these monorail units are built for reliable operation, high efficiency, and long service life. Features include single-grooved rope drum (2-part single or 4-part single reeving is available, depending on the application); flexible configurations — hoists can be configured to your unique application needs, available in 5 frame sizes with 16 load capacity variants; compact design — compact dimensions due to U-shape design and exceptionally short approach allows for optimum use of work area when space is limited; and extremely smooth starting and braking characteristics.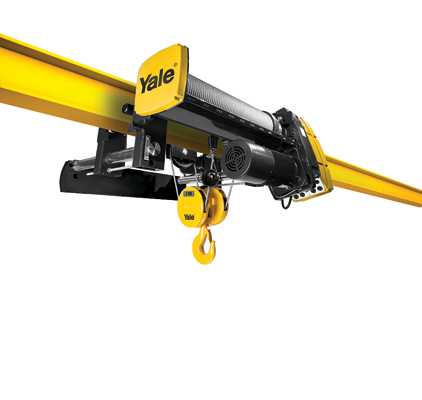 The KE monorail trolley is used on monorail runways and single-girder overhead traveling cranes. Trolley is easily adjustable for different beam sizes and comes standard with two-speed trolley. Specially designed for small clearances, the UE monorail trolley has a narrow width. It is used on monorail runways and single girder overhead traveling cranes. Available only for specific capacities. The largely maintenance-free design is equipped with field-proven components designed for low wear and long service life. Standard safety features include block-operated limit switch, adjustable geared limit switch, motor, temperature control, and overload protection.
Columbus McKinnon Corporation
www.cmworks.com
Fish and Glow Rod Kit
Klein Tools' Splinter Guard™ Fish and Glow Rod Kit, which includes a convenient carrying case for everyday use. With eight Splinter Guard™ fish and glow rods as well as seven essential attachments, this kit offers professionals an all-in-one solution to their next wire or cable pulling job. The kit includes everything needed for an upcoming wire or cable installation job, including: eight Splinter Guard fish and glow rods, 33' of total length (two 48" long, 1/4" diameter Low-Flex Fish rods; two 18" long, 3/16" diameter Mid-Flex Glow rods; two 60" long, 3/16" diameter Mid-Flex Glow rods; and two 72" long, 5/32" diameter Hi-Flex Glow rods); seven attachments (Whisk, Double-S Hook, Magnet, Chain, Bullet Nose, Single Hook and Twin Hook); and one adjustable length carrying bag.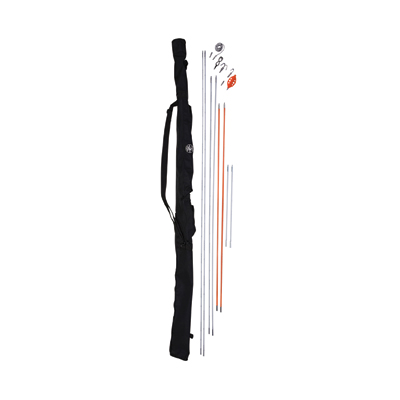 Rods have durable, stainless-steel connectors and a Splinter Guard protective coating to prevent fiberglass splinters. Glow-in-the-dark luminescent rods recharge in everyday ambient light. Double-S Hook attachment features an innovative, patent-pending design to secure wires when working on difficult pulling applications. Attachments fit all Klein Splinter Guard fish and glow rods. Carrying bag is manufactured with durable 1680d material and features a reinforced base as well as a heavy-duty zipper to protect from the elements. Adjustable bag accommodates 4-, 5- and 6-foot rods and has two exterior zipper pockets designed to fit shorter rods, leaders and attachments. Patent pending.
Klein Tools
www.kleintools.com
Belt Pouch Combinations
Cementex, the safety tool specialists, announces the availability of Cementex Belt Pouch Tool Combinations, featuring all tools designed for safe use in arc flash environments. With 13 different combinations to choose from, there is an ideal Cementex Belt Pouch Combo for any technician. All tools in the Cementex Belt Pouch Combos feature innovative Cementex double insulation technology. The double insulated tools feature a yellow warning layer underneath the outer orange layer ­— if the outside insulation is damaged, posing a safety risk, the yellow layer begins to show, and technicians can know that they must replace the tools.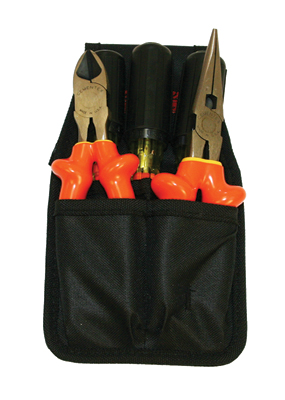 The 13 different configurations of belt pouch and tool kits feature a wide range of tools, including lineman's universal crimping, needle nose, and diagonal cutting pliers, various sizes of Phillips, Robertson, and Cabinet screwdrivers, nut drivers, and various task-specialized tools. In addition, customized configurations are also available. Cementex double insulated tools are tested to 10,000 VAC and rated for 1,000 VAC when working on or around live parts. The pliers comply with ASTM F1505 and IEC 60900 standards, and help meet the requirements of OSHA 1910.331-335, MFPA 70E, and CSA-Z462. All Cementex products are made in the U.S.
Cementex
www.cementexusa.com
Ratchet Lever Hoists
Columbus McKinnon Corporation has expanded its line of CM Tornado 360° ratchet lever hoists with the introduction of 9-ton capacity units. Ergonomically designed for increased safety, the patent-pending CM Tornado 360° allows the operator to be more productive with significantly less effort compared to conventional ratchet lever tools. The CM Tornado 360° redefines ratchet lever hoists with its unique Sidewinder lever handle that features a 360-degree rotating lever and a fold-out revolving handle. Working in unison, these integrated components allow the operator to realize the full potential of 360° rotation while working in a safe and ergonomic position.

This helps reduce repetitive wrist action experienced with pulling operation of traditional lever hoists, letting the operator utilize a full 360˚ range of motion to work up to 12 times faster. Other features include a highly visible, easy-to-use directional indicator located on the handle that clearly shows the operating direction as lifting, lowering or neutral. The hoist also has a cast chain end stop that allows the user to easily position the chain in free-chaining mode, preventing it from entering the liftwheel and jamming the hoist. Bolt-on swivel hooks with nylon locks help users comply with ASME B30.21 and B30.10 inspection requirements. The CM Tornado is available in 3/4-, 1-1/2-, 3-, 6- and 9-ton capacities with standard lifts up to 20 feet.
Columbus McKinnon Corporation
www.cmworks.com