Test Equipment:

Ground Resistance Tester Model 6472
AEMC's Digital Ground Resistance Tester Model 6472 is a portable measurement instrument designed to measure bond resistance, ground resistance (with and without clamps), soil resistivity, earth coupling, step and touch potential.
When used in combination with the GroundFlex Adapter Model 6474 (factory supplied product only), power transmission tower and tower leg ground resistance testing is also available.
Model 6472 - Cat. #2135.51: Includes carrying bag; 110/240V power adapter with US power cord; optical USB cable; rechargeable NiMH battery pack; and a USB stick with DataView software, ground tester workbook and user manual.
Model 6472 (300 ft Kit) - Cat. #2135.53: Includes meter; two carrying bags; two 300-ft. color-coded leads on spools (red/blue); two 100-ft. color-coded leads (hand-tied, green/black); two 5-ft. color-coded leads (red/blue); 110/240V power adapter with US power cord; optical USB cable; four T-shaped auxiliary ground electrodes; set of five spaded lugs; one 100-ft. tape measure; rechargeable NiMH battery pack; and a USB stick with DataView software, ground tester workbook and user manual.
Model 6472 (500 ft Kit) - Cat. #2135.54: Includes meter; two carrying bags; two 500-ft. color-coded leads on spools (red/blue); two 100-ft. color-coded leads (hand-tied, green/black); one 30-ft. lead (green); two 5-ft. color-coded leads (red/blue); 110/240V power adapter with US power cord; optical USB cable; four T-shaped auxiliary ground electrodes; set of five spaded lugs; one 100-ft. tape measure; rechargeable NiMH battery pack; and a USB stick with DataView software, ground tester workbook and user manual.
AEMC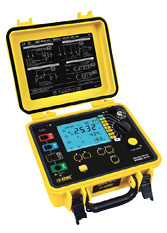 The CONSTRICTOR Ground Connector to Steel
Utility supplies: BURNDY, a manufacturer and provider of compression connector solutions to the industrial, energy, construction, telecommunications, petrochemical, data center, and transportation industries, introduces The CONSTRICTOR Ground Connector to Steel. The GCS26 connector is used to ground cable to steel in applications where drilling is either not possible or unwanted.
The CONSTRICTOR Type GCS series of Ground Connectors is suitable for all applications. Accepting copper conductor from #6 to 2/0 AWG and a beam thickness from .125-.625 in. (1/8 to 5/8 in.), The CONSTRICTOR requires no special tooling for installation. Capable of parallel or perpendicular conductor orientation, cULus listed for grounding and bonding, and direct burial rated for installation into earth and concrete, The CONSTRICTOR Ground Connector is applicable for use in extremely volatile environments.
BURNDY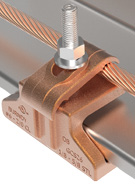 Monitoring System:
Thermal Perimeter Detection, Outdoor Security Solution
STANLEY Security, a manufacturer and integrator of comprehensive security solutions for a wide range of industries, has broadened its alarm verification offerings with STANLEY's Thermal Perimeter Detection, a solution that provides a reinforced layer of identification and verification protection against intrusion, theft and damage in outdoor spaces with the use of thermal sensors and intelligent analytics.
With the mounting number of high-value assets being stored outdoors for multiple industries including equipment rental, utilities, vehicle service and repair, warehouse and industrial parks, these commercial properties often do not have adequate security to safeguard against outdoor crime.
STANLEY Thermal Perimeter Detection uses outdoor thermal sensors to detect an intruder's heat signature, while intelligent analytics discriminates between humans and environmental noise. This combination allows for everyday movements that may cause false alarms—headlights, reflections, small animals, trees—to be disregarded while identifying possible threats. Unlike outdoor cameras and other detection solutions, STANLEY Thermal Perimeter Detection can also identify intruders within complex lighting, complete darkness or harsh environmental conditions such as fog, rain or snow. Each perimeter can be customized based on the requirements of the customer, whether detecting an intruder climbing a fence or entering an off-limits zone normally void of foot traffic.
Once an alarm is activated, alarm details and thermal video evidence are instantly transmitted to professionals at the STANLEY monitoring center for verification. On verification of an actual intruder, police are notified of a crime-in-progress, which normally results in faster response times. This increases the probability of apprehension and reduction of business losses due to theft and damage.
STANLEY Security
Updated Grundopit

Pit-launched Mini Directional Drill
Utility tools: TT Technologies' redesigned Grundopit pit-launched mini directional drill is well suited for difficult fiber-to-the-home and utility service line installations in tight working conditions. The unit is compact—54 in. long, 43 in. wide and 57 in. tall. The Grundopit delivers 13,489 lbs. of thrust and pull back, and 553 ft/lbs. of torque with bore length up to 150 ft. The Grundopit is cited to be an ideal entry-level system for utilities, cable industries or as a supplement to larger units.
The unit features a patented instant plug-in lock that holds the drill stem in place. The instant plug-in lock system allows new drill stems to be added easily by engaging the new drill stem at the rotational motor. This means that drill stems are only screwed into the lead stem and not the rotational motor, cutting the time it takes to add a stem in half.
Components include a two-part bore rig, patented drill stem plug in, 30 drill stems, bore head with angled steering surface, backreamer and swivel coupling, hose package and power pack.
TT Technologies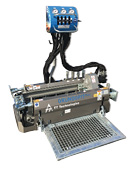 Insulation Tester

for Telecommunications, Cable Testing Markets Tests up to 500 V
Test equipment: Megger offers a new insulation and continuity tester designed specifically for the telecommunications and cable testing markets. The MIT485/2TC-LG2 replaces Megger's original MIT480 range tester.
This handheld instrument features fixed test voltages of 50 V, 100 V, 250 V and 500 V, as well as variable test voltages from 10 V to 500 V. Insulation testing can be performed up to 100 GΩ at 500 V. A gated access feature to 500 V prevents accidental application of high voltage to sensitive equipment.
Less Cumbersome Testing: The MIT485/2TC-LG2 features a three-terminal connection for tip, ring and ground testing. The measurement pair is selected from the new T-R-G button on the front panel, omitting the need to connect and disconnect leads to perform the full range of testing on a cable pair.
Accurate Testing Results: The feedback-controlled insulation test voltage of the MIT485/2TC-LG2 is accurate to +2 percent – 0 percent, providing a more accurate test voltage without the risk of over-voltage damage to the circuits. The MIT485/2TC-LG2 offers fast continuity testing with a user-selectable test current of 20 mA or 200 mA. Continuity testing covers 0.01Ω to 1 MΩ without the need for manual range switching. In addition, the unit provides DC and Trms AC voltage measurements up to 600 V.
Safe and Reliable: With a safety rating of CAT IV 600 V, the MIT485/2TC-LG2 features a redesigned case, back-stand, and six-cell battery compartment with separate fuse access. The instrument is over-molded for increased protection and achieves an IP54 weatherproof rating.
Megger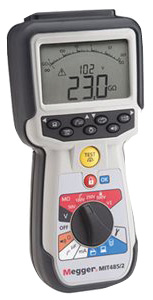 Gentle Air Cable Blower

Makes Interior/Exterior Micro Fiber Optic Cable Installation Fast, Efficien
t
General Machine Products (KT) LLC, a subsidiary of Klein Tools, offers the Gentle Air Micro Fiber Cable Blower (P/N 89916) to its growing line of fiber optic cable blowing equipment. Engineered to install micro fiber cable into pre-installed .15-in. to .27-in. diameter microduct, the Gentle Air Micro Cable Blower (Gentle Air) will place .03-in. to .11-in. diameter cable at speeds up to 300 ft/min.
Powered by a conventional, cordless drill (not included), a drive roller with precision clutch introduces the micro fiber cable into the microduct's opening. The clutch feature enables the operator to select a custom torque range (zero to infinity). From there, compressed air propels the cable throughout the length of the microduct to its destination.
Especially useful for smaller jobs where traditional, larger blowing machines are unsuitable, the Gentle Air's versatility, compact size and portable maneuverability make it suited for both interior and exterior fiber cable placement applications.
Other Features Include:
• Electronic monitoring system provides digital read-outs of speed and distance;
• Lightweight, precision machined and durable construction;
• Integral air valve and pressure gauge;
• Can be operated by a single person; and
• Backed by GMP's 80 years of engineering integrity and defect-free products and services.
General Machine Products (KT) LLC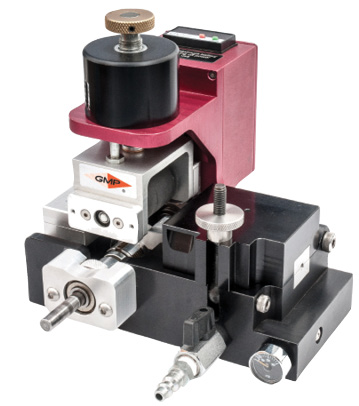 FLIR DM166 Thermal Imaging

TRMS Multimeter with IGM
FLIR DM166 thermal imaging multimeter with Infrared Guided Measurement (IGM) is an affordable digital multimeter/thermal imager combination. The FLIR DM166 features 80x60 thermal resolution, broad multimeter test functions, and the flexibility for use in both high and low voltage applications.
Designed to provide faster troubleshooting in applications such as electrical distribution, electro-mechanical systems, HVAC/R and electronics, the FLIR DM166 features a FLIR Lepton thermal microcamera core that visually guides users to the precise location of a problem. The multimeter helps users pinpoint issues faster, and then troubleshoot complex electrical distribution and electro-mechanical systems more effectively and efficiently.
Thermal imaging is a non-contact temperature measurement method, allowing the user to more safely scan for overheating system components. Additionally, with a rugged, drop-tested design and the safety rating electrical and HVAC professionals' need, the FLIR DM166 is field-ready for even the most demanding applications.
The FLIR DM166 carries a 10-year warranty on both the product and the thermal detector.
FLIR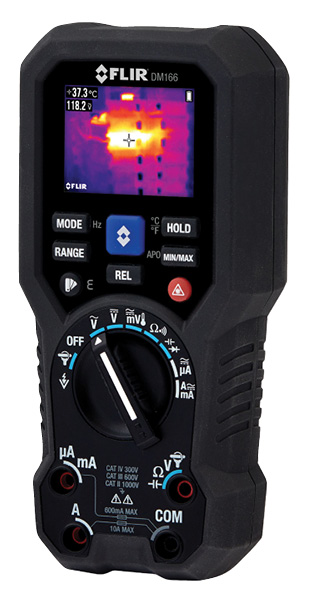 RT-75 HD Posi-Track Loader

for Productivity in Tough Applications
ASV Holdings Inc., a manufacturer of all-purpose and all-season compact track loaders and skid steers, offers the large-frame, radial-lift RT-75 Heavy-Duty Posi-Track loader for tough applications, such as forestry and excavation. The RT-75 HD features maximum durability and serviceability, high-capacity cooling systems, and highly efficient hydraulics. The machine uses ASV's patented Posi-Track undercarriage to provide what is cited to be the industry's highest ground clearance, lowest ground pressure, longest track life, and best traction over all types of surfaces, from brush and mud to snow and ice. The features allow for superior performance in applications such as mulching, brush cutting, as well as highway and utility work.
The RT-75 HD is a customization of the ASV RT-75. The HD features upgraded durability and optimizations for forestry work. These include metal guarding against brush and debris around key areas, such as lights, the AC condenser and rear screen. The machine blows debris from mulching applications out of the engine compartment screens with a hydraulically driven, auto-reversing cooling fan. A full rear brush guard is also available as a factory-installed option. The machine works with all standard attachments, including mulching heads, brush cutters, backhoes, buckets, snow blades and pallet forks.
ASV Holdings Inc.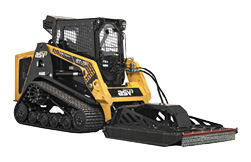 Pad Mount

Transformer Sac
Safety products: Designed specifically to fit pad mount transformers, the Andax Pad Mount Transformer Sac is a complete containment and spill control solution. Once opened, it lies flat ready for installation. Just lift the transformer inches off the ground and slip the Transformer Sac up and around it.
• Contains all leaks and reduces cleanup time for equipment and on site;
• No more bulky trays or tubs;
• Avoid PCB exposure;
• Compact storage size, and customizable to your exact specs; and
• Ask about our Pole Mount Transformer Sacs.
Andax Industries LLC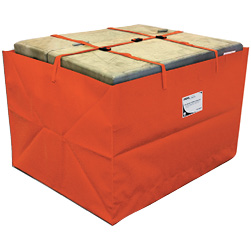 Industrial Wheeled Tractor

Delivers High Hydraulic Horsepower to Mulching Heads, Other Attachments
Line maintenance: The Barko 930B industrial wheeled tractor offers a heavy-duty design, high operator visibility, and versatile attachment capability. The machine provides consistent performance for land clearing, right of way maintenance, and other large commercial and municipal applications.
The 930B is powered by a 320-hp Cummins QSL9 Tier 4 Final diesel engine with SCR aftertreatment. The unit includes a high-capacity anti-clog radiator with auto reversing fan, and a 127-gallon fuel tank allows for longer operating intervals. Unlike loop systems that waste fuel, Barko's load sensing hydraulic system automatically adjusts attachment performance according to the load, resulting in greater productivity and higher efficiency.
With pressure ratings up to 5,000 psi, a high-flow hydraulic pump produces 91 gpm to deliver far more horsepower to the attachment than many comparable machines. High-capacity oil cooler and variable displacement piston pumps keep hydraulic oil cool to maximize service life. A high-pressure 20-micron return filter helps prevent debris from damaging pumps and valves.
In addition, a 45-degree articulation joint withstands extreme stress and tough terrain, while the machine's maneuverable design provides a turning radius of 15 ft., 9 in. to allow work in tight spaces. A hydrostatic transmission with two-speed transfer case allows for controlled operation speeds and travel speeds up to 12.2 mph.
Barko Hydraulics LLC

Professional Markers

Heavy-duty
Utility supplies: GEARWRENCH, a hand tool brand from Apex Tool Group, offers its line of Professional Markers. The markers are available in three different types to provide multiple marking solutions to demanding automotive and industrial users.
GEARWRENCH Fine Point Industrial Markers have an industrial-grade tip made for use on steel, concrete, PVC, wood and more. They work on dusty, wet or oily surfaces. Permanent, alcohol-based, AP-Certified non-toxic black ink dries in five seconds or less. The cap removes easily, even with gloves, and stores on the opposite end during use.
GEARWRENCH Metallic Ink Markers come in gold and silver for high visibility on dark surfaces. They have a damage-resistant tip and, like the new Fine Point Industrial Markers, are made for use on a wide range of work surfaces, including steel, concrete, PVC and wood. They work on dusty, wet, or oily surfaces and the metallic ink dries in 10 seconds or less. Also, like the Fine Point Industrial Markers, the cap stores when in use, the cap-off life is 72 hours, the operating temperature range is 20°F to 140°F, and they meet ASTM Standard D-4236.
GEARWRENCH Liquid Paint Markers offer high visibility on dark surfaces and can be rubbed into recessed markings. With their water and UV-resistant white paint, these markers work on many surfaces, including those that are dusty, wet or oily. As with the other professional markers, the cap pulls off and stores easily during use. Operating temperature range is 50°F to 300°F. The Liquid Paint Markers meet standards EN 71-3 and ASTM F963-11.
GEARWRENCH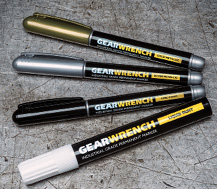 Oil Analysis Kits
Fecon Inc. offers its own brand of Oil Analysis Kits. These kits can be used on a wide range of equipment. This service is not limited to just Fecon branded mulchers or tractors.
Our oil analysis kits offer many advantages for our customers who seek to protect their assets. Some of those advantages include:
• Same day results;
• Critical alarms reported by phone;
• Diagnosis based on OEM specs, asset history and mechanical changes; and
• Easy-to-read reports delivered online.
Fecon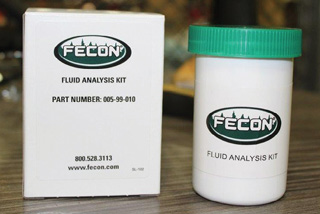 Mobile Computer:

EX80 Fully Rugged Tablet is Intrinsically Safe, Certified for Zone 0
Getac's EX80 fully rugged tablet is its first Zone 0 device—ATEX / IECEx Zone 0 and UL913-certified (Class I / II Division 1) for use in environments with the highest risk of explosion. Zone 0 environments are deemed as areas where explosive gas is continuously present in the atmosphere or present for long periods of time. Designed for use in hazardous and explosive environments, the Getac EX80 incorporates a sealed anti-static exterior with surface temperature control to limit the possibility of explosion due to electrostatic charges, hot surfaces, heat energy or friction.
With the full power of Windows 10 Pro and a host of security features, it provides everything users need to remain productive, across zones, it's reported.
The EX80's compact, ergonomic design makes it comfortable to hold in one hand, and its 8-in. IPS touchscreen provides ample real estate for document viewing and data entry. The sunlight-readable, 600 nits LumiBond 2.0 WXGA display uses a clear resin to optically bond the durable display glass, capacitive touch sensor, and LCD into a single panel for increased durability and improved readability. It features several touch modes that allow operation in the rain, with gloves on and using the included hard-tip stylus, useful for taking notes and capturing data in the field. Battery life (more than 8 hours on a single charge) and an included charging dock make it a robust mobile solution.
Getac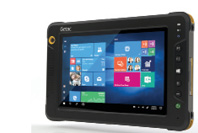 Battle Ax Mulching Attachment

7-ton to 15-ton Excavators
Line maintenance: Loftness has introduced the Battle Ax mulching attachment for 7-ton to 15-ton excavators to its VMLogix line of products. Featuring a new rotor, exclusive two-stage cutting chamber, and direct-drive variable displacement piston motor, the heavy-duty Battle Ax is designed for highly efficient vegetation management, including right of way maintenance, land clearing, forestry applications and more.
The Battle Ax is available with 41-in., 51-in. and 61-in. cutting widths. Its 17-in. diameter rotor features built-in depth gauges, which function similarly to raker teeth on chain saws to prevent the attachment from engaging too much material at one time. This design is more suited for managing the amount of material being fed into the attachment than competitive ring-style rotors, which many operators find to be overly limiting.
The variable displacement piston motor on the Battle Ax is designed to accommodate the output of various excavators. The motor is directly mounted to the rotor with an anti-vibration coupler to eliminate the hassle of drive belts and reduce overall maintenance concerns of the mulching attachment.
Two tooth options are available: ultra-sharp Quadco reversible knives and highly durable carbide teeth. Due to a two-stage cutting chamber, which allows material to be cut twice by the rotor, both styles of teeth are capable of producing some of the smallest particle sizes in the industry. The primary shear bar is adjustable for customizing particle size.
Loftness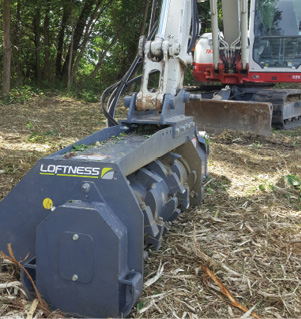 CyberFence CIP Solutions

Protect Machine-to-Machine Communications
Safety products: Ultra Electronics, 3eTI's CyberFence CIP solutions protect machine-to-machine (M2M) communications using advanced cyber protection for vulnerable edge-devices—without disrupting network operations. CyberFence offers utility service providers a wide range of security features, including low latency end-to-end encryption, industrial firewalling, out-of-band management, remote logging and port authentication. Extending protection to SCADA and other networked system endpoints using protocol-specific parsing and whitelisting that assure data integrity, CyberFence also provides encryption as well as DPI/protocol parsing support for a wide range of industrial protocols including Modbus, OPC, EtherNet/IP and DNP3 (includes the Water Industry Telemetry Standard [WITS] messages).
CyberFence readily accommodates new or existing legacy systems without adding complexity. It is ideal as either a bolt-on for existing utility network solutions to provide immediate cyber-protection, or for new deployments to ensure compatibility with industry standards such as IEC-62443. 3eTI's cyber modules have undergone independent security evaluation to achieve FIPS 140-2 validation and Common Criteria NIAP certification.
Ultra Electronics, 3eTI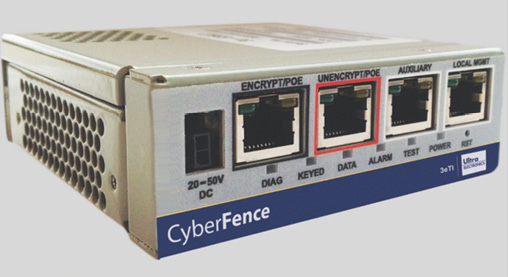 Mini-Jarraff Rear Lot Trimmer

Residential, Municipal Tree Trimming
Line maintenance: Jarraff Industries' Mini-Jarraff Rear Lot Trimmer is specifically designed for residential and municipal tree trimming. A minimal footprint and compact profile allow the Mini-Jarraff to operate in areas where only climbing crews could go before. The patent pending self-leveling carrier allows it to travel on all types of terrain and eliminates the need for traditional outriggers.
The Mini-Jarraff can retract to 36-in. traveling width—small enough for standard gates and backyard fencing—bringing a new level of safety and productivity to rear lot and residential trimming operations. The remote controlled Mini-Jarraff offers a dynamic range of operation including 360-degree rotation, rotating saw head for precision cutting, and a 54-ft. vertical reach.
Jarraff Industries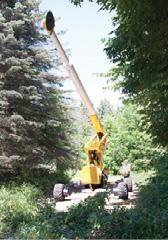 Reduction Gearbox

Improved Torque with Big Beaver Rigs
Construction equipment: Little Beaver Inc., a manufacturer of safe and efficient drilling equipment, offers a planetary reduction gearbox for its Big Beaver and Big Beaver XL drills. The optional gearbox provides as much as 1,100 ft/lbs of torque to drill deeper and handle large diameter augers more efficiently than the standard setup. The reduction gearbox is available with new Big Beaver models and can also be purchased as an upgrade for existing models.
A 27-hp Kohler EFI gas engine powers the auxiliary hydraulic source, which operates at 12.5 gpm and a rotary speed of 100 rpm. The standard Big Beaver operates at 10 gpm with a rotary speed of 150 rpm. The additional horsepower and slower auger speed increases max drilling torque from 500 to 1,100 ft/lbs and improves the drill's overall capabilities.
Little Beaver designed the Big Beaver and Big Beaver XL to work with their D-series augers, which range in diameter from 4 to 18 in. Auger extensions enable drilling depths as deep as 32 ft. with a 16-in. auger and 100 ft. with a 6-in. auger, depending on soil conditions.
Constructed with a welded mechanical steel frame, both models are rugged, durable and useful for a variety of applications. The portable, easily maneuverable design allows access to remote locations inaccessible to truck-mounted units. At 26 in. wide and 48 in. long, the Big Beaver maneuvers into spaces that mounted drills do not fit. The standard model measures 80 in. tall when upright while the Big Beaver XL stands at 92 in. tall.
Little Beaver Inc.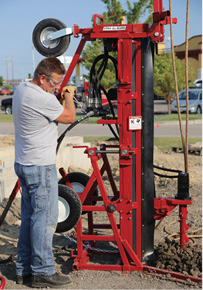 Melni BD-2HLS Crimpless Connector

Electrical Industry
Electrical tools: Remke's BD-2HLS mechanical connector can replace existing commercial, mechanical and crimp-style connectors. Its crimpless installation design and spiral insert technology simplifies the connection process, making it safer, easier and less expensive.
While traditional two-hole lugs are non-range taking, the Melni BD-2HLS accepts anything between 2/0 AWG and #2AWG, spanning a large range of cable and wire sizes, and drastically reducing installation time.
The BD-2HLS is all that's required for a variety of electrical applications—having multiple lug sizes and specialized dies on hand isn't necessary anymore. In the past, electrical connections required multiple measurements, tool change outs and crimps. With the Melni BD-2HLS, an everyday wrench is all that's needed to forge a fast and reliable connection.
The Melni BD-2HLS:
• Exceeds the UL secureness standards by over 250 lbs. and is ergonomically better than any other traditional crimping tool on the market today;
• Is UL rated for both aluminum and copper cabling, reducing the number of tools required for daily installations; and
• Is applicable across the electrical industry and will change how power lineman, electrical contractors, high voltage electricians, construction lineman and others install power, splice or change-out cords and cable, making their job faster and safer.
Remke

Utility Safety

Smart-Retracting Utility Knife with Ergo-Pull
Slice's 10558 Smart-Retracting Utility Knife with Ergo-Pull is a fresh approach to ergonomic thinking in the safety cutting industry. Retracting utility knives have sliders that, when pushed, expose the blade for cutting. The contradictory actions of pushing the slider while pulling the knife during the cut cause unnecessary strain. Slice asked: Why not pull both the slider and the knife? The ergonomic design doesn't just cover the handle's shape; it now extends to retraction mechanisms, too.
Testing by United States Ergonomics confirms that the Slice 10558 Utility Knife with Ergo-Pull reduces forearm and upper arm muscle effort, compared with a standard metal-bladed utility knife. These results were consistent regardless of the orientation of cutting (horizontal or upright). Ergo-Pull results in a measurable boost to worker comfort, especially during repetitive cutting tasks. Less muscle effort means fewer repetitive strain injuries, and that's good news for occupational health and safety.
Slice