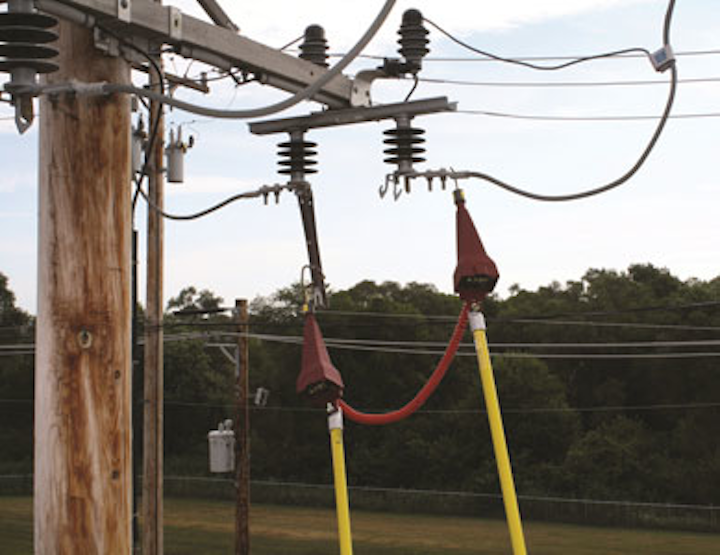 Digital multimeter
The new Digital Multimeter from Megger offers voltage range up to 1,000 V TRMS. The AVO800 series is ideal for maintenance of electrical applications and equipment. It offers 0.1% basic accuracy, two wire phase sequence detection, resistance from 0.01 Ω to 50 MΩ, and a safety rating of CATIV or dual CATIV/CAT III depending on model.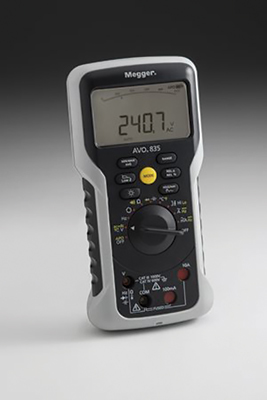 The AVO800 is developed on the latest DMM chip sets — the measurement control center for the multimeters. This unit offers an optimal range of test functions, such as phase sequence, live circuit detection, low and high input impedance AC and DC voltage measurement and continuity (or resistance testing) down to 0.01 ohms. All are used in both the electrical and service industries. Depending on the model of multimeter being used in the AVO800 series, it has a safety category rating of CATIV up to 600 V or combined CATIV/CAT III up to 600 V/1,000 V, respectively.
Megger
www.megger.com
Helicopter blocks in multiple sizes
Condux Tesmec 2-3 bundled conductor helicopter blocks are now available in 24- and 32-inch diameters, measured to the bottom of the groove.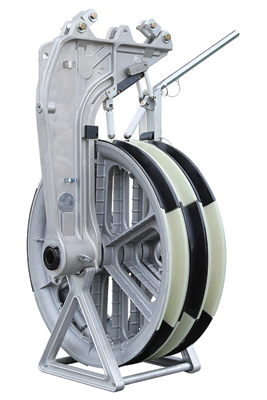 The one-piece, cast-aluminum frame is over 25% lighter yet stronger and less likely to break compared to aluminum blocks with welded extruded frames. The unit's specially designed counter-weight fly-in gate allows for quicker and more secure rope installs, featuring a unique hinge for safer and more efficient cable removal during clipping operation. Specially designed polyurethane sectors for the 32-inch block are available for use with twisted pair, T2/VR2 conductor. With a workload rating of 12,000 lbs, the Condux Tesmec 2-3 bundled conductor blocks are load tested to 60,000 lbs providing a 5:1 safety factor. Lightweight aluminum blocks are easier to handle and require less fuel when hanging by helicopter or shipping from jobsite to jobsite. Replaceable nylon sectors are also available.
Condux Tesmec
www.conduxtesmec.com
Rigging blocks
The DDIN DNRB-6 Rigging Block sets a new standard for rigging blocks.
This block's double-raced bearings and precision machined parts reduce side-to-side play and with a working load limit (WLL) of 5,000 lbs (at a 5:1 design factor), this block is ASME B30 compliant. Each block is proof tested and serialized for traceability. Made in the USA.
Tallman Equipment
www.tallmanequipment.com