Asset Management Feature
eCompliance has added Asset Management to its safety software, making it the only software to track both assets and people under one platform to mitigate another level of risk in the workplace. Asset Management provides frontline workers and safety managers with an added layer of risk transparency. They're able to ensure assets are inspected on a regular basis and are safe to operate or use for their employees. Companies can now track assets and their inspection reports in real time, which ensures they are compliant with their required policies.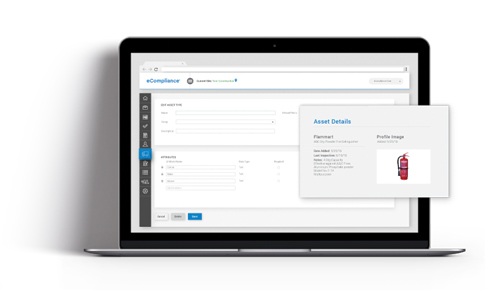 Asset Management is flexible and easy to use, structured to promote ease of use and flexibility to all users to consider human-asset interactions, the environment, and training/certification. Users can use Safety Intelligence reports and insights to drive corrective actions with the additional data from the Asset Management feature. Users can assign an asset to one worker or multiple workers and are able to view all assets and perform inspections. Additionally, users can have access to inspection records, action items, and maintenance records all on one feature. Feature notifications allows users to be notified when an asset status changes and when scheduled inspections are missed.
eCompliance
www.ecompliance.com
Monitoring Software
Dranetz Technologies introduces PQView DE as a replacement to its Encore Series Software (ESS) for use with its power quality, demand and energy monitoring systems. Previously, ESS relied on Java plug-ins, which are no longer supported in newer web browsers.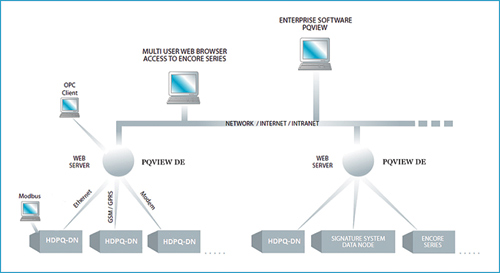 With its new look and modern design, PQView DE offers the complete feature set, which long-time Dranetz software users have become familiar with, while leveraging modern cross-browser supported features and a responsive design. PQView DE is fully compatible with all of the Dranetz products that were supported by ESS, including the 61000 family, ES meters and legacy 55xx series DataNodes. PQView DE is based on the enterprise software platform PQView developed and supported by affiliate company Electrotek Concepts where it is used by utility customers globally. As a result, PQView DE users will have a seamless migration path to the more scalable and feature-rich PQView enterprise software platform as their needs grow.
Dranetz
www.dranetz.com
Rugged Workstation
Panasonic, an industry-leading manufacturer of mobile computing solutions that are purpose-built for the way people work, announced the U.S. launch of its newly upgraded TOUGHBOOK 31 laptop computer. Specifically designed for the mobile workforce, which has relied on the TOUGHBOOK brand for two decades, the TOUGHBOOK 31 offers improved safety and functionality to optimize productivity for workers in challenging and extreme environments.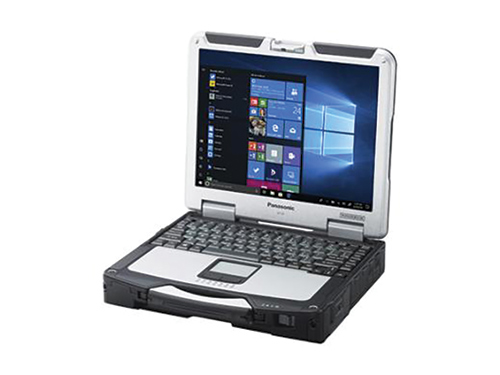 Upgraded with the latest Intel® Core™ i5-7300U vPro™ processor, the TOUGHBOOK 31 is more powerful than ever before, offering peak performance, enhanced graphics, standard features such as faster 16 GB DDR4 memory and a 256 GB SSD, an advanced LTE module, and several additional new improvements. To provide flexibility for those in manufacturing, EM7455 LTE-Advanced is available to offer unparalleled LTE speeds, bandwidth and network performance. Also available is a dedicated GPS modem. For customers who often find themselves away from power sources for extended periods of time, a second battery offers the ability to swap batteries to achieve unlimited battery life and enhanced safety on the job — an imperative for the federal government sector. Additional improvements include an updated Wi-Fi chip, and more standard features like a 256 GB SSD.
Panasonic
us.panasonic.com
Vinyl Storage Line
Klein Tools has introduced a new bright orange vinyl storage line, which includes the small aerial apron, lineman duffel bag and two vinyl buckets. The product line's increased visibility and protection from the elements enable line workers to stay focused on getting the job done right, not wasting time searching for their tools. All four products feature a bright orange exterior to increase visibility and water-resistant vinyl to protect against the elements.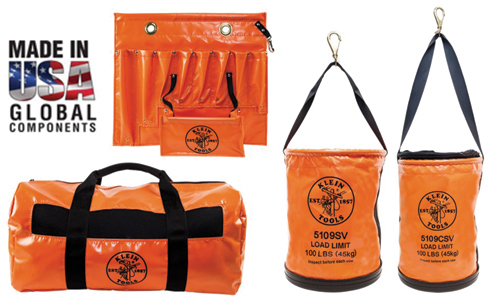 The small aerial apron (Cat. No. 51828) features eight pockets and one larger pouch to fit needed hand tools perfectly. Its compact size makes everyday storage easier, and a reinforced tool pouch with heavy-duty rivets increases durability. A swivel snap hook helps attach and organize tools. The Lineman Duffel Bag (Cat. No. 5216V) features a spacious interior to make finding tools easier, drain holes to help minimize water buildup, mesh strips to keep the bag aerated so work clothes and equipment can stay dry, and web straps that extend around the bag for extra support. Finally, the Vinyl Buckets with Swivel Snap (Cat. Nos. 5109SV, 5109CSV) are load rated for up to 100 pounds (45 kg), feature a web handle that extends down the sides of the bucket for added strength, swivel snap hook for hoisting, and a black, molded polypropylene bottom that stands up to harsh jobsite demands.
Klein Tools
www.kleintools.com
SDS Max Rotary Hammer
Milwaukee Tool announces its fastest-drilling and hardest-hitting SDS Max rotary hammer yet. The M18 FUEL™ 1-3/4" Rotary Hammer with ONE-KEY™ generates the power of a 15 amp corded hammer of the same size, features an electromagnetic clutch for maximum control and safety during use, and is capable of chipping a 1/2 ton of material per charge.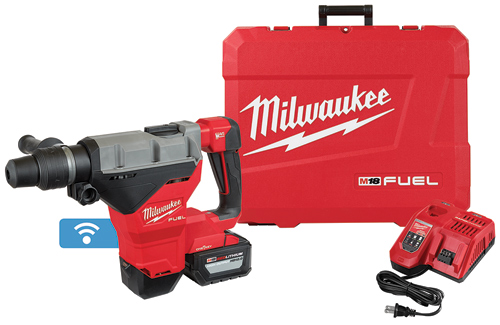 Equipped with ONE-KEY, users can also easily track, manage, and secure the rotary hammer through the ONE-KEY app on their mobile device. When equipped with Milwaukee's new M18™ REDLITHIUM™ HIGH OUTPUT™ HD12.0 Battery, the rotary hammer can chip up to a 1/2 ton of material per charge, eliminating the hassle of cords while exceeding the performance of corded alternatives. The new HIGH OUTPUT HD12.0 Battery provides 50% more power, runs 50% cooler, and delivers 33% more run-time than the M18 REDLITHIUM HD9.0 Battery. The new tool is also engineered with a proprietary AUTOSTOP™ electromagnetic clutch for the safest drilling and demolition experience. This clutch kicks in during lock up to prevent over rotation, minimizing potential rotation to only 45 degrees versus the typical 360 degrees of rotation users often experience with other hammers in this class.
Milwaukee Tool
www.milwaukeetool.com
Charger Cover
The newest Super Auto Eject Deluxe Cover for select dual output chargers (product number 091-219-55-239-XXX) is compatible with the Kussmaul AC 4000 and AC 2000 Dual Chargers. This cover incorporates the Auto Eject and Indicator in one product.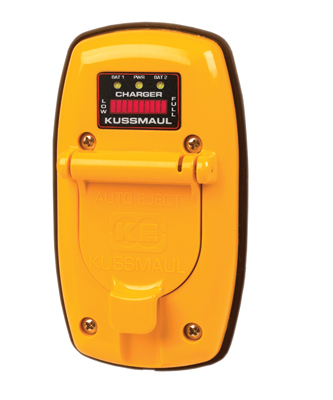 Available in color options of blue, black, gray, red, white and yellow. Built for severe duty, the cover is sealed against the elements with a pre-molded rubber rear gasket. The cover has a lid that opens 180°, allowing the user more variability to plug in the shoreline. Features include a Bar Graph Display and LED Indicator, with 10 red LEDs in Bar Graph and 3 green LED 'Power On' indicators. Proudly engineered and manufactured in the USA.
Kussmaul Electronics
www.kussmaul.com
Twin Steer Truck
Kenworth is adding a factory-installed twin steer configuration to its T880S vocational model. The Kenworth T880S Twin Steer features a set-forward front axle with a 61-inch axle spread to maximize payload. The Kenworth T880S Twin Steer offers a very short 114-inch BBC. This allows larger bodies to be installed farther forward and closer to the cab.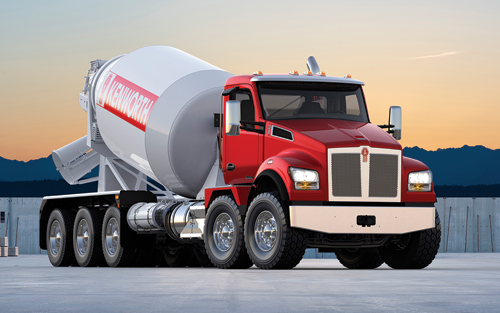 The 61-inch axle spread enables customers in the U.S. to address applications such as ready mix, block trucks, cranes, and concrete pumpers. Depending on the detailed specs, as well as federal and state bridge laws, the T880S Twin Steer can handle 1,500 or more pounds of additional payload compared to a non-set-back axle twin steer. The Kenworth T880S Twin Steer's front axles are rated at 40,000 pounds. The front-end components, including axles, springs, and steering gears, are shared with non-twin steer T880S. The front suspension is "equalized" between the front and rear steer axles for greater driver comfort and payload distribution between the two. The T880S offers the PACCAR MX-11 and PACCAR MX-13 engines up to 510 hp with torque up to 1,850 lb-ft. An Allison automatic transmission is available when ordered with PACCAR wide or standard track front axles.
Kenworth
www.kenworth.com
Constant Rate Descender
The Checkmate MAX 300 Descender is one of the most versatile constant rate descenders on the market today, packed full of innovative features. Suitable for use by up to three people, with a maximum combined total weight (including tools and equipment) of 660 lbs.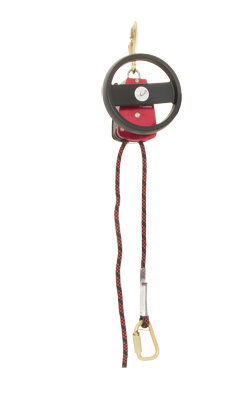 (300 kg). Models are available for automatic hands-free operation, and also with advanced rescue functionality as well as power-assisted raise option (separate power drill required). The device is designed to be used attached to the anchor point in regular mode of operation, or inverted mode, attached to the user and/or casualty. The device is completely symmetrical, allowing full use of all functions regardless of the direction the MAX is running. This also gives full functionality for each multiple descent or rescue.
Pure Safety Group
www.puresafetygroup.com
Remote Racking Solution
CBS ArcSafe®, a leading manufacturer of remote racking and switching solutions for low- and medium-voltage switchgear, introduces its single-application remote racking solution (RRS) for Merlin Gerin Selpact air circuit breakers. The lightweight, portable CBS ArcSafe RRS-3 Selpact allows technicians to remotely install and remove circuit breakers from a safe distance of up to 300 feet away while remaining stationed outside the arc-flash boundary.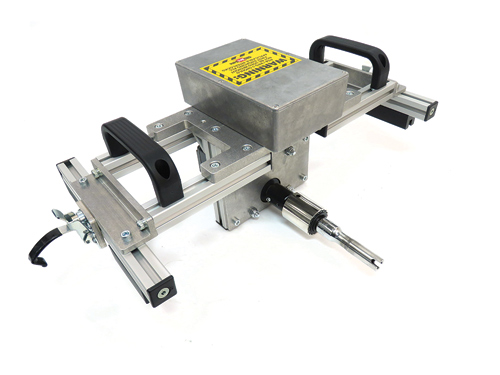 Installation and operation do not require any modifications to the existing electrical equipment, thanks to CBS ArcSafe's magnetic latching system. The RRS-3 Selpact is compatible with 1600 A, 2000 A, 2500 A, and 3200 A Merlin Gerin Selpact air circuit breakers, including the DN2, DN2-H, DS2, DS2-H, DR2, and DRS-2. Typical applications include protection and switching of three-phase, four-wire power systems up to 660 V AC. Optional features include 25-foot pendant extensions, a 24 V DC LED light, a wireless video camera system with an LCD monitor, and a rugged protective case assembly. All RRS-3 units are portable, with fast and easy setup. They offer mechanical and/or electrical safety protection, adjust to fit unique electrical equipment configurations, reduce requirements for personal protection equipment, and meet NFPA 70E arc-flash safety compliance standards.
CBS ArcSafe®
www.cbsarcsafe.com
Lifting Attachment
The new Genie® Lift Tools™ Material Carrier attachment offers Genie GS™-2669, GS-3369 and GS-4069 DC and RT rough terrain scissor lift operators a solution to efficiently carry materials to jobsites. Designed to accommodate a wide range of materials and higher load capacities than a standard pipe cradle attachment, this new Genie accessory is ideal for use in applications that require lifting materials to height, such as tilt-up construction, post-frame building construction, fire suppression installation, HVAC installation, rooftop contracting and facility maintenance.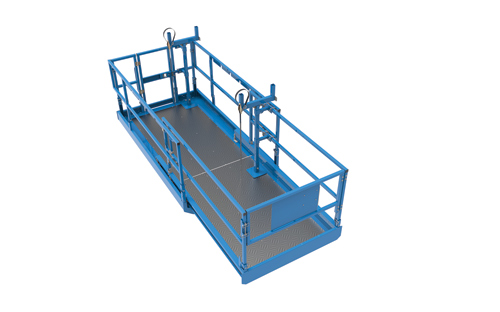 The large carriage and high capacity of the Genie Lift Tools Material Carrier attachment is suitable for a multitude of material types, including lumber, pipe, HVAC materials, siding and plate material. It is approved for use on: Genie GS-2669 DC and RT models with a capacity up to 700 lbs. (317 kg), Genie GS-3369 DC and RT models with a capacity up to 500 lbs. (227 kg), and Genie GS-4069 DC and RT models with a capacity up to 350 lbs. (159 kg). Other benefits of the Genie Lift Tools Material Carrier attachment are that it can accommodate more than one pipe, can be positioned on the scissor lift's main platform or extension deck, can still be used with the extension deck retracted and can be installed laterally or longitudinally. It can be installed, or removed, in less than 20 minutes.
Genie
www.genielift.com
Insulated Torque Tools
Cementex, the safety tool specialists, announces the availability of torque wrenches and torque screwdrivers with the company's industry-leading double-insulation technology. These calibrated torque tools are designed for installation applications where a tightening torque is indicated as a numeric value on the equipment or in the installation instructions provided by equipment manufacturers.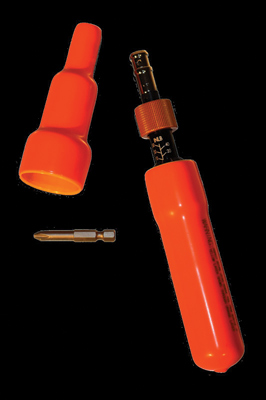 With Cementex's torque wrenches, an audible "click" or a few degrees of rotation provide a simple, fast indication of micrometer-accurate torque settings. The wrenches feature a low-friction torque control mechanism to produce accurate readings in either direction. Unlike in most conventional torque wrenches with a single calibration adjustment, two calibration adjustments permit easy and precise torque settings. The wrenches' spring-loaded or twist-locking collar keeps the scale on the desired reading and remains in a locked position, making accidental unlocking impossible. Dual-scale wrench models offer readings in inch-pounds and Newton meters, or foot-pounds and Newton meters. Additionally, reversible ratchet models feature a quick-shift lever to allow easy, single-handed shifting. Cementex's torque screwdrivers feature a precision micrometer scale calibrated in inch-pounds, with one inch-pound increments. The screwdrivers feature easy-release bit holders, which securely retain bits during operation while permitting easy removal. With an anti-backlash design, the screwdrivers ensure repeatability.
Cementex
www.cementexusa.com
Ultrasonic Vehicle Sensors
Reducing blind spots and improving driver visibility are important issues for operators of road-going vehicles. Over the past few years, safety devices such as additional mirrors or camera systems that give wider viewing angles have become commonplace and even mandatory under blind spot legislation. However, despite an increase in visibility, collisions with other vehicles, fixed objects, cyclists, workers and even pedestrians, remain high.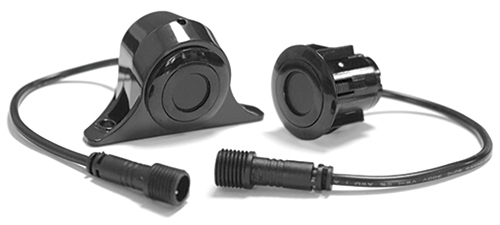 Brigade's ultrasonic proximity sensors minimize both vehicle damage and collisions with pedestrians, cyclists or objects. Perfect for road-going commercial vehicles operating in confined spaces or maneuvering at low speed. The detection system alerts the driver of obstacles close to the vehicle, whether moving or stationary. An audible and/or visual in-cab warning informs of distance while an optional external speaking alarm can be added to alert cyclists and pedestrians that the vehicle is turning. Compliant with CLOCS, FORS and construction companies who require commercial vehicles to meet specific safety specifications. Brigade's range of ultrasonic sensor systems include: Backscan®, Frontscan®, Sidescan®, Cornerscan™ and Stepscan™. Each gives peace of mind to the driver; offers greater protection to pedestrians, cyclists and workers; and minimizes damage to vehicle, property and other objects.
Brigade Electronics
https://brigade-electronics.com
Safety Footwear
Step into one of KEEN's lightest men's 6-inch work boots yet. With air-injected midsole and lightweight aluminum safety toe, the San Jose is epically light.
Unlined waterproof leather upper means no break-in period. KEEN's oil- and slip-resistant outsoles meet or exceed ASTM (American Society for Testing and Materials) F1677-96 MARK II non-slip testing standards. Features include: Left and right asymmetrical aluminum toes; KEEN LUFTCELL dual-density PU midsole, infused with air for weightless comfort; striped outsole disperses liquids quickly for increased traction; TPU shank for midfoot support; and Cleansport NXT™ for natural odor control.
KEEN Footwear
www.keenfootwear.com
Electric Wire Rope Hoist
When you need quality and performance in a wire rope hoist, turn to the Shaw-Box® SK™ hoist from Columbus McKinnon. Based on German technology, the SK delivers the industry-leading technology and safety you need for your lifting applications in a design that is compact and easy to maintain.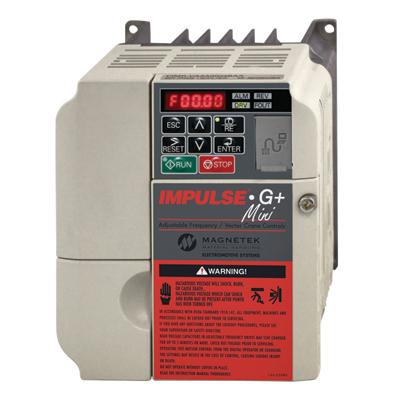 Precision engineered for optimal performance, these monorail units are built for reliable operation, high efficiency, and long service life and are competitively priced for the U.S. market. Features include:
• Single-Grooved Rope Drum: 2-part single or 4-part single reeving is available, depending on the application.
• Flexible Configurations: Hoists can be configured to your unique application needs, available in 5 frame sizes with 16 load capacity variants.
• Compact Design: Compact dimensions due to U-shape design. Exceptionally short approach allows for optimum use of work area when space is limited.
• Smooth Operation: Extremely smooth starting and braking characteristics.
• Low-Headroom Monorail Trolley: The KE monorail trolley is used on monorail runways and single-girder overhead traveling cranes. Trolley is easily adjustable for different beam sizes and comes standard with two-speed trolley.
Available for 1-15 ton capacities. Largely maintenance-free design with field-proven components designed for low wear and long service life. Standard safety features include block-operated limit switch, adjustable geared limit switch, motor, temperature control, and overload protection.
Columbus McKinnon Corporation
www.cmworks.com
Partial Discharge Test System Software
HAEFELY HIPOTRONICS, a leading developer and provider of high-voltage test systems and measuring devices, announces the launch of the new remote-control software for dielectric and partial discharge tests.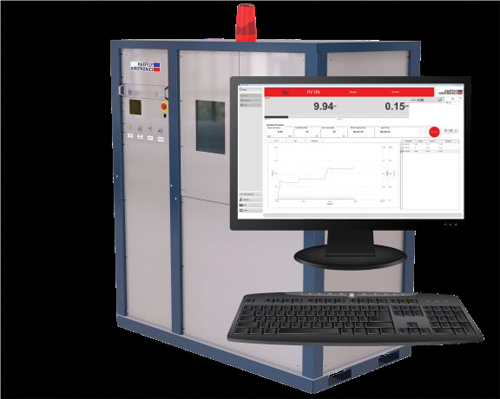 HAEFELY HIPOTRONICS' Partial Discharge Test System (PDTS) Software for dielectric and partial discharge test is a remote-control software system to control the AC power supply, collect results from measuring instruments and perform automatic test sequences. The PDTS software can be used in factory settings to test equipment such as isolators, instrument transformers, bushings, and generator bars. In general, it tests high-voltage components and parts. Galvanic isolation between the computer and the test system is now possible, which increases safety for its users.
HAEFELY HIPOTRONICS
www.hipotronics.com
Vehicle Service Data Integration
Fleetio launched an integration with national and independent automotive maintenance shops around the United States to allow its users to automatically record service data in Fleetio from a repair shop's point of sale, electronically approve repair orders and get one bill including all maintenance vendors. Through Fleetio's Maintenance Provider Network, users can automatically pull data into Fleetio from over 30,000 maintenance shops including national providers and over 22,000 independent shops.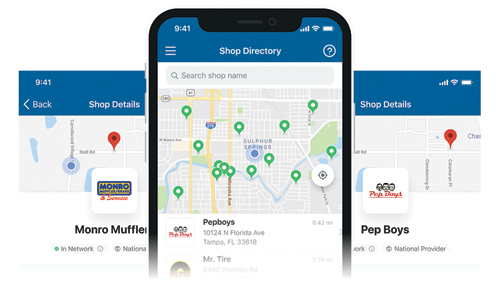 Fleetio's Shop Integration gives users increased control over repair order approvals and improves efficiency, allowing fleets to get vehicles out of the shop and back on the road faster. Users can set up automatic approvals based on certain parameters like price, service type and vendor, or users can choose to receive instant notifications for repair work and approve or deny them with one click. Fleetio's shop integration comes at no additional cost to users and is included on the solution's Pro and Advanced Plans. Many national providers who are a part of the Maintenance Provider Network are offering Fleetio customers exclusive fleet discounts and regular special offers.
Fleetio
www.fleetio.com
Strobe Beacon
The GNExB1X05 is an IECEx and ATEX approved, explosion-proof, 5-joule xenon beacon. The robust IP66 corrosion-proof GRP enclosure and extended temperature range ensure the GNExB1X05 is suitable for all Zone 1, 2, 21 and 22 hazardous location signaling applications.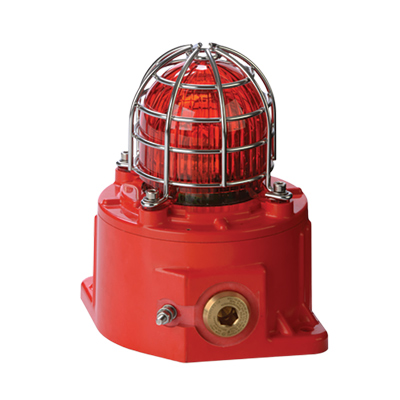 The GNExB1X05 beacon produces over 117 cd effective — a high-output xenon strobe flash required for safety signaling. The field-replaceable color filter enhances the strobe and is constructed from UV stable PC. The GRP enclosure features a threaded flame path, dual cable entries and a large termination area, all of which significantly reduce installation time. The GNExB1X05 is available as a plated assembly configured with up to 4 xenon strobe beacons with or without a GNExJ2 Ex d junction box.
e2S Warning Signals
www.e2s.com
Rugged, Waterproof Smartphone
Kyocera International Inc., a leader in rugged mobile solutions, has launched the rugged DuraForce PRO 2, a 4G LTE Android smartphone now available through Verizon Wireless. Designed for business and enterprise use, especially construction, public safety and transportation as well as adventure-seeking consumers, DuraForce PRO 2 is dependable and durable in harsh environments on the job or in everyday life.
DuraForce PRO 2 features a Verizon-­exclusive 5-inch Sapphire Shield Display, which is virtually scratch-proof. The rugged smartphone boasts IP68 waterproof and dust-proof certification (to 2 m/6.5 ft deep for up to 30 minutes) and Military Standard 810G for protection against shock, vibration, temperature extremes, blowing rain, low pressure, solar radiation, salt, fog, humidity, immersion, temperature shock and icing/freezing rain. Certified Non-incendive Class I, Division 2 (Group A-D, T4), the device is ideal for plant and field operations needing durability and safety where concentrations of flammable gas, vapors or mists are not normally present in explosive concentrations but may exist. All this reliability is backed by a 2-year manufacturer's standard warranty. Designed with the enterprise customer in mind, DuraForce PRO 2 incorporates enhanced security features including a biometric fingerprint sensor built into its power button, Secure Device Encryption with FIPS 140-2 and more. Its inherent survivability helps reduce the total cost of ownership and the need to replace or repair devices. With gloved and wet screen operation, the device can be used in cold, wet, or muddy conditions.
Kyocera
www.kyoceramobile.com