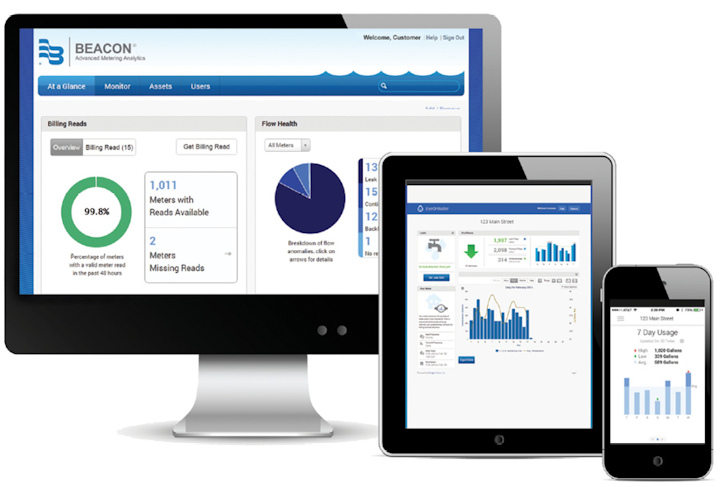 By Kristie Anderson
Over the past several years, the water metering industry has seen a greater focus on more efficient means of relaying data and managing water systems. Advancements in cellular, as well as data analytics technologies, are helping water utility managers more effectively and reliably understand, monitor and manage their operations. Today, because water utilities are being asked to do more with less, water utility managers are demanding these efficiencies on an even broader scale through "smarter" managed water metering solutions.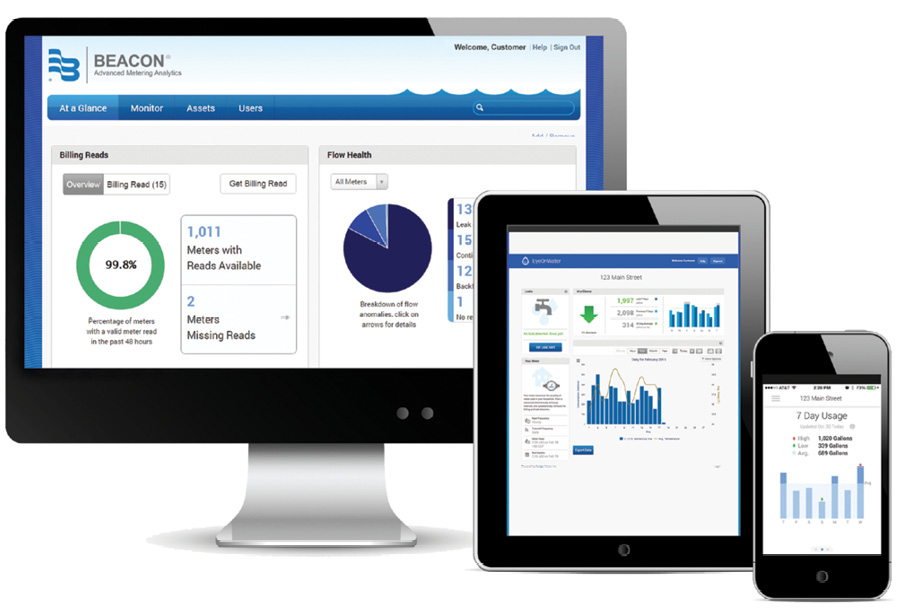 The Features of a Managed Solution
For decades, water utilities implemented traditional meter reading systems, such as automated meter reading (AMR). These technologies required utilities to construct and maintain physical infrastructure. Reading water meters also called for substantial employee time, in addition to vehicle maintenance and fuel costs. Today, advancements in cellular technology and more robust data analytics software are changing how water utilities not only obtain meter readings, but how they operate their entire water systems. Wholistic managed solutions, such as Badger Meter's BEACON Advanced Metering Analytics (AMA) solution, require minimal to no infrastructure and offer utilities access to real-time, decision-making data analytics.
A key component of an intelligent managed solution is the ability for utilities to adopt Software as a Service (SaaS). This means the metering vendor assumes responsibility for managing the communications network and hosting the secure software for the utility. When managed systems, such as the BEACON AMA solution, are hosted off-site on secure global Cloud networks, they are less susceptible to crises, such as natural disasters that can disable entire systems for long periods of time. Utility managers benefit from increased reliability and security, and enhanced analytics-based reporting and decision-making capabilities that enable them to do what they do best: operate the utility and serve their customers.
Cloud-based Software
Cloud-based software services make it easier and less costly for utilities to build and manage their IT resources. The software applications are hosted by the solutions vendor in secure data centers, eliminating the need to install and maintain computer hardware and software at the utility. All that is needed to access the software is a personal computer with a web browser. Software enhancements are automatically updated by the solutions provider, with the cost included in the base subscription.
This ability to take a "hands-off" approach with cloud-based managed solutions provides the greatest flexibility for water utilities. Because there is no need to spend time and money implementing and maintaining IT hardware and software, utility teams can deploy new solutions more quickly and efficiently. For managed solutions such as BEACON AMA, there is an added capability of deploying cellular endpoints alongside already existing systems. And, herein lies the second element of a smarter managed solution—the connectivity and adaptability of cellular networks.
The Power of Cellular
Water utilities that implement a managed solution with cellular technology, such as Badger Meter's ORION Cellular endpoints, have the flexibility to scale their network up or down as needed, save money on infrastructure implementation and maintenance, and increase security capabilities. In addition, cellular networks already have a proven track record in the water utility industry. For years, cellular has been used as the backhaul of advanced metering infrastructure (AMI) managed solutions, or the intermediary connection between the core network and the smaller sub-networks.
More recently, water utilities have been looking to cellular networks for "smart city" capabilities. Beyond the water system, cellular-powered managed solutions translate to how a city operates. Because cellular networks are commercially available, cities are not forced into one-size-fits-all propriety solutions. Each utility within a city, including the water utility, can deploy infrastructure as needed without relying on large scale deployments to justify upgrades.
Because of their universal use across numerous industries, especially emergency responders, cellular networks are also among the first utilities to be restored after a crisis. So, water utilities can rest assured their systems will be back online as quickly as possible should a major storm or other situation occur.
The Trend Towards AMI
The demand for more efficient technologies has been evolving over the past two decades, with many water utilities moving from mobile AMR systems to AMI technology. The past few years have seen more water utilities transition to even more robust technology, including cloud-based AMA solutions.
This transition from traditional AMR to AMI and AMA technologies has allowed water utilities to move more quickly—capturing meter reads in minutes rather than monthly or quarterly—and often more reliably. By removing the burden of operating infrastructure and having access to real-time data analytics, water utilities are able to improve their customer service effectiveness, increase operational efficiency and provide end-water users with a better understanding of their water consumption.
Meter reading needs vary by utility, so mobile will continue to be a part of ongoing water management strategies. This is where a strong relationship between the metering manufacturer, metering distributor and water utility plays a vital role. By working with a team of smart and experienced customer service managers, water utilities can thoughtfully determine the best solution for their needs. In instances where AMR is still necessary or desired, for example, certain managed solutions, such as the BEACON AMA managed solution, can be deployed alongside a more traditional mobile endpoint, meeting current needs while providing flexibility for upgrades.
Delivering High-quality Water
While there have been many changes in water metering products and technologies over the years, the primary objective of water utilities has remained the same: delivering high-quality water to their customers. As the water metering industry continues to evolve, more utilities are achieving this objective through smart managed solutions that rely on cloud-based software systems and cellular technology.
The managed solution approach is enabling water utilities to "future proof" their water metering infrastructure and data management systems, while at the same time enabling utility managers to better understand, monitor and manage their water delivery system. UP
About the author: Kristie Anderson has more than 20 years of experience in marketing and product management, with extensive expertise in adapting new technology to maximize customer value. In her current role as product marketing manager for Badger Meter, she is responsible for the BEACON Advanced Metering Analytics managed solution. She holds degrees in marketing management and business administration from the School of Business at the University of Wisconsin-Madison.