360° Hand Chain Hoist Line

Includes 15-ton and 20-ton Capacity Units, Integrated Trolley Models
Utility tools: Columbus McKinnon Corp., a designer, manufacturer and marketer of motion control products, technologies and services for material handling, has expanded its offering of the CM Hurricane 360° hand chain hoist to include new 15-ton and 20-ton capacity units as well as a full line of army-type, integrated trolley models. Designed for versatility and safety, the CM Hurricane 360° features a patented 360-degree rotating hand chain cover that allows operators to lift and position loads from virtually any angle.
Because of its design, the CM Hurricane is cited to be the ideal hand chain hoist when working in tight spaces, above the load, in drifting applications and when the operator needs to maintain a safe distance when handling a load.
New army-type, integrated trolley CM Hurricane hoists feature a compact, low-headroom design that provides even more flexibility in applications with low ceilings or limited space. Available as plain or geared models, these trolley hoists have reduced side clearances and end approach to aid in maneuvering heavy loads in tight spaces. They can be easily adjusted to fit a wide range of beam widths and profiles and have trolley wheels designed for smooth rolling with pre-lubricated, encapsulated ball bearings.
Rugged, durable and easy to maintain, the CM Hurricane 360° is available in capacities ranging from 1/2 to 20 tons with standard lifts up to 30 ft. It is also backed by Columbus McKinnon's lifetime guarantee. All models are now available with optional chain containers as well.
Columbus McKinnon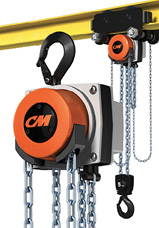 Safety Equipment:

Multi-frequency Cable and Pipe Locator
Schonstedt's Rex, the company's pipe and cable locator, is aimed at all underground utilities: water and sewer, electric, telecom and gas. Rex is a multi-frequency locator with a price tag comparable to single-frequency locators. The sleek design of the transmitter is less than 2 in. thick and weighs less than 4 lbs. The pistol-grip receiver extends for greater sensitivity and retracts for easier carrying and storage. Both the receiver and transmitter fit easily into a custom shoulder bag—no more lugging of heavy cases, no more hand and wrist fatigue—even after a full day of locating. And Rex is so ruggedly built that it carries a three-year warranty.
Schonstedt also offers Rex as a Multi-Purpose Combo Kit (MPC-Rex). Cited to be the first of its kind, this kit includes a GA-92XTd Magnetic Locator and a Rex Multi-Frequency Pipe and Cable Locator. Projects calling for both pipe and valve locating now move faster, with less time lost. And purchased as a kit, the two-locator bundle reaps even more savings.
Schonstedt Instrument Company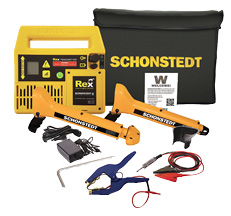 Test Products:

New and Improved 10A Micro-Ohmmeter Model 6255 Introduced
AEMC Instruments' 10A Micro-Ohmmeter Model 6255 is a rugged, low resistance tester designed for plant maintenance, quality control and field use. Using the four-lead Kelvin method of testing, the Model 6255 is cited to be one of the most accurate Micro-Ohmmeters available, with 0.05 percent accuracy.
Resistance measurements are automatically calculated and displayed, taking into account the measurement value, ambient temperature, reference temperature and metal temperature co-efficient. Sample temperature can be manually entered by the operator or directly measured by the Model 6255 with an external RTD temperature probe.
The Model 6255 is designed to conduct tests on both resistive and inductive material, with operator selection directly from the front panel. Three test modes are available: resistive (instantaneous test), inductive (continuous test), and auto (repetitive tests). Includes free DataView software for data storage, real-time display, analysis and report generation.
Features:
• Measure from 1μΩ (0.1μΩ resolution) to 2500.0Ω
• Test current selection of 1mA, 10mA, 100mA, 1A, and 10A
• Tests up to 60 minutes at 10A
• RTD temperature probe (optional)
• Selectable metal types
• Automatic and manual temperature correction
• Two programmable alarm set points
• Stores up to 1,500 test results
• Selectable inductive or resistive test modes
• Automatic multiple test mode (multiple tests without pressing the test button)
• Large multi-line electroluminescent display
• Internal rechargeable batteries conduct up to 5000 - 10A tests
• Rugged, double insulated waterproof case
Applications:
• Plant maintenance, quality control and field use
• Aerospace metallic coating resistance measurement
• Bonding resistance measurement of motors and transformers
• Bonding verification on earth/ground systems
• Weld joint integrity verification
• Contact resistance measurement of breakers and switchgears
• Aircraft and rail bonding checks
• Wire to terminal connections and resistance checks
• Battery strap resistance checks
• Cable joint and bus bar connection checks
• Mechanical bond tests
AEMC Instruments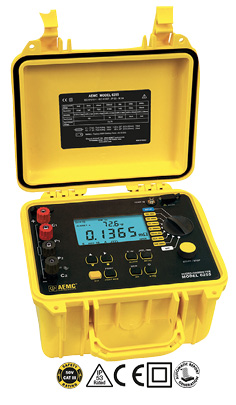 Safety Equipment:

Bundled Conductor Helicopter Blocks now Available in Multiple Sizes
Condux Tesmec 2-3 bundled conductor helicopter blocks are now available in 24-in. and 32-in. diameters, measured to the bottom of the groove. The one-piece cast aluminum frame is more than 25 percent lighter, yet stronger and less likely to break compared to aluminum blocks with welded extruded frames.
The unit's counter-weight fly-in gate allows for quicker and more secure rope installs, featuring a hinge for safer and more efficient cable removal during clipping operation. Polyurethane sectors for the 32-in. block are available for use with twisted pair, T2/VR2 conductor.
With a workload rating of 12,000 lbs., the Condux Tesmec 2-3 bundled conductor blocks are load tested to 60,000 lbs., providing a 5:1 safety factor. Lightweight aluminum blocks are easier to handle and require less fuel when hanging by helicopter or shipping from jobsite to jobsite. Replaceable nylon sectors are also available.
Condux Tesmec offers a full line of stringing equipment including pullers, tensioners and puller-tensioners, as well as productivity-enhancing conductor stringing tools and accessories.
Condux Tesmec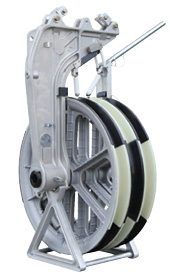 Banana Jack Test Switch

Offers Customer Safety
Electrical testing: Brooks Utility Products, a supplier of electric metering products for the utility industry, offers the Banana Jack Test Switch, a product designed with customer safety as the top priority. The safety and security of banana plugs can now be used on test switches for electric meter testing.
Banana Jacks are cited to offer a more secure and superior electrical connection of field test equipment to the test switch compared with the conventional methods using alligator clips. This product was developed in response to customer reports of numerous near-misses and safety incidents when alligator clips became dislodged from test switches. The product is offered as a retrofit kit and as an optional feature on all Brooks metering test switches.
Brooks has applied for and received a patent for the use of banana jacks as the connection point on test switches for metering applications. Customers can purchase the banana jack test ear for easy retrofit of existing test switches or have it added as an option to test switches purchased in the future.
Brooks Utility Products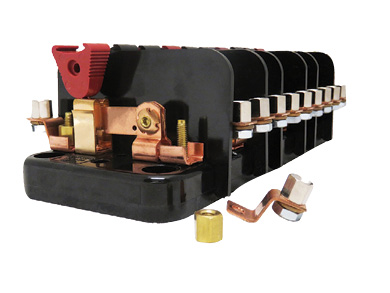 Remote Switch Actuator

for Sylvania/Zinsco QSF Series of 100–600 A Panelboard Switches
Energy management: CBS ArcSafe, a manufacturer of remote racking and switching solutions for low- and medium-voltage switchgear, offers its remote switch actuator (RSA) for the Sylvania/Zinsco QSF series of 100–600 A panelboard switches (PBSs). The lightweight, portable CBS ArcSafe RSA-103 allows technicians to remotely close or trip a Sylvania/Zinsco PBS from a safe distance of up to 300 ft., well outside the arc-flash boundary.
Installation and operation do not require any modifications to the existing electrical equipment, thanks to CBS ArcSafe's magnetic latching system. Typical applications include switching and protection of low-voltage AC-power distribution systems. When compared to other arc-flash mitigation alternatives, the RSA-103 is a cost-effective solution for keeping operators safe when using Sylvania/Zinsco QSF series 100–600 A switches.
Optional features include radio remote with a range of up to 300 ft., 24 Vdc LED light, wireless video camera system with LCD monitor, and rugged protective case assembly. All RSA units are portable, fast and easy to set up; offer mechanical and/or electrical safety protection; are adjustable to fit unique electrical equipment configurations; reduce the requirements for personal protection equipment; and meet NFPA 70E arc-flash safety compliance standards.
CBS ArcSafe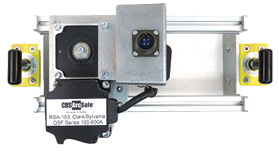 Automated Worker Location App

Cost Effective
Utility tools: Clevest Solutions Inc., a provider of smart grid mobile software solutions, offers its Automated Worker Location application. Automated Worker Location gives utilities a cost-effective solution to locate contractors, borrowed crews, and their own crews through the workers' smartphones and tablet devices—all without the expense of installing in-vehicle hardware.
It provides the real-time GPS location of utility workers—dramatically increasing the efficiency and productivity of smart grid field operations while instantly improving worker safety. It is especially useful during emergencies and mutual aid situations when utilities extend their contractor network and borrow crews to expedite restorations.
Automated Worker Location is an extension of the company's utility-specific product suite—which includes Mobile Workforce Management and Smart Grid solutions—and provides worker locations in relation to the utilities' assets with optional GIS overlays.
Clevest Solutions Inc.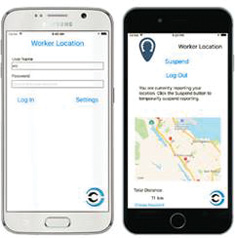 FiberMax Crane Pads

Owner's Manual Now Standard
Safety products: To aid communication between lift directors, operators and site safety personnel, DICA offers model specific Owner's Manuals with all FiberMax Crane Pad orders. Each manual includes inspection and usage guidelines, technical specifications and warranty information. The development of the owner's manual came at the suggestion of crane rental firms who needed documentation to show site owners regarding the performance characteristics of FiberMax Crane Pads.
Actual load distribution of any pad or mat is highly dependent on the characteristics of the ground below the pad. Because FiberMax Crane Pads are made from lightweight composite materials that are not subject to the environment, and are engineered to high design standards, the actual performance of the pads can be quantified and projected. Deflection and maximum ground pressure projection charts are included in each model specific Owner's Manual.
FiberMax Crane Pads are cited to be the only crane pad that can generate a six-figure return on your investment. In addition to the weight and transportation savings, DICA provides the technical performance information to help owners, operators and site personal understand what is happening under the pads.
DICA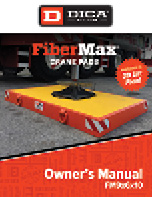 DCR Viking Axe

Mulching Knife
Line maintenance: Fecon Inc. features the DCR Viking Axe knife tool as part of its Viking Tool Series. This patented tool includes an integral, easy to use gauge that ensures proper cutting angles are maintained.
The tool is double sided and easily flipped for a new cutting edge when the first side is completely worn. This doubles the tool life in comparison to other knife tools. The thicker blade creates a more durable edge, increasing the overall life of the knife; the angle is also easier to sharpen. Ribs behind the knife's edge lend to increased strength and durability. The tapered tool body allows chip material to flow efficiently with an optimal attack angle.
Fecon Inc.
Three-phase Power Quality Loggers

Simplify Collecting, Reporting Critical Utility PQ Data
Power management: Fluke's software automates analysis and reporting of data based on international standards to troubleshoot, quantify energy usage, and analyze power distribution systems. The measurement, understanding and reporting of power quality in distribution systems requires capturing large amounts of data and then spending hours to analyze and report. With powerful software that automates setup, analysis and reporting, the Fluke 1740 Series Power Quality Loggers simplify the collecting and reporting critical utility power quality trends.
The compact Fluke 1740 Series Power Quality Loggers are used for studying and monitoring utility power quality and demand to industry standards. They offer advanced data aggregation and analysis that saves time, reduces manpower and eliminates errors associated with traditional data collection and reporting.
The 1740 series loggers are fully compliant with the international power quality standard IEC 61000-4-30 and meet Class A requirements. They are capable of simultaneously logging more than 500 parameters for each averaging period, allowing technicians to analyze power quality in detail and to correlate intermittent events with detailed waveform data to identify the root cause of disturbances.
The included software makes it quick and easy to set up the logger, and automates the complex task of analyzing and reporting the data.
Fluke
Semi-rugged Notebook

Offers Performance, Multi-layer Security, Configurability
Mobile computer: Designed to withstand the daily challenges facing field technicians, Getac offers its second generation S410 semi-rugged notebook, which maintains its performance, security features and MIL-STD-certified ruggedness.
One of the most significant additions to the S410 is its optional IR camera that supports facial recognition with Windows Hello for more convenient login and increased security. Combined with TPM 2.0 and Opal 2.0 SSD, both standard in the S410, users now have an ultra-secure, mobile solution they can use with confidence wherever work takes them.
High performance is delivered by Intel 8th Generation CoreTM i5/i7 processors for increased computing performance and more efficient power usage. By using Intel UHD Graphics 620, 802.11ac Wi-Fi, Bluetooth 4.2 and a hot-swappable battery design, users can experience maximum mobile performance. The available 14-in. Full HD LumiBond 2.0 screen provides a responsive 10-point touch experience, even while wearing gloves, with up to 800 nits (optional 1000 nit HD screen available) of brightness for glare-free reading, even in direct sunlight.
Getac designed the S410 to support a variety of security features built into Windows 10. TPM 2.0 monitors and protects system start-ups to ensure the device is tamper-free before releasing control to the operating system, while BitLocker protects data at rest, in use and in transit.
Getac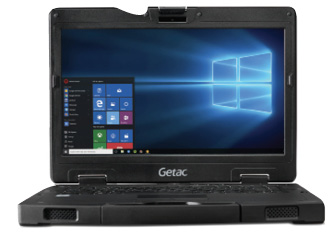 Safety Products:

Storm Water Grates and Guards
Storm water and wetland management grates and guards from Haala Industries provide a solution for manhole, culvert, pipe and other drainage cover applications.
Grates and guards are DOT approved in multiple states and produced to existing standards, allowing them to be easily incorporated into construction design plans—eliminating the need for contractor fabrication. Custom fabrication is also available to meet specific design requirements.
Haala Industries' line includes manhole grates, pond skimmers, flared end vehicle safety grates, trash guards and more. Grates and guards can be made from domestic materials including galvanized steel, stainless steel or aluminum.
Haala Industries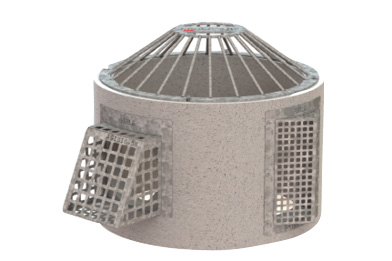 Tool Bags Stay Open

Convenience While on the Job
Tool carrier: Klein Tools introduces two new products to help increase organization. The Tradesman Pro Wide-Open Tool Bag is a large, durable bag that not only is wide at the top, but also stays open for easy, unobstructed tool access. Smaller, but still tough, are the Stand-Up Zipper Bags, which remain standing while open to help find small pieces and parts.
Tradesman Pro Wide-Open Tool Bag (Cat. No. 55469)
• Wide, stay-open top for easy access
• High-quality, durable 1690 ballistic weave construction
• 42 variously sized pockets inside and out: exterior front and back pockets for tools or small parts; mesh side pockets for tools and equipment; 33 variously sized interior pockets for tools, parts and gear; and large interior zipper pocket
• Orange interior helps make finding tools easier
• Fully molded bottom protects from the elements
• Features handles and a shoulder strap with extra padding for comfort while carrying
Klein Tools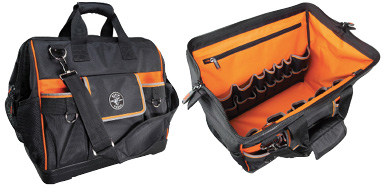 Fleet Maintenance:

Rotary R544 Pro Truck 2D Wheel Balancer Balances Wheels Quickly
Rotary's R544 Pro Truck 2D wheel balancer enables technicians to quickly and accurately balance a wide array of vehicle wheels.
The R544 features a microprocessor with self-calibration and self-diagnostic features. It also has specific balancing programs for static, dynamic and light alloy/aluminum wheels. One single spin with low rotation speed provides all the necessary values.
The R544 can raise up to 441 lbs. with the integrated wheel lift and features a pneumatic wheel lock. An electro-pneumatic brake keeps the wheel in the unbalance position. The digital caliper with optical scanner provides 2D automatic data input of distance and diameter up to 26 in.
Rotary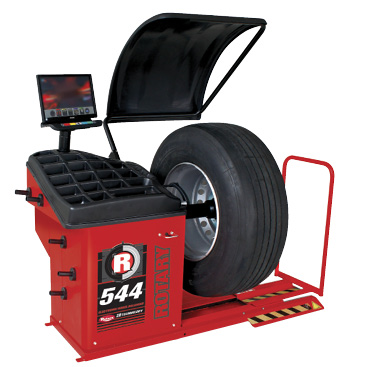 Utility Vehicles:

Large-capacity PTO-driven Vacuum-excavator System
Ring-O-Matic's largest-capacity PTO-driven vacuum-excavator system, the 1300 VXT Extreme/PTO, provides a vacuum-excavator solution for utility construction, horizontal directional drilling support and mud management, vacuum excavation and daylighting operations preferring a single-engine configuration.
The mechanical PTO option offers the benefits of single-engine emissions compliance and single-engine maintenance, and a shorter chassis rig with 1,300-gallon spoil capacity.
A wide array of Ring-O-Matic options makes it possible to custom-order the 1300 VXT to match any operation's requirements. The standard unit comes mounted on a double-axle, 60,000-lb. Freightliner carrier featuring a 1700 cfm blower and a 6-in., fully hydraulic boom.
Ring-O-Matic also offers its 350 VXT HiCFM Air-Equipped and compact FT150 vac-ex units. Designed for carriers in the 26,000-lb. GVW class or smaller, the 350 VXT is based on the traditional dedicated-engine design suited to most operations.
With its 150-gallon spoils tank, the FT150 gives rental agencies and startup contractors an economical, versatile hydro-excavator to use on jobsites too small for typical vac-ex rigs such as the tight confines of many urban residential properties. The FT150 mounts easily in the bed of a pickup or on a trailer. It can also be mounted to a skid-steer through an attachment plate.
Ring-O-Matic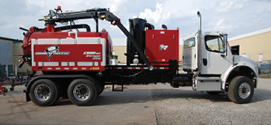 Impact Wrenches:

M18 FUEL High Torque Impact Wrenches
Replace Pneumatic, Corded
Milwaukee Tool offers a complete replacement for pneumatic and corded impact wrenches—the M18 FUEL High Torque Impact Wrenches. Delivering up to 1,400 ft./lbs. of torque, the M18 FUEL High Torque Impact Wrenches are powerful and compact, and capable of removing fasteners over 2X faster than the competition. The tools are cited to outperform other pneumatic, corded and cordless solutions.
The models include an M18 FUEL High Torque Impact Wrench with 1/2-in. friction ring and M18 FUEL High Torque Impact Wrench with 1/2-in. pin detent. Both are designed with a four-mode drive control feature, providing the user with the versatility to switch between modes to match the power and speed to the application at hand. A bolt removal mode provides maximum nut-busting torque to remove the most stubborn bolts or nuts and, as soon as it senses the bolt or nut is broken free, the tool then shifts to 750 RPM for control when removing fasteners.
At up to 0.7-in. shorter than other cordless high torque impact wrenches, and over 0.5-in. smaller than their Milwaukee predecessors, the tools provide greater access in tight spaces. Similar to other M18 FUEL Impact Wrenches, these solutions have a specialized rubber overmold material that provides comfort during prolonged use while lasting longer against corrosive materials.
Milwaukee Tool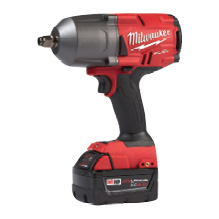 Construction Equipment:

Electric-hydraulic Crane Line Expanded
Maintainer Corporation of Iowa Inc. offers 16-ft. electric-hydraulic and hydraulic cranes with its line of service truck cranes. The EH3516 electric-hydraulic crane has a 15,000 ft./lb. crane rating and maximum lift of 3,500 lbs. The crane features a planetary winch, with hoist drum and wire rope located outside of the boom for improved operator visibility.
The cranes are mounted with a universal 14.75 in. x 14.75 in. or 11.5 in. x 14.75 in. bolt pattern, which allows the crane to be added to a variety of truck bodies. The EH3516 is only available in the short-tower design and includes several features:
• It has a 4 gallon-per-minute power pack for maximized crane speeds.
• There is a self-protecting thermal shutdown built into the 12-volt DC motor.
• A proportional wireless crane remote is standard.
• An optional battery isolator is available to keep the crane battery charged while avoiding a drain on the chassis battery.
The crane is also offered in a full hydraulic version. The H3516 will replace the current Maintainer crane model 1115 in the product line. Both versions of the crane offer 478 degrees of rotation and boom elevation from -13 degrees to +78 degrees.
Maintainer Corporation of Iowa Inc.
Electrical Tools:

Voltclaw Combo Pack Gives Electricians Safer, More Versatile Wire Control
Pulling, pushing, grabbing and bending wires is a part of every electrician's daily job. To make it safer and easier on the widest range of wires, Nonconductive Tool Company (NTC) offers a combo offer of its original Voltclaw-12 hand tool and its Voltclaw Multi-Gauge tool.
Designed for safety on the toughest electrical jobs, the Voltclaw Multi-gauge is non-conductive to 1000V—making it a safer alternative to metal screwdrivers or wire strippers for the grabbing, pulling, pushing and bending of electrical wires. A built-in sliding wire gripper is optimized to tightly grasp on 6-16 gauge wires commonly used in commercial and residential installations. It also features two pull hooks, one on the front and one on the back, to handle both small or larger wires, along with a V-groove for pushing wires back into junction boxes. Deep finger grips ensure a safe grasp with greasy or gloved hands.
In addition, the two tools can be used at the same time for extra safety. For example, an electrician can hold the wires with the Voltclaw Multi-Gauge while removing the twist-on wire connector with the Voltclaw -12.
Nonconductive Tool Company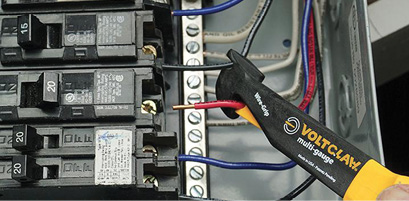 Utility Tools:

5-in-1 Fiber Optic Stripper and Kevlar Scissors are Versatile, Economical
Platinum Tools, a provider of solutions for the preparation, installation, hand termination and testing of wire and cable, offers its 5-in-1 Fiber Optic Stripper and Fiber Optic Kevlar Scissors. The tools are manufactured from high carbon tool steel, precision ground and hardened for durability and long life.
With an affordable price, additional 5-in-1 Fiber Optic Stripper features and specifications include a five-cavity design that allows for use with a multitude of fiber optic cables; pre-set design that ensures all cavities are precision set and no adjustments are required; cushioned grip handles that provide positive non-slip, comfortable operation; and it is factory set and calibrated.
The Kevlar Fiber Optic Scissors are also offered at an affordable price, with additional features and specifications that include ergonomic handles, easy cutting of Kevlar, full serrated bottom blade for non-slip cutting, and easily re-sharpens and holds cutting edge.
Platinum Tools