Fiber Optic Cable Blowing Put to the Test
During recent years, fiber optic cable installation has consisted, almost exclusively, of last mile and fiber-to-the-home (FTTH) projects.
Aug 9th, 2012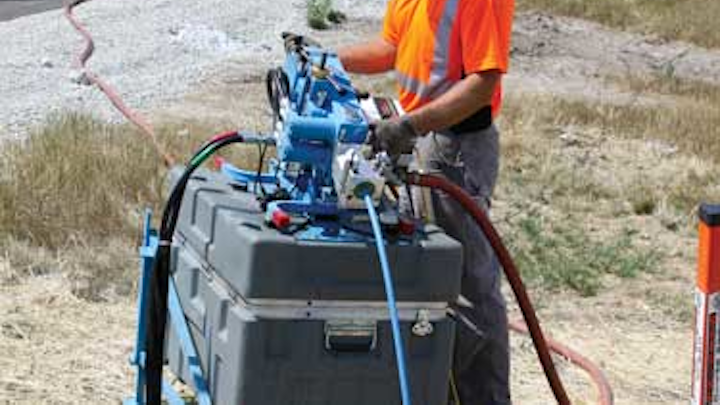 During recent years, fiber optic cable installation has consisted, almost exclusively, of last mile and fiber-to-the-home (FTTH) projects. In contrast, several large-scale, middle mile projects are currently under way throughout the US, bringing high-speed Internet service, streaming video and non-traditional telephone (VoIP) to hundreds of thousands of people in underserved geographic regions. One such project, part of a $68.5 million grant from the National Telecommunications and Information Administration's (NTIA) Broadband Technology Opportunity Program (BTOP), is on its way to providing a 900-mile high-speed fiber network across the northwestern region of Illinois.
The massive effort is being coordinated by the Illinois Fiber Resources Group (iFiber). Established in January 2011, the group includes representatives from Northern Illinois University, LaSalle County, North Central Illinois Council of Governments, the City of Rockford, Boone County, and Blackhawk Hills Resource Conservation and Development (RC&D).
The project will bring a high-speed network-up to 10 Gbps-to more than 500 anchor institutions, including schools, colleges, libraries, healthcare facilities, municipalities, county and public safety facilities, as well as private sector organizations. iFiber has set a completion date of August 2013.
In addition to connecting the anchor institutions, the iFiber network will serve as a backbone for the northwest region of Illinois, allowing multiple Internet Service Providers (ISPs) to connect to better serve their customers-more than 280,000 households and 16,000 businesses.
To complete the fiber installation in a timely manner while maintaining the highest quality workmanship, several highly skilled contractors were awarded portions of the route, divided geographically by county. Kelso-Burnett from Rolling Meadows, Ill., and PirTano Construction Co. from Addison, Ill., are installing thousands of feet of fiber optic cable per week.
When undertaking a job of this magnitude, the correct tools must be used to install the fiber quickly and safely while minimizing fiber stress. With that in mind, Kelso-Burnett and PirTano chose fiber optic cable blowers from Condux International of Mankato, Minn.
Condux's global sales manager, Tom Ortolano, said, "We're proud to be involved with iFiber and are pleased that both contractors are using our equipment. I'm confident they will finish on time and exceed the high expectations a project such as this brings."
The Fiber Optic Cable Blowing Method
According to Clay Harris, a fiber blowing specialist with Condux, blowing is one of the most efficient and safest means of installing fiber optic cable.
"When using fiber blowers, you're combining a pulling force (compressed air) and a pushing force (hydraulically driven tracks) during the installation, providing an efficient, stress-free deployment in far greater increments than possible when pulling fiber," Harris said.
During the process, the blower operator has the control and ability to monitor the forces exerted on the cable. Because every application is different and presents its own challenges, the Condux blowers are fully adjustable and adaptable to any fiber or duct size.
Using blowers rather than fiber pullers is the preferred installation method for several reasons. During a pulling operation, the cable travels in a straight line until a bend or curve. Ultimately, the cable rubs at any bend or sweep and can touch the duct hundreds of times if there are undulations, typically caused by plowed or trenched duct. Friction is created each time there is contact with the duct.
"Friction is the enemy in any fiber blowing application. As more pulling force is added to counteract the friction, additional stress is added to the cable," Harris said.
Because the blowing operation floats the cable on a cushion of air, it minimizes the contact points with the duct-reducing the friction that would be created by pulling the fiber through the duct with a fiber optic cable puller. A high-quality, silicone-based lubricant is also used to further minimize the friction, especially when navigating the bends.
"Compared to a pulling application, blowing cable is faster and puts the cable under less stress. Through cable blowing, contractors are able to install more cable per day with less manpower. This level of productivity is important on the iFiber project where both PirTano Construction and Kelso-Burnett are responsible for installing hundreds of miles of fiber cable," Harris said.
Contractor Profile: PirTano Construction
PirTano Construction Co. was the first contractor selected for the iFiber project. The company has been involved with utility construction for more than 30 years, including building and splicing fiber optic rings, coaxial systems, conduit and duct systems, as well as engineering and designing systems.
Supervisor and Project Manager Terry McCurdy, said, "The company is exceptionally skilled in fiber blowing techniques. I've been with PirTano for years now, and we have been blowing fiber around the Chicagoland area ever since the machines came out, probably 15 years ago. We've been involved in all aspects of fiber projects from the installation, to splicing and testing."
PirTano Construction is installing some 260 miles of the iFiber project, completing work in Carroll, JoDaviess, Lee and Whiteside counties. The company has completed about two-thirds of the conduit installation and about half of the fiber installation.
Contractor Profile: Kelso-Burnett
For more than a century, Kelso-Burnett has provided high-quality electrical solutions to Illinois clients. In addition, the contractor offers a range of network solutions for voice and data-including consultation and design to installation, maintenance and testing.
Rich Elk, iFiber project manager for Kelso-Burnett, joined Kelso-Burnett eight years ago when it purchased his construction company. Elk's experience with blowing fiber, however, goes back even further.
"I bought a Condux fiber blower, a used one, about 10 years ago, and it's probably one of the best tools I ever purchased," Elk said. "Before the blower, we were pulling fiber, in 1,000-foot and 2,000-foot increments. With the blowing system, it was so much quicker."
For the iFiber project, Kelso-Burnett, along with project partner Aldridge Electric of Libertyville, Ill., is responsible for installing 350 to 400 miles of fiber in five counties. Over 280 anchor institutions will be connected on Kelso-Burnett's portion of the project.
Typical Fiber Optic Cable Blowing Process
The typical cable blowing process consists of several steps. First, duct integrity needs to be established. By pressurizing the duct and monitoring air loss, the contractor can check for leaks in the duct run that possibly were caused by damaged duct or improperly installed couplers. In addition to being air tight, the duct must be free of obstructions. Adding a small amount of lubricant and blowing through a foam carrier will ensure an open and continuous pathway.
Next, the cable is prepared for installation. A properly sized cable carrier or parachute is attached to the end of the fiber. The cable is then fed through the cable blower and into the duct. Before inserting the carrier into the duct, a silicone-based, cable blowing lubricant is added. Additional lubricant is then applied behind the carrier.
Once the cable blower is connected to the system, compressed air is injected into the duct behind the cable carrier. As the pressure works to equalize, it seeks the path of least resistance-creating a pushing force on the cable carrier and causing forward motion. The moving cable carrier then exerts a pulling force on the cable and it begins to move through the duct.
An additional pushing force is applied to the cable by a hydraulic powered tractor drive on the cable blower. Use of a hydraulic tractor drive reduces the air compressor's air consumption requirements. In addition, the push force from the tractor drive provides cable slack, reduces back tension, and keeps the cable loose and flexible. Friction and resistance are then reduced, and the cable can freely travel through the ductwork.
PirTano and Kelso-Burnett are on aggressive installation schedules.
"The fiber we're working with comes on a 20,000-foot reel," Elk said. "By spending a day doing duct prep, we can install an entire reel the following day, so our objective is to average 50,000 feet per week. Some days are better than others. On occasion, we can hit 5,000 feet by 10:00 a.m. Usually, the determining factor is how the duct was installed. If it's fairly straight, clean and free of obstructions with few offsets such as utility poles or driveways, we can quickly get a lot of fiber blown in."
On this project, Kelso-Burnett is running blowers in tandem. Using this technique, a single blower is used to install several thousand feet. Once the first unit nears the deployment limit, a second blower is later added-allowing several thousand more feet to be installed without additional handling or splicing.
"Almost any contractor will agree, if they can install 10,000 feet without having to break blowers down and move the operation, they are getting serious production," Harris said. "Running Condux blowers in tandem allows for such a scenario."
McCurdy's crews also are using the tandem technique to install fiber at a significant rate.
"Our spans are about 2,500 feet apart, vault to vault," McCurdy said. "Some stretches are better than others, depending on layout, but I'd say we're averaging 10,000 feet to 12,000 feet per day, about 50,000 feet per week."
In addition to the project's middle mile portion, both contractors will be working concurrently to supply fiber-to-the-premise (FTTP), tying the anchor institutions into the fiber network.
Circle 159 on reader service card