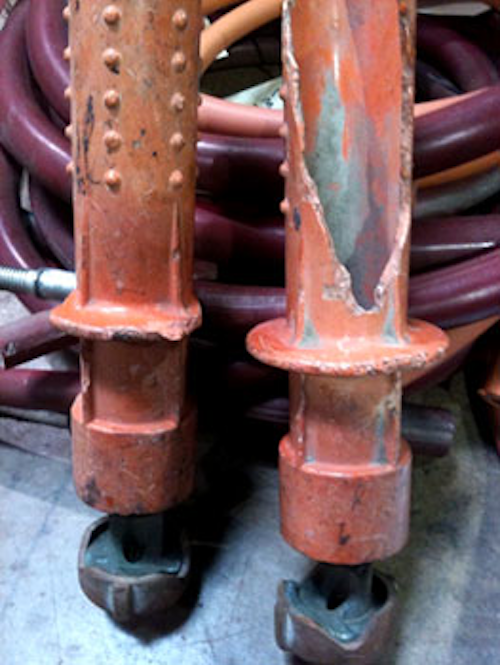 By Matt Dell
The Occupational Safety and Health Administration (OSHA) and the American Society for Testing and Materials (ASTM) have established specifications and proper procedures for installing temporary protective grounds. These grounding methods are followed by linemen every day as they work on or near power lines. But, everyday use has created a concern that grounds and jumpers might simply be viewed as a necessary tool. They are taken for granted.
To the contrary, protective grounding devices are a complex assembly, both electrically and mechanically. They have multiple functioning components that can become compromised; some are not easily detected. To ensure grounds and jumpers are reliable, they must be properly cared for and regularly tested along with the auxiliary tools used to install protective grounds.
Why are Grounds and Jumpers Important?
Grounding devices are designed to help protect line workers and the public from inadvertent electric shock. Safety professionals cite several incidents where line workers can be exposed to a potentially deadly situation:
• Human error, which no one can predict;
• Higher loads on today's systems;
• Lightning;
• Static build-up;
• Induced Voltage-feedback-from adjacent circuits;
• Mechanical or equipment failure;
• Switching errors;
• Stored charges from capacitors; and
• Faulty automatic re-closing devices.
It is critical that knowledgeable people make good decisions when selecting grounds and jumpers. Improper selection for the wrong voltage can be deadly.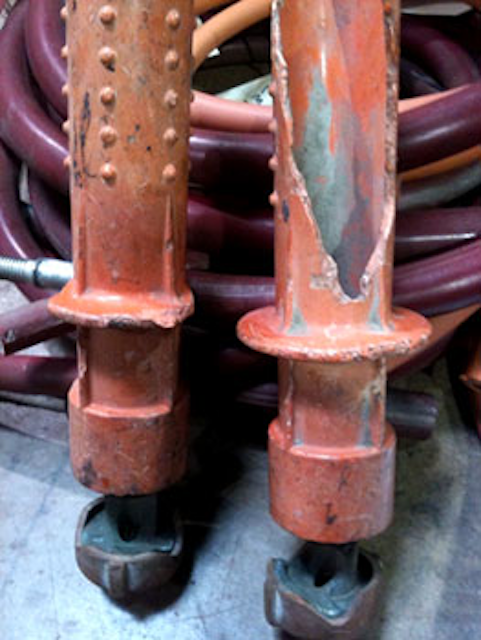 Making Good Choices
Since 1960, Hi-Line Utility Supply has built over 500,000 ground sets. Two types of grounds and jumpers are commonly used: personal grounds and running grounds.
• Personal grounds are portable devices that temporarily connect a de-energized conductor or pieces of equipment to electrical grounds prior to beginning work. Line workers usually carry sets of personal grounds on their trucks, based on the conductor sizes they are servicing.
• Running grounds connect and ground a moving conductor, such as adjacent spans of conductor. Running grounds are also deployed after a storm to ground downed power lines to protect line workers and the public until circuits and structures can be restored. OSHA Title 29 of the Code of Federal Regulations, OSHA 1910.269 (n) (4) (i), states: "It is the utilities' responsibility to provide 'protective grounding equipment' that 'shall be capable of conducting the maximum fault current that could flow at the point of grounding for the time necessary to clear the fault.'"
The key word is "capable." The industry is clear about proper usage and installation of grounding devices, but it is important to ensure they are in operable working condition. There are two ways grounds and jumpers can be procured: custom built or pre-assembled.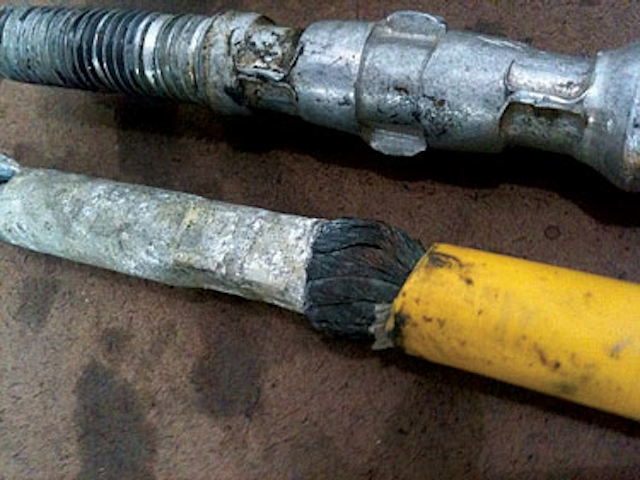 Grounds and jumpers should immediately be removed from service if there are any signs of extreme wear and tear. Professional refurbishment can salvage the usable parts and restore old equipment to like new.
Custom Built Grounds and Jumpers
When deciding on a custom-built ground set, there are many options to choose from to build it. Hi-Line will build to your exact specifications, including:
• Clamps: clamping size range, current capacity, application clearance, terminal connection type (threaded or pressure type), jaw shape and configuration (smooth or crosshatching);
• Cable: length, jacket type, durability and adequate capacity to withstand maximum potential system fault, current magnitude and full time duration;
• Ferrules: aluminum or copper, fit cable size and connection type to match clamp (threaded or pressure type)-aluminum or copper ferrules can be used with copper cable;
• Support stud: recommended on only one clamp to help control lifting (hot stick) the set to the first clamp attachment point; and
• Shrink tubing: recommended for stress relief at the flex point next to the ferrule connection, translucent sleeve allows cable strands inspection between ferrule and jacket.
Pre-assembled Grounds and Jumpers
A second option for ground set selection is pre-assembled ground sets. There are several options to choose from, including the cable's length, size and color. Ground sets are built with shrouded, threaded copper ferrules and shrink tubing at the connection, which provides strain relief properties. Chart 1 illustrates options for pre-assembled grounds and jumper sets.
An important factor in selecting your ground sets is ensuring a knowledgeable and experienced person verifies the ground sets you've chosen are compatible with the circuit size and rating requirements of the intended use and worksite environment.
Inspection, Maintenance and Testing
Protective grounding devices might look indestructible, but they aren't. Several factors can compromise their safe working capability:
• Extreme voltage;
• Wear and tear;
• Rough treatment;
• Accidental pinching;
• Moisture;
• Nicks, cuts and scratches; and
• Dirt and corrosion on clamps and heads.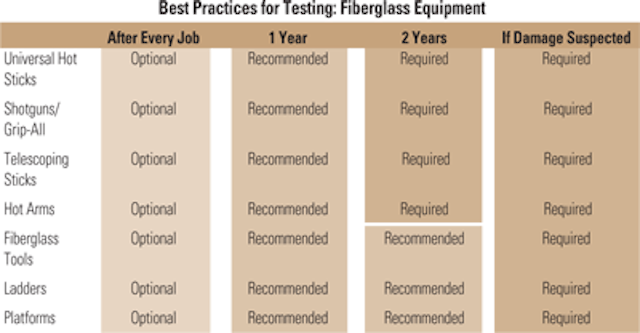 Visual Inspections
The factors listed here underscore the need for inspection, immediately before and after each use, as the line worker is cleaning (wire-brushing) and properly storing ground sets for future use. He or she might be the only one who has witnessed an event that could potentially compromise the integrity of the ground set.
The American Society for Testing and Materials (ASTM) International F 855 04 and The Institute of Electrical and Electronics Engineers (IEEE) Standard 1048-2003 provided several anomalies to watch for:
• Cable determination, particularly where the cable flexes next to the ferrules;
• Flattened or smashed section of the cable;
• Broken cable strands near the connection points;
• Corrosion often indicated by swollen cable jacket or soft spots;
• Damage, split or cracked clamps;
• Wear on the clamp jaws;
• Wear on clamp tightening bolt threads;
• Difficult to operate threaded clamping mechanism; and
• Loose connections between the cable and clamps or the ferrules and clamps.
When a defect is discovered, the grounding device must be taken out of service and refurbished by a person dedicated to building and repairing protective grounding devices.
Electrical Testing
Visual inspection is only one part of best practices for ensuring grounds and jumpers are in good working order. Some damages or deterioration might go undetected. Maintenance intervals for electrical testing have not been mandated, but a best practice utilities and contractors must establish is testing methods and planned intervals for each grounding device based on industry protocol and the type and frequency of work.
For proper electrical testing, grounding devices must be disassembled and each component-clamps, cable and ferrules-tested separately. Once reassembled, the ground set must also be tested as a complete assembly. The testing process should be performed by skilled and experienced personnel. The industry trend towards downsizing points to outsourcing these critical procedures to a professional third party. Hi-Line Utility Supply tests and refurbishes approximately 400 sets of grounds and jumpers per week. Testing intervals and a date tag for each device can be established, based on company specs. A tagging program alerts crews that are conducting pre-use and post-use inspections of upcoming test interval expiration dates.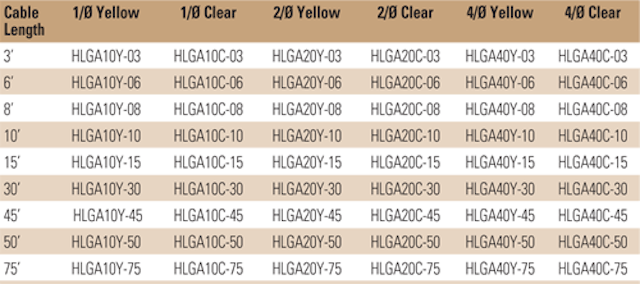 Auxiliary Tools
Hot sticks are often used for proper installation of grounds and jumpers. These auxiliary tools must be in operable working order. ASTM F711-02 has established testing intervals and proper use of fiberglass tools, including hot sticks. Hi-Line Utility Supply cleans, refurbishes and tests over 80,000 fiberglass tools per year.
Confirming De-energized Status
A report on protective grounding devices best practices wouldn't be complete without addressing voltage detection equipment. Depending on the circuit, line workers must perform a voltage test immediately before installing a protective grounding device. This confirms the lockout and tagout, and assures the worker the line has not been re-energized.

Summary
Safety professionals and the men and women working on power lines have done an admirable job of making the work place safer for line workers and the public. Above and beyond OSHA, ASTM and IEEE guidelines and requirements, good decisions must be made for their proper selection, care and testing.
---
About the author: Matt Dell is the owner of Hi-Line Utility Supply, a provider of lineman's transmission and distribution tools and equipment since 1960. Hi-Line assembles custom grounds and jumpers to exact customer specifications. With over 10,000 items in stock, Hi-Line guarantees every in-stock order placed by 4 p.m. Eastern Standard Time will ship the same day (except items requiring assembly and testing). Hi-Line also offers tool repair, fiberglass refinishing and rubber goods testing.
---
Grounding Devices Components
A protective grounding device is typically made up of three components:
Clamps: These can be made of copper or aluminum alloys. The clamps on ground sets that accept hot sticks can be configured with a threaded clamp attachment for a permanent hot stick connection or a temporary eye connection for a Shepherds Hook type hot stick. Clamps must be size-compatible based on industry standards and configured to match the conductor or equipment they will be used on.
Ferrules: These are the components that attach the stranded grounding cables to the clamp. They are built to industry specifications and include a grade number based on the conductor size they are designed for. Ferrule cable connections include screw compression or crimping to the cable lead.
Cable: With a durable protective covering, cable is sized and rated to the intended conductor and constructed to the safe and appropriate length of the job site's physical condition.
More Utility Products Current Issue Articles
More Utility Products Archives Issue Articles