Convergence and Innovation in Software Benefit Electrical Test Equipment Users
Utilities face many challenges, but test and measurement vendors are striving to provide smarter instrumentation that will make technicians safer and more efficient. There are key trends and associated new products for today's electrical test meter equipment market.
Sep 1st, 2012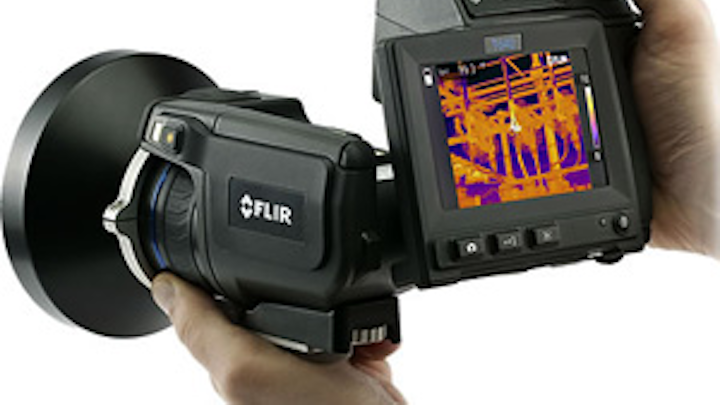 By Jessy Cavazos
Utilities face many challenges, but test and measurement vendors are striving to provide smarter instrumentation that will make technicians safer and more efficient. There are key trends and associated new products for today's electrical test meter equipment market.
Safety First
Safety remains a primary concern for utilities. Arc-flash hazards, although not new, represent a significant danger to maintenance personnel-in spite of protective gear. With electrical codes demanding safer practices, requirements and demand for CAT IV equipment are expected to increase. While the ruggedness and long lifespan of electrical test equipment has been showcased for years, many of these older meters were designed without the current safety and protection measures in mind.
Test equipment now serves as a safety tool. Using infrared windows, one can look at electrical cabinets and other systems without having to open them. With an infrared camera, electricians can scan, from a distance, an electrical substation and identify electrical connections or fuses that are hot and at risk of failure. In addition to avoiding workplace hazards and injuries to maintenance personnel, test equipment can save money for the utilities and provide the ability to predict the need for repairs and maintenance before a failure happens. Additional savings can be made by planning repairs during down times.
FLIR, a manufacturer of thermal imaging cameras, made significant investments in research and development (R&D) to generate optics for particular verticals, including utilities. With the introduction of wide angle lenses on its T640 and T620 models, the company took customers' needs for safety and increasing efficiency into consideration. Users can inspect substation equipment from their trucks, for example, while gathering granular temperature data using the optical zoom. Although there are optional optics available from many companies for specific end-use applications, such as utilities, they are large and heavy, which can diminish their value in the eye of the end-user. Weighing 1.57 pounds, FLIR's 7-degree telephoto lens is easy to use.
In addition, Fluke, another thermal imager company, also introduced thermal imaging cameras in March 2012-the Ti125 for the utility market. An essential capability of this product is the autofocus feature from the IR-OptiFlex focus system.
Focus on Power Quality and Cost of Energy Loss
A growing trend in the market is the increasing use of power quality (PQ) analyzers. These are increasingly used to perform a qualitative assessment of the source of power. With the increased prevalence of alternative energy sources, such as wind and solar, there also is an increased focus from utilities to preserve power quality because these are more unstable sources of electricity. Tools, therefore, are emerging for assessing solar capabilities for equipment such as solar collectors, panels, etc.
Parallel to the increased focus on power quality, there is a growing interest in the cost of energy loss because of power quality. The development of a mathematical algorithm by the Polytechnic University of Valencia, in Spain, is a significant development to quantify power quality. Collaborating with the university, Fluke was able to add energy monetization capabilities to its power quality analyzers. Pioneered by professors Vicente Leòn-Martinez and Joaquìn Montañana-Romeu, this mathematical algorithm analyzes electrical systems in terms of energy efficiency and is integrated into the Fluke 430 Series II, announced in February 2012.
Software-driven Innovation
Software-driven innovation also has made its way into the utility market to improve the workflow process. Being part of the overall diagnostic ecosystem, handheld test equipment can contribute to workflow improvements. With the influx of devices such as smartphones and tablets into professional and industrial use, test equipment vendors are taking cues from consumer devices and improving the functionality and ease-of-use of their devices.
Extech Instruments, for example, has installed Bluetooth on its test meters so electrical readings can be transmitted to an infrared camera. With electrical tools able to communicate electrical readings to the temperature readings from the infrared camera, users can stamp these readings onto the image, enabling better documentation of problems. This image can be sent to a plant manager or a regional utility manager to show the problem and obtain authorization for repairs. Keeping in mind the diagnostic ecosystem, FLIR developed Wi-Fi connectivity between its thermal imagers and iPads, iPhones and Android devices. Using the FLIR app launched in 2011, one can send images, create a portable document format (PDF) report on the tablet or camera, and email the information. It accelerates inspection, while increasing the quality and substance of documentation, helping the workflow process.
Instrumentation intuitiveness has evolved not only because of the pervasiveness of consumer devices such as the iPhone and iPad, but also because of the faster rate of change in technology and the entrance of a new generation of electricians. Yokogawa, an electrical power test equipment company, has launched new products such as the CW240 and CW10 clamp-on power meters to address customer requirements for increased user-friendliness. Similar to a cell phone, test equipment needs to be intuitive and not require the user to read a manual to use the device. The company's CW240 provides users with wiring diagrams to better show them how to perform the task and know if the setup is correct. In addition, keeping in mind the familiarity of the younger generation with video game consoles such as Xbox or PlayStation, one of Yokogawa's new devices, the CW10, released in November 2011, features a joystick that allows the user to choose the diagnostic function.
While the convergence of different types of test equipment can yield significant safety benefits, it can also lead to significant innovation in improved documentation. Technologies, such as MSX multi-spectral dynamic imaging from FLIR and AutoBlend from Fluke, are improving the details available from thermal images by superposing digital ones onto them, adding information such as text on labels that typically disappear in thermal images. These layered images can be useful when used out of context, such as in reports.
Final Word
The convergence of electrical test equipment and thermal imagers, and the Valencia algorithm, are helping increase the functionality of test equipment. In addition, progress is being made to increase the user-friendly and intuitive aspects of test equipment, all of which are expected to contribute to the greater protection and efficiency of maintenance personnel.
---
About the author: Jessy Cavazos is industry director for Frost & Sullivan's Test & Measurement Group.
More Utility Products Current Issue Articles
More Utility Products Archives Issue Articles