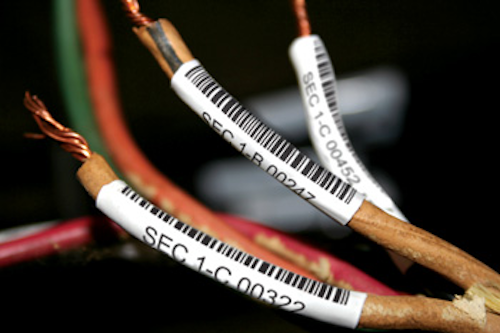 By Jack Rubinger
Twisted and tangled cables are a nightmare for facility managers and information technology (IT) teams responsible for troubleshooting telecom closets-especially when companies make departmental adds, moves and changes that impact cable installation.
Each cable needs to be tagged on each end with a unique identifier number.
Cable labels are typically 18 characters long, and should include outlet location and closet information. In addition, most cable ports are gapped by very little space and may contain dozens or hundreds of ports, accounting for a mass of wires; each time more are added or moved it's probably done in a hurry with little concern to identify that cable's purpose. Understandably, the administration of a cabling system is a task best suited for hyper-organized individuals aided by a spreadsheet or database.
"The biggest change my clients have had to deal with the past couple of years is growth and the need to add capacity for it," said Rick Bohan, Chagrin River Consulting. "Visual methods help you discern at a glance whether your processes are under control or not."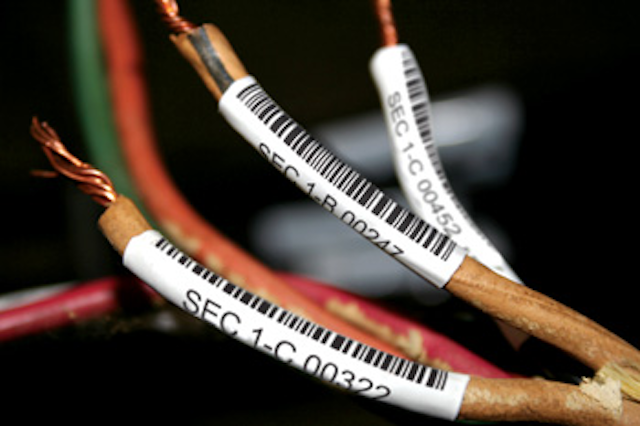 Barcode labels help identify twisted and tangled cables in telecom closets. Photo courtesy of DuraLabel.
Another challenge for cable experts is the volume of cables and labels needed for large installations. For a large university, Sean Emmett of Leaden and Associates ran some 10,000 cable labels. A recent build up for a semiconductor data center required 80,000 data cable labels. Telecom rooms are closets typically located within the lowest real estate value in any building. Though largely invisible to the average person, these cables connect phones, alarms, servers, computers and video images. Add months or years of filth and dust to the already confusing state of most buildings' telecommunications rooms, and facility managers have a challenge.
"In the early days, these closets were filled with boxes, mops and buckets-all sorts of junk," said telecommunications consultant Jim Hayes.
Imagine the panic when it's time to disconnect, rearrange or reconfigure those kinked up cables when your company adds a new division, moves an entire department or changes IT support teams-not to mention the effect on the transmission characteristics of the patch cords.
Leaden and his team recommend labeling the following components in the administration of cable: patch panel, closet name and number, and horizontal and backbone cables.
Another step in departmental moves involves continuity testing. That's where a toner device is used to test phones or a visual tracer/fault locator for fiber. Without cables, this process adds more layers of discovery, and discovery time gets expensive-averaging $100 plus time and half for labor costs.
In addition, there are your disasters. In one recent New York City event, a backhoe knocked out all the telecom in a 10-block grid, including a major hospital, for three weeks. This could have been a major health, safety and business disaster. Instead, because the components were clearly identified, a back-up system was quickly installed.
"Restoration requires planning-having good documentation, spare parts and trained workers," Hayes said.
Something to remember about corporate staff is that people leave-sometimes suddenly. You don't want critical telecom information stored in someone's head, so it's important for system administrators to maintain plans and diagrams on an Excel spreadsheet, kept up to date.
"The more preparation conducted in advance, the smoother these transitions go and the flow of work is uninterrupted. All battles are won before the fighting starts," Emmett said.
Aiding the process of telecom labeling for adds, moves and changes are industry standards. Telecommunications Industry Association (TIA) standards, set in 2009, make locating, repairing and upgrading these systems easier. The American National Standards Institute (ANSI)/TIA/ Electronic Industries Alliance- (EIA-) 606A Administration Standard for Telecommunication was created for technicians to improve legibility and upgrade the professional appearance of installations through proper labeling of components. The goal is to know what components exist in the system, where they are installed and how they are connected.
Specifically, 606A calls for labeling visibility-size, color and contrast-and durability. The standard calls for a uniform labeling format that indicates the type, location and purpose of all cables and end-points, and color-coding for faster and easier identification of all elements. Labels must be moisture-, heat- and ultraviolet- (UV-) resistant; demonstrate a long-life; and must be created or printed with a mechanical device.
The updated version of the ANSI/TIA-606-B Administration Standard Telecommunications Infrastructure was developed by TIA TR-42.6 Infrastructure Administration Subcommittee and published in June 2012. A new labeling standard may not seem important, but when the phones and compu0ters aren't working because the cables are taking a long time to organize, everyone from business owners to installers to building dwellers suffer the pain of losing productivity, time and money. It's important to know which cable leads to which piece of equipment.
DuraLabel shrink tubes and color-coded, self-laminating wire wraps provide two proven solutions to marking and identifying wires and cables. Shrink tubes are made from polyolefin, a flexible, formulated material-3:1 shrink ratio, thin wall and flame-retardant. Shrink tubes provide a permanent label that tightly adheres to the wire. Industrial labeling systems make it easy to create clear identifying information using text, numbers and graphics. Users slip the shrink tube over the end of a cable or wire using a heat gun to shrink the tube.
The result is a tight fitting, permanent label. There are no adhesives that might fail or tags that can get pulled off. With its thin wall, the shrink tube is pliable and can flex along whatever it encases. Shrink tube material comes in 25-foot rolls.
While shrink tubes can only be applied before a wire is terminated, self-laminating wire wraps are ideal for labeling wires that are terminated. One-inch labels wrap around wires as narrow as 0.078 inch (12 gauge). A clear tail wraps over the printed portion of the label, providing long-lasting protection. In addition, color-coding makes identification easy. And, this may free up that employee for other tasks.
---
About the author: Jack Rubinger, Graphic Products, has been writing about a wide range of safety and industrial topics for more than 10 years. Graphic Products is a provider of facility identification solutions. For more information, email jarubinger@graphicproducts.com, call 877.534.5157 or visit www.GraphicProducts.com.