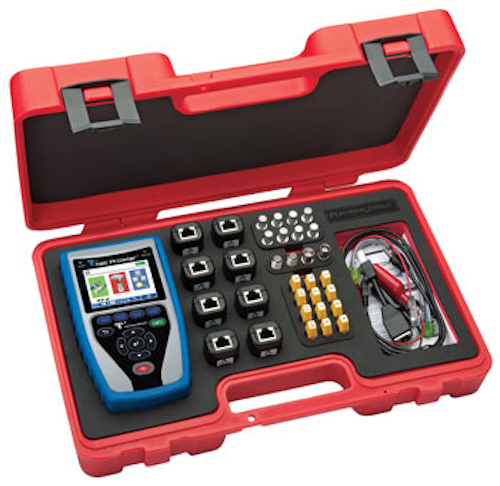 Test Kit Combines Network Testing, Cable Verification and Troubleshooting, PoE Voltage Testing
Platinum Tools' Net Prowler Pro Test Kit combines network testing (physical layer and link), IP device address mapping, cable troubleshooting and PoE voltage testing in a handheld tester with a full-color display-all with the capability of saving and printing test results from a personal computer. The Net Prowler provides full cable testing on any category network, coax or telephone cable. It will display wire map, numbered ID remotes, and any faults, including shorts, opens, miswires, split pairs and reverses.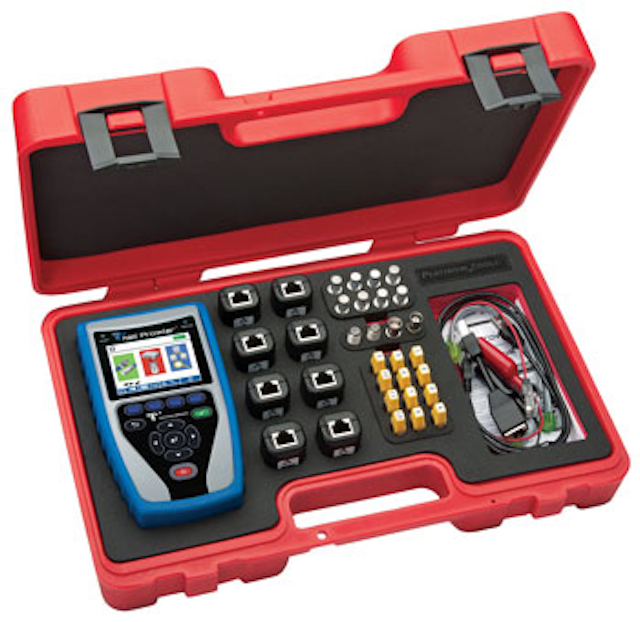 The full-featured Net Prowler measures cable length (using TDR technology) and generates tone levels for signal tracing and cable identification on all pairs, a selected pair or a selected pin. The unit also enables quick identification of a network drops link capability and current link status. Net Prowler also tests the presence of PoE on the network drop and what class of PoE per IEEE 802.3 af/at with load test for voltage drop.
Platinum Tools
Power Distribution System Temporary Step Down
Larson Electronics' temporary power distribution system converts 480 volts AC current to single phase 120 volts AC and 240 volts AC. The power distribution system provides operators the ability to safely tap into and distribute 480 volts AC power from a variety of sources including generators and direct grid power.
This portable substation is suitable for outdoor applications with a fully potted transformer and NEMA 3R load center. This unit provides an effective power distribution system for operators performing plant turnarounds, maintenance and cleaning in hazardous areas, equipment installations and repairs, and any activities requiring an alternative to native power sources.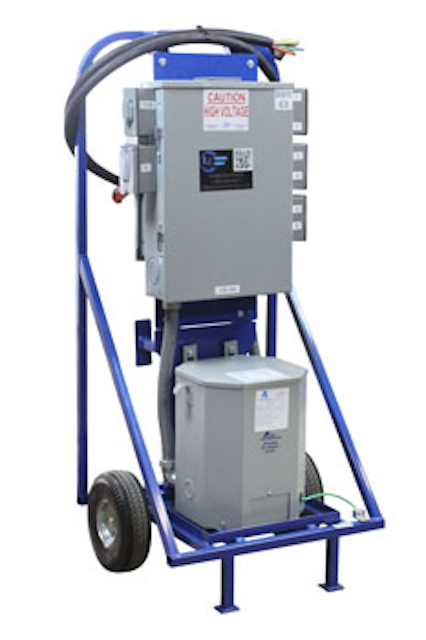 This transformer is designed to operate with 480 volts, three phase that is then stepped down to single phase 120 and 240 volts AC. The transformer feeds a 100-amp main circuit breaker panel that includes one 30-amp 240V breaker and six 20-amp GFCI breakers. All receptacle device boxes are industrial die cast malleable iron construction and feature rigid raceways between each device box.
This dolly style cart distribution system is built on a powder coated steel frame with run-flat wheels. Operators may tilt the unit back to maneuver the unit from one location to another and place it upright to stabilize the system.
Larson Electronics
New HD Series Truck Cap Built for Demanding Use
A.R.E. Accessories, known for an extensive line of durable, fiberglass truck caps and tonneau covers, offers the new HD Series truck cap, a heavy-duty, functional design available for all current model trucks.

The centerpiece of the rugged and reliable HD Series is an interior aluminum support framework that reinforces the sturdy fiberglass cap construction by routing all roof rack and toolbox weight to the bedrail of the pickup truck, which nearly triples load capacities, allowing a 550-lb. capacity on the HD Series roof rack and 200 lbs. in each toolbox. Optional heavy-duty side doors open easily to provide access to two steel toolbox inserts. For added privacy and security, the side and rear doors can be upgraded with aluminum inserts with foldable t-handles featuring BOLT one-key lock technology.
A range of optional accessories for the HD Series include the HD Series Roof Rack, T-Nut kits for organized internal storage, CargoGlide, Pickup Vault two-drawer bed storage systems, and interior lighting and carpeting. The HD Series comes with a limited lifetime warranty on materials and workmanship.
A.R.E. Accessories
Partial Discharge Sensor Adds New Layer of Safety to Remote Racking, Switching Solutions
CBS ArcSafe, a manufacturer of remote racking and switching solutions for low-voltage and medium-voltage switchgear, has released its PD Alert partial discharge sensor option to its Remote Racking System (RRS) line.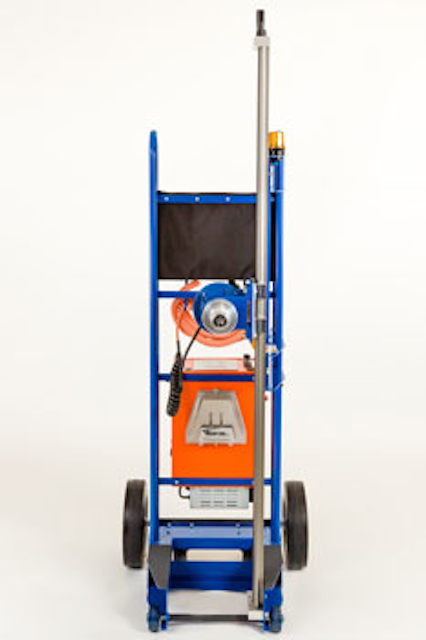 CBS ArcSafe's optional PD Alert provides an additional layer of safety for technicians tasked with racking or removing circuit breakers and motor control centers. In the event of a breakdown in line-to-line or line-to-ground insulation, the PD Alert radio frequency (RF) non-contact sensor issues a visual strobe alarm or digital alarm through email or SMS text message. The PD Alert can be used with any of CBS ArcSafe's remote racking systems, including the RRS-1 for rotary, jackscrew-type breakers; the lightweight RRS-1LT made from aluminum extrusion; the programmable dual-mode RRS-4; and the RRS-2 and RRS-2BE for remotely racking extractor-type circuit breakers or motor controls, respectively. PD Alert can also be used as a standalone partial discharge sensor for monitoring critical electrical distribution equipment.
Advanced signal processing and field configurable setup allows the operator to set do-not-exceed thresholds for partial discharge values or to issue an alert if partial discharge values indicate a condition that could be dangerous to technicians.
CBS ArcSafe
ULTIMAZ P2P Hybrid Fiber Drop Installation System
Utility equipment: Greenlee and Sherman+Reilly, Textron Inc. companies, have introduced the ULTIMAZ Point-to-Point (P2P) Hybrid Fiber Drop Installation system. The ULTIMAZ P2P is a user-friendly solution used to install short sections of cables from 50 ft. to 1,200 ft. with ease.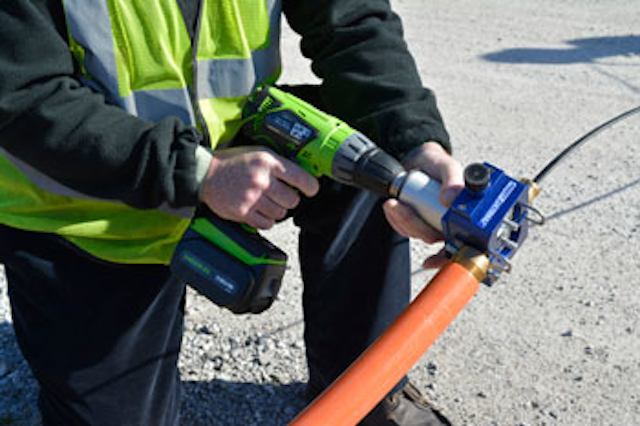 The ULTIMAZ P2P offers a stress free installation cable jetting method that reduces the rate of damaged fiber optic cable. Installation speeds up to 600FPM allow a six times faster rate compared to hand pulling. This installation device comes with a handheld or stand-mounted hybrid design that uses this pushing or "jetting method" that combines a low strain pushing force with a high speed air stream along the microcable surface for round or flat drop cables with outer diameters of 3.0mm to 10.5mm.
Greenlee and Sherman+Reilly, Textron Inc.
Proximity Voltage Detector PRX-4 Proximity
HD Electric Co., a Textron Inc. company, offers the PRX-4 Proximity Voltage Detector. It provides utility professionals, arborists and first responders with a safety tool that will alert them to potentially dangerous high voltage in their work areas. With two voltage range settings of 50V-4 kV and above, the PRX-4 is an easy way to find out if voltage is present without having to make direct contact.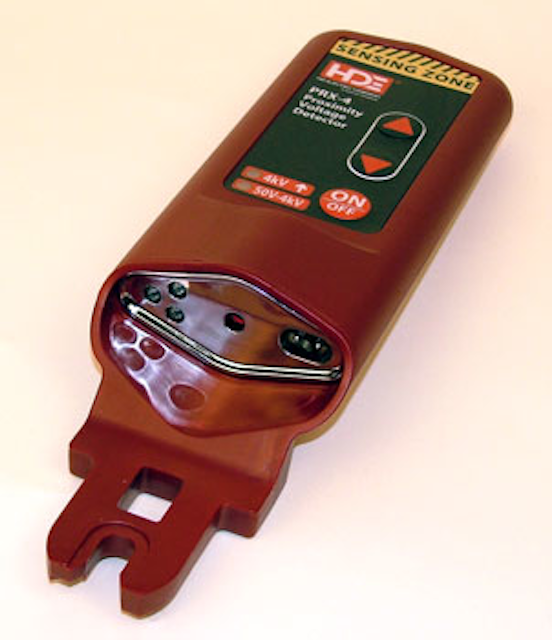 Features:
Sealed to resist water penetration in typical outdoor environments;
Voltage ranges from 50 VAC to 4 kVAC and above;
Detects voltages around 3 in. at the 50V setting, 10 in. at 4 kV and above;
Rechargeable battery, quick recharge-15 minutes for a typical full day use;
Weighs less than 1 lb.; and
Loud beeper and LED lights indicate voltage.
HD Electric Co.
Stump Cutter Provides Significant Cutting Power
Vegetation management: The Carlton SP8018TRX stump cutter is designed for high production in both clearing and large residential removal applications. A 99-hp turbo charged Kubota diesel engine combined with Carlton's two-stage cutter head drive provides significant cutting power. The Carlton Razor Cutting System offers a low profile holder design coupled with large faced carbide teeth. This provides a high cut-to-friction ratio resulting in highly efficient, large cuts with minimal chip scatter.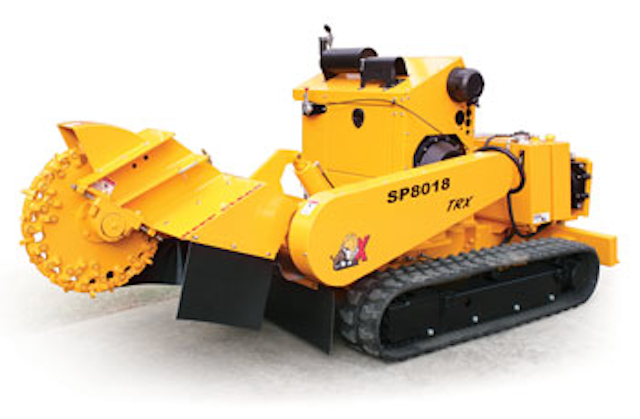 The SP8018TRX features large cutting dimensions: 43 in. above ground, 18 in. below ground, and 80 in. of sweep. The patented turntable design lowers the machine's center of gravity, making it stable while providing massive cutting dimensions and reducing flex and wear points. The unit's Caterpillar track undercarriage provides a secure stance and extensive tractive effort, along with Caterpillar reliability.
J.P. Carlton
Wire Connectors Offer Extra Ruggedness Needed in Wet, Underground Electrical Applications
Ruggedness is the only word that counts when it comes to connecting electrical wiring underground or anywhere moisture, dirt and corrosion are a problem. IDEAL WeatherProof and UnderGround wire connectors come pre-filled with a non-hardening, silicone-based sealant to safeguard wiring from damaging elements for the longest-lasting, most reliable connections. In addition, they eliminate the need for heat-shrinking conductor splices, messy resin packs or multi-step corrosion kits. Both exceed the rigorous test standards of UL 486D and are rated to 600V.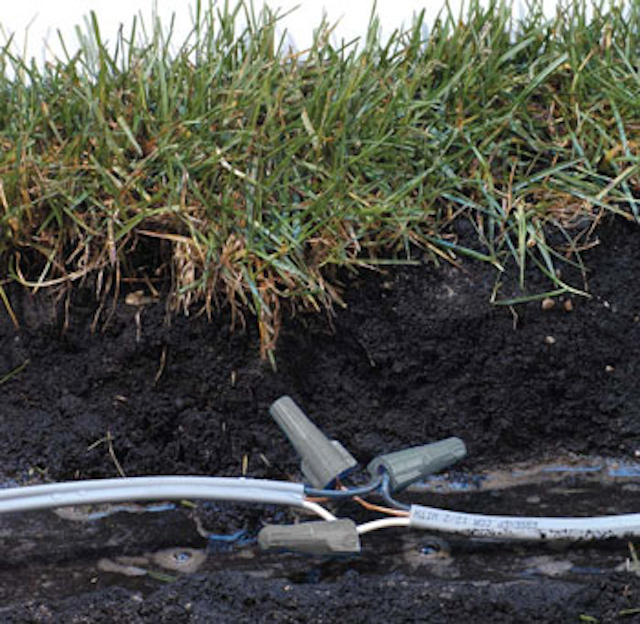 IDEAL WeatherProof connectors are as versatile as they are rugged, providing a wiring solution for places requiring a tough, weatherproof connector. They handle copper wire sizes from #22 to #6 AWG, and feature color-coding to indicate applicable wire ranges. Gripped swept wings help minimize stress on the contractor's fingers and wrist with no pre-twisting required. Because the connectors are pre-filled, there is no faster, easier way to safely connect wires exposed to rain or damp locations.
IDEAL UnderGround below grade/direct burial connectors are manufactured with an extra-thick, thermoplastic shell for extreme durability and reliable connections. Versatile and timesaving, they will handle wire combinations as small as #20 AWG or as large as #8 AWG.
IDEAL Electrical
PowerTap 2000 Alternative, Renewable, Portable Power System
Power management: Boulder Power Technologies, a provider of portable renewable power products, offers the PowerTap 2000, a mobile, Lithium Ion-based power source for organizations looking for clean, quiet and versatile energy to operate everything from construction tools and outdoor sound and lighting systems to home appliances.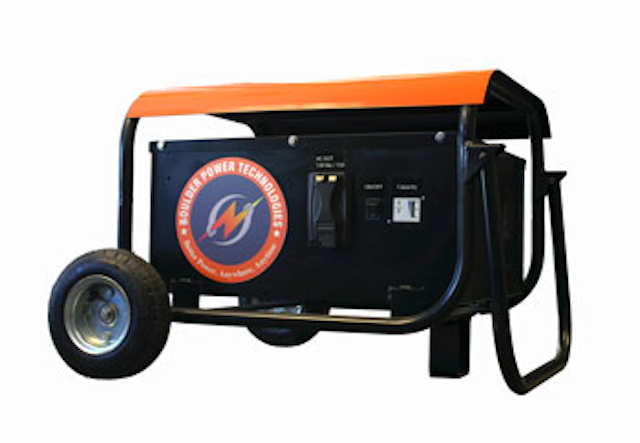 Now, the PowerTap 2000 is available nationally directly from the company and its network of sale partners. The PowerTap 2000 uses Lithium Ion battery technology to deliver portable power where and when needed, with "zero-noise/zero-emissions" and without the fumes and cost of gasoline. Its "one on-switch" makes it easy to use for anyone, and it can be wheeled into place and used for pennies-per-use. It provides up to 6,000 watts of power (2,000 watts continuously). The unit is easily re-charged through a standard household electrical outlet, and a full charge takes only 90 minutes. It provides up to 12 hours of uninterrupted power for power tools, water sump pumps, lighting and more. Designed and manufactured in the United States, it offers versatile mobile power for both indoor and outdoor uses, and its rugged construction is backed by a one-year warranty.
Boulder Power Technologies
Sub-meter GPS Solution Budget-friendly
Utility supplies: Most GIS professionals know that attaining sub-meter GPS accuracy typically comes with a high price tag. However, rugged handheld computer manufacturer, Juniper Systems, offers a budget-friendly, easy-to-use sub-meter GPS solution using Esri ArcPad, Effigis' EZSurv Post-Processing software, and its ultra-rugged handheld computers.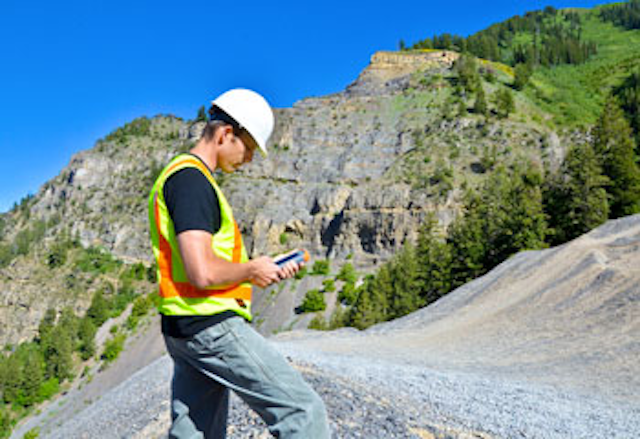 This inexpensive sub-meter solution involves collecting GIS data using a Juniper Systems rugged handheld running ArcPad data collection software, and then using Effigis' EZSurv software to easily post-process the data, resulting in sub-meter GPS accuracy. Users can import and export data, including custom attributes, from their GIS. This data collection process bypasses the need for survey-grade GPS receivers, providing both an affordable and simple solution for professionals who require sub-meter accuracy.
The range of applications that can benefit from this type of solution is broad, with uses in asset management, environmental monitoring, forestry, agriculture and more.
Juniper Systems
Domain Reflectometer Dual Channel, Dual Trace Time
Megger, a manufacture and supplier of test equipment and measuring instruments for electrical power applications, now offers an advanced dual channel, dual trace time domain reflectometer (TDR) that locates faults on paired metallic cables. The TDR2050 is cited to be the first in its class to have a 600 V CAT IV input protection filter built into it, giving technicians the ability to connect to known live lines.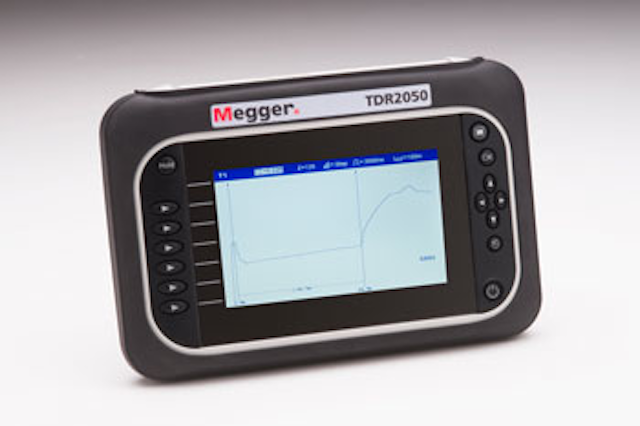 This TDR is ideal for detecting illegal wire taps without having to power down the line. By having the ability to connect to potentially live circuits, the TDR2050 is a more flexible instrument suited for a wider range of applications including locating cable faults as part of a responsive or routine maintenance program, electrical inspection during quality checks, testing reels of cable for shipping damage, maintaining rail network signal communications and power cabling as well as ensuring safe and efficient state of commercial heating and air conditioning cable.
Featuring a large (800 x 480 pixels), extra high-resolution (to 0.1 m), backlit, WVGA color LCD display with easy set up features, the TDR's graphic display has a vibrancy that helps the user identify key events on the trace. The unit's directional control buttons and soft keys provide easy operation.
Megger
M18 FUEL Magnetic Drill Delivers Strong Magnetic Hold
Utility tools: Milwaukee Tool's M18 FUEL Magnetic Drill delivers the performance and run-time that is expected by most corded magnetic drill users, while delivering the strongest magnetic hold on 1/4 in. steel.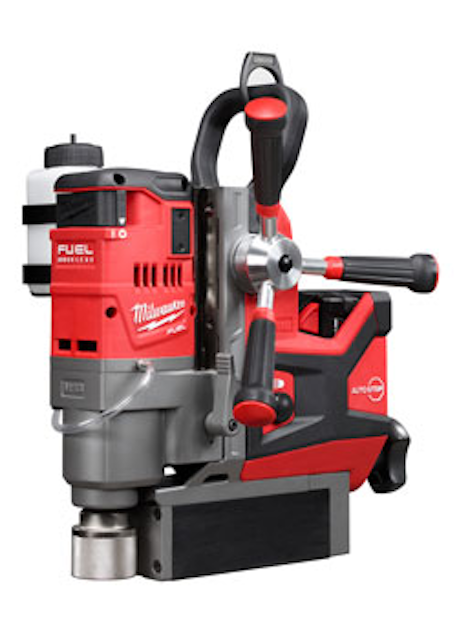 Whether completely replacing the user's current magnetic drill or supplementing their corded line-up, the new M18 FUEL Magnetic Drills can benefit any magnetic drill user. With a focus on vertical and overhead drilling environments, Milwaukee has improved the traditional ergonomic design of the tools to speed up the positioning and drilling process in these orientations. To help typical power limitation concerns, the new tools use permanent magnets so that the magnetic base operates without electricity-ensuring the magnet does not deactivate if the battery is drained. The drill also comes complete with a 3/4-in. Weldon quick-change chuck, making accessory changes fast and easy.
Milwaukee Tool
Jib Boom Man Basket Attachment Insulated Rotating
Reach-All Platforms LLC has announced an addition to its line of aerial work platforms suitable for attachment to a variety of boom truck cranes. The aerial attachment connected to the boom tip enables the crane to function as an insulated man lift with wrap around capabilities to work on the blind side of power pole cross arms and transformers or tree branches. The line of CraneMate platforms is cited to be the industry's only work platform with self-contained hydraulics.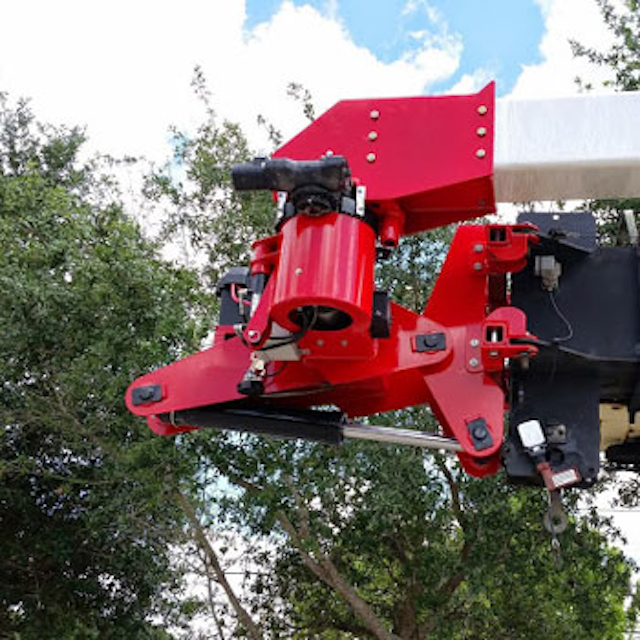 The insulated jib boom with basket pin on to most boom truck cranes by means of the equipment's existing swing jib mounting brackets, allowing attachment to all-terrain cranes, boom trucks, telescopic crawlers or other hydraulic telescopic equipment.
Reach-All features include: 320-degree platform rotation and automatic leveling, road travel ready, self-contained power control box and fall protection. The CraneMate insulated jib boom man baskets are available in 12 ft. to 16 ft. lengths with 300-lb. capacity.
Reach-All Platforms LLC
Converter Modules and Battery Charger DC-DC and AC-DC
Energy management: Schaefer Inc. offers the C/B 600 Series of DC-DC and AC-DC converter modules and battery charger (B600 models). The highly-reliable, compact and rugged 3U design uses industrial-grade components and provides a high-density, space saving solution for applications in industries such as utility, oil/gas, automation, heavy industrial, military, telecom/datacom, alternative energy, transit/railway, process control and power stations.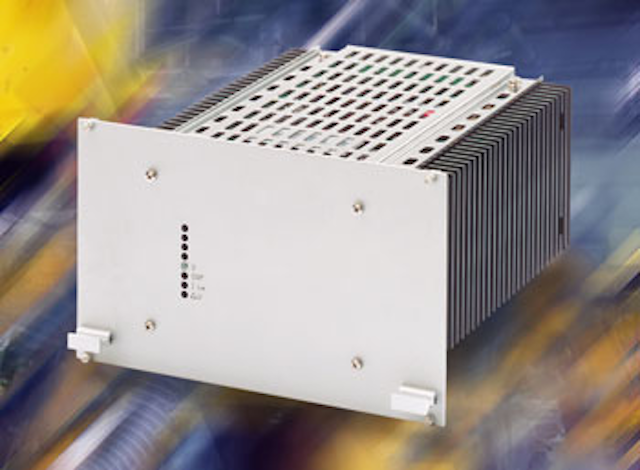 The ultra-high efficient C/B 600 Series delivers up to 500W of power and offers DC input voltage range of 10 VDC to 380 VDC with seven input range choices. AC input options are single-phase 115 VAC or 230 VAC (with or without PFC) or three-phase inputs of 3x200 VAC. These modules are single output and are available in 12 standard ranges from 5 VDC to 400 VDC. All outputs are adjustable and tightly regulated to 0.2 percent (load) and 0.1 percent (line).
Modules are housed in an industry-standard 3U form factor for insertion into 19-in. sub-racks, or optional wall, chassis and DIN-Rail mounting are available. All models have comprehensive protection circuitry including over-voltage protection, current limit protection on the output, and thermal shutdown with auto restart. Options include parallel/redundant operation, inhibit, Power-OK/DC-OK alarms, system reset signaling, active current sharing and programming/monitoring functions, etc. Mechanical and electrical modifications are readily available.
Schaefer Inc.
ArcGuard Faceshield for Arc Flash Head Protection
Arc flash protection: National Safety Apparel (NSA) brings you the ArcGuard Faceshield for arc flash head protection. Offering features such as high visible light transmission for increased visibility, an attached see-through chin cup for enhanced peripheral vision, and a lightweight design, the ArcGuard Faceshield meets your arc flash head protection needs.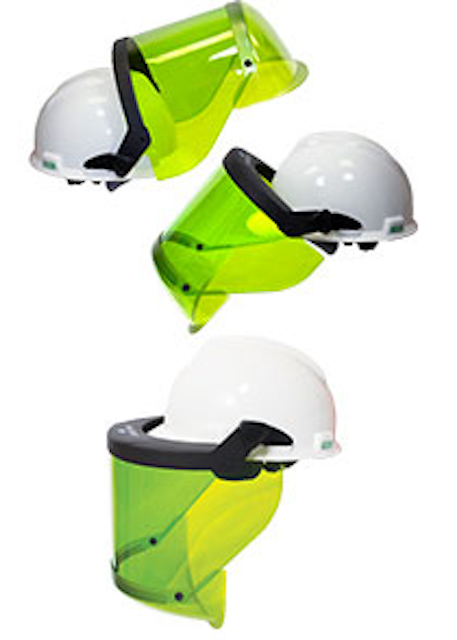 This faceshield comes in both 12 cal and 20 cal options (HRC 2) with adjustable settings that allow it to be locked in various positions. The ArcGuard Faceshield fits multiple hard hats including standard, slotted and full brim. Faceshields meet OSHA 1910.269, ASTM F2128, are NFPA 70E-2015 compliant, and CSA Z462-15 compliant (Canada).
National Safety Apparel
Rugged Touchscreen LCD Monitor 21.5-Inch Widescreen Full HD
Utility supplies: Stealth.com (a Sparton company) has released a 21.5-in. Panel Mount LCD monitor, featuring a high definition widescreen 16:9 format with 1080p resolution (1920 x 1080). The LCD is environmentally sealed to NEMA 4/IP65 specifications, providing maximum protection from dirty, wet and hostile operating environments.
The SV-2150WS-PM 21.5-in. panel mount monitor is an IPS LCD Panel with LED backlighting for optimal energy efficiency while delivering up to 250 Nits (Cd/m2) of brightness, a contrast ratio of 1000:1 (25000:1 dynamic) and wide viewing angles of 178 degrees. The SV-2150WS-PM is well equipped with resistive or capacitive touch screen, VGA, DVI-D, HDMI and Displayport video input connectors.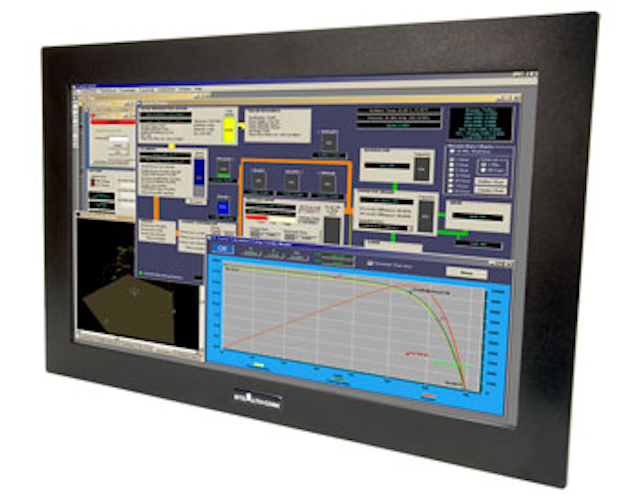 The SV-2150WS-PM panel mount LCD installs easily into new and existing panels, cabinets and consoles without having to drill multiple stud holes. Simply drop the LCD into place and secure with the attached steel brackets.
Stealth's 21.5-in. LCD monitor can also be turned into a Panel PC with the optional mounting of a LittlePC small form factor computer on the rear of the unit. This option transforms the display into a space saving all-in-one workstation solution that is quick and easy to deploy.
Stealth.com
Desktop Meter Station TWACS Compatible
Utility testing: TESCO's Desktop Meter Stations (Catalog No. 2100) have been redesigned to communicate with TWACS AMI Meters. This optional feature will have one set of panel mounted female sheathed banana plug connections and an adapter cable to facilitate TWACS communications to the meter from the users TWACS PRTU Module. This gives users the ability to communicate to the TWACS modules wired either to the L-N or L-L connections on the meter. The TWACS communication can be turned off and on with the click of a switch so you can test any other type of electric meter in your inventory.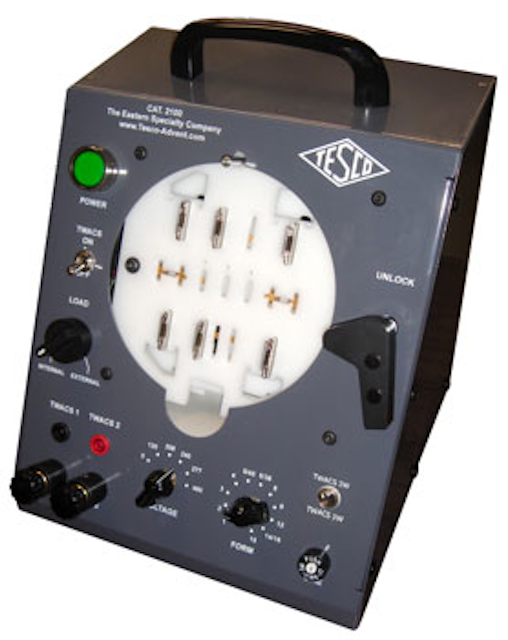 TESCO Desktop Meter Stations allow for easily powering meters either in the lab, in the shop, at your desk, or anywhere you have access to a 120 VAC receptacle. The Desktop Meter Stations are versatile and have many optional features (many of which can be included together).
Tesco
App Determines Power Cable Needs
Kerite, a US-based manufacturer of medium-voltage and high-voltage insulated power cable products, has launched FieldCalc Pro, an engineering app for utility and consulting/specifying engineers.
The FieldCalc Pro is an app that can be downloaded easily to any smartphone, tablet or computer, and quickly solves common high-voltage power cable design calculations for engineers in the field. The app employs built-in calculators that allow users to enter parameters and power requirements of the circuit being designed and automatically provides the solution. Necessary equations are built into the app, so no other resources are required. And with the results provided, users can quickly select the appropriate cable for the application-enabling rapid selection decisions.
Kerite cable is engineered for long service life and is backed by complete factory and technical support services, with a commitment to deliver the lowest total cost of ownership in the industry.
Kerite
Outage Intelligence 2.0 Reduces Outage Duration and Frequency
Utility safety: Space-Time Insight, a provider of situational intelligence solutions, has announced the availability of version 2.0 of its Outage Intelligence application. The software helps utilities predict, prevent, detect, assess and respond to power outages more quickly and confidently.
According to the Consortium for Electric Infrastructure to Support a Digital Society, the US economy loses $104 billion to $164 billion per year to unplanned power outages even after utilities have implemented an outage management system (OMS) under normal operating and external conditions. A major utility serving a large urban area can experience 10,000 total outages in a year. For a utility with one million customers, reducing the duration of a single major outage by 10 percent can save tens of millions of dollars.
Outage Intelligence extends the value of outage management systems by helping utilities reduce the duration and frequency of outages. The software:
Identifies incipient power outages earlier than before;
Gives utility customers more accurate estimates of when power will be restored;
Ensures power is restored to customers that outage management systems can't detect;
Estimates and monitors the impact of outages on regulatory reliability measures such as SAIDI; and
Prioritizes power restoration efforts based on consequences to critical infrastructure, such as hospitals.
The more proactive utilities are in forecasting and detecting outages, the more they minimize disruption. Outage Intelligence uses advanced analytics to notify utilities of impending outages often before customers call or SCADA systems issue a warning.
Outage Intelligence is integrated with a range of outage management, workforce management, weather and other systems that are vital to restoring lost power. The application is commonly implemented in a manner of months for rapid impact on outage operations and analytics.
Space-Time Insight