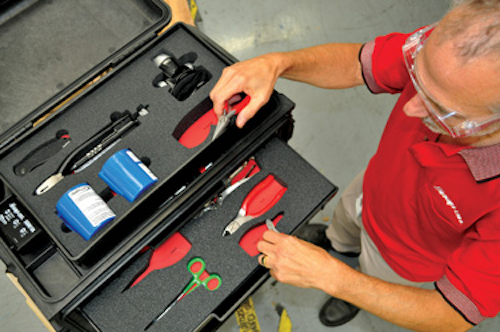 By Andy Lobo
In a time of shrinking budgets, municipalities and utilities are looking to their workforces to save money. But, that desire isn't limited to personnel; procedures, actions and equipment such as tools are being evaluated for ways to improve efficiencies. New advances in hand tools, along with specialized training curriculum, are contributing to utilities running a more lean and productive operation in this era of doing more with less.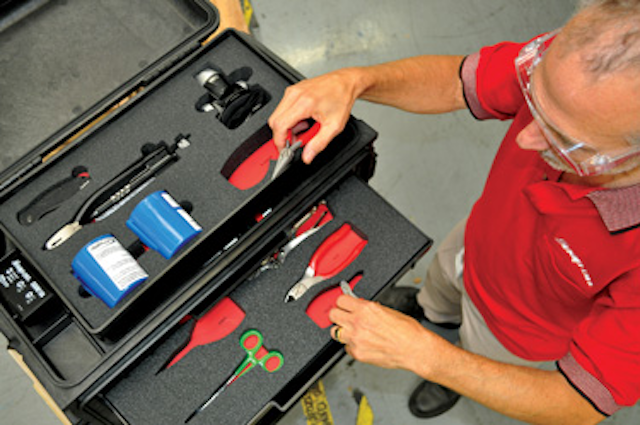 Technology Driving Tomorrow's Tools
All tools basically have two goals: perform the task correctly and perform it efficiently. To help support those goals, more tools are being developed for specific applications. Technology is fast becoming prevalent in the tools of tomorrow. Measurement-type tools, such as torque wrenches, for example, have a higher level of precision and improved repeatability.
Torque wrenches need to be calibrated on a regular basis to ensure accuracy. One area where technology is playing a role in torque wrenches is electronically tracking required calibration cycles and alerting the user when it's time to test the tool. International Organization for Standardization (ISO) standard 6789:2003 specifies the calibration requirements for torque wrenches at one year or 5,000 cycles—each time torque is applied to a fastener equals one cycle. For ease of scheduling, many organizations calibrate torque wrenches on an annual basis. This is acceptable only if wrenches are cycled fewer than 5,000 times per year. For critical applications and torque instruments that are cycled more than 5,000 times annually, however, more frequent calibration might be necessary. Torque wrenches with an internal cycle counter track cycle count and alert the user when 5,000 cycles have been reached—an important reminder that the torque wrench might need calibration.
But, technology isn't just counting cycles—it's helping check calibration of a torque wrench, too. Digital, touch-screen equipment is being developed that automatically tests torque wrenches, such as the Consolidated Devices Inc. (CDI) and Snap-on Digital Torque Tester. After positioning the torque wrench in the testing device, technicians input the setting benchmarks on a touch screen. Rather than following testing instructions from a manual, the device quickly and efficiently walks technicians through each step.
Technology can sometimes be a simple concept—yet make a major improvement in efficiency. Most people have wheeled luggage that they can pull behind them. Why not do the same with a tool box? Today's portable tool boxes come with wheels that allow technicians to easily transport their tools from job to job. Although most hand-carried rolling boxes contain one large, open space for tools, some boxes more closely resemble a traditional tool box with drawers and rails—offering a better solution for tool control and organization. These rugged, all-weather boxes are convenient for transporting tools from a truck to a job site.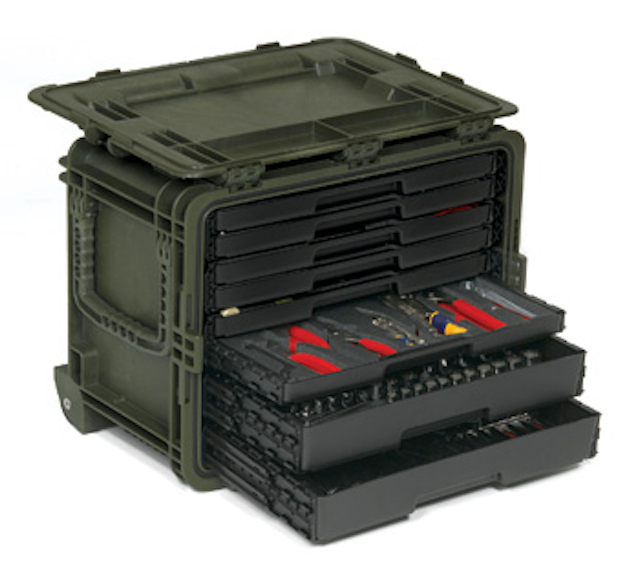 Taking this tools-on-the-go concept a step further, some utilities are now exploring the concept of tool kitting, which helps technicians reduce downtime and work more efficiently by creating a tool kit for specific jobs. One use for a custom kit is preventive maintenance. Many utilities have equipment and systems that require regular, on-going preventive maintenance as part of their operation. A custom kit can be developed to house all necessary tools to perform preventive maintenance on specific components. The technician only needs to check out the kit; he or she has all the necessary tools to complete the job.
While a rolling tool box and tool kitting offer efficiencies in moving tools from one place to another, they can also provide a greater level of tool control—which in itself leads to enhanced productivity. As utilities continue to evaluate their processes in becoming leaner, many are adapting the lean enterprise principle of 5S: sorting, straightening, shining, standardizing and sustaining. The idea is to make the workplace visual and easily managed. A tool control program is a large part of that. Using foam cutouts in boxes acts as a visual management system for tools; it helps technicians quickly locate tools and identify missing components.
Maintaining a Skilled Profession
Having tools with the newest automation is great, but work suffers if the technicians don't know how to use them. One way to make technicians more efficient and commit fewer mistakes is to train them on proper tool use. That's why some tool manufacturers are investing in training by partnering with community colleges and trade schools to certify technicians in areas such as torque, technology and safety, diagnostics and precision measurement.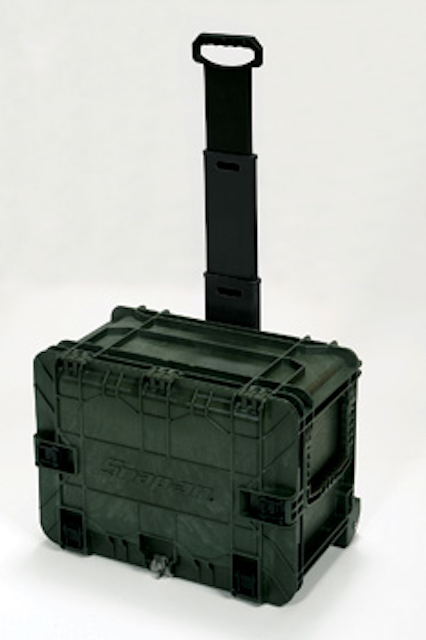 The goal of the certifications developed by Snap-on Industrial is not to teach how a vehicle operates, but to teach technicians the proper way to use the equipment so they become more productive in their jobs. These certifications fulfill a need because there are no standards in how to teach the use of the equipment. Upon completion of the courses, technicians become certified in the proper use of torque products and diagnostic equipment—making them a more productive and well-rounded professional.
Summary
Tools are constantly evolving and being designed to better meet the needs of technicians and more complex applications. The driving force behind that evolution is technology. One can only imagine what kinds of tools will be in boxes 10 years from now. As technology improves, so will technician efficiency. But, training will also play a critical role by ensuring today's technicians, and those entering the profession tomorrow, are ready to meet those challenges in this time of doing more with less—an era that's unlikely to change soon.
---
About the author: Andy Lobo is product manager at Snap-on Industrial. He can be reached at 262-656-4702, or email Andrew.r.lobo@snapon.com.
More Utility Products Current Issue Articles
More Utility Products Archives Issue Articles