Test & Measurement
Jul 1st, 2011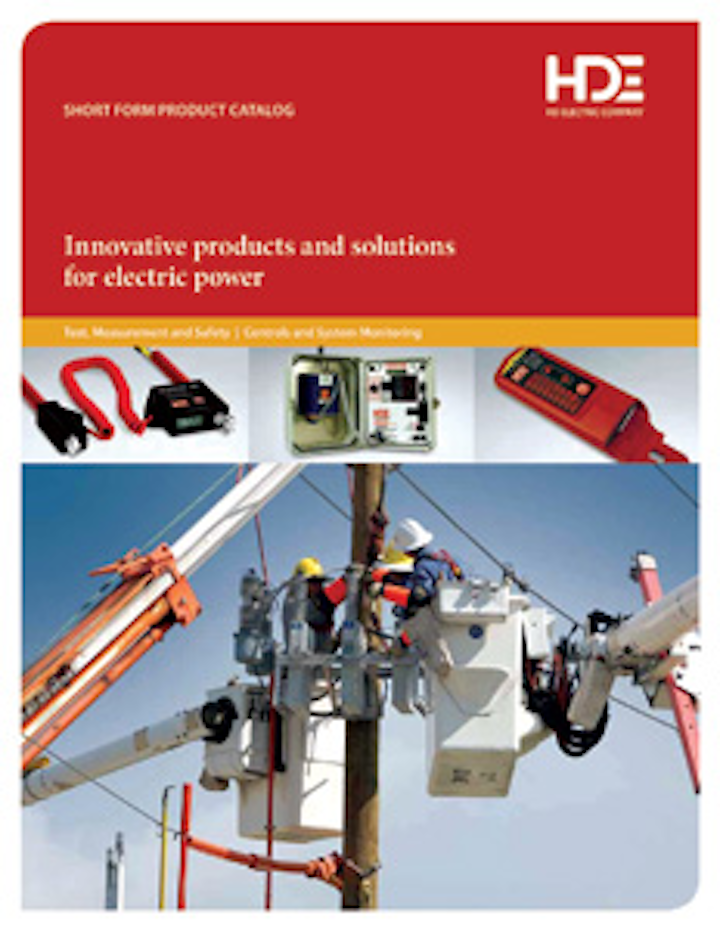 Electric Power Short Form Product Catalog
HD Electric Company's new four-color Short Form Product Catalog is now available. This 52-page catalog contains product offerings in two categories for the electrical power industry: test, measurement and safety, and controls and system monitoring. The catalog provides a description of each product along with photos, part numbers and a website search term for additional information.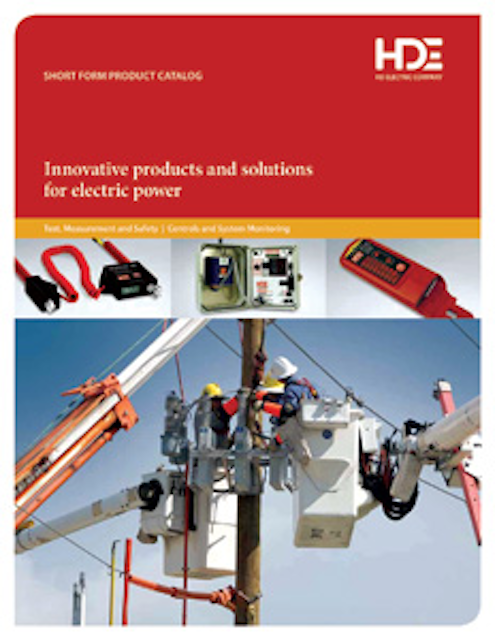 HD Electric Co.
CIRCLE 127 ON READER SERVICE CARD
---
Mechanical Pole Testing Measures Strength, Serviceable Life
Deuar's mechanical pole testing (MPT) measures a pole's strength, degree of deterioration and serviceable life by applying real force against the pole to measure its actual strength and longevity.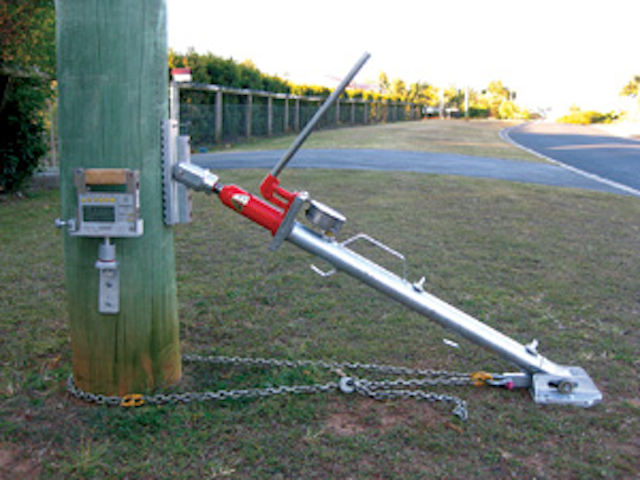 This method or testing power pole strength has been successfully used in the U.S., Australia and elsewhere by utility companies. It not only uncovers all hidden, unsafe and dangerous poles, but also saves money by eliminating unnecessary pole replacement. Results show that more than 50 percent of rejected or condemned poles are still serviceable.
The new technology has been validated by the American National Electric Energy Testing, Research & Application Center (NEETRAC), Queensland University of Technology (Australia), Georgia Power (U.S.) and Forestry Research Institute (New Zealand). The equipment is light and portable. A pole can be tested in less than 10 minutes by one person. In addition, a pole that is passed by the MPT can be guaranteed sound for at least five years.
Deuar Pty Ltd.
CIRCLE 128 ON READER SERVICE CARD
---
AFL Launches Hand-held Digital FiberScope
AFL's NOYES DFS1 Digital FiberScope is an ergonomically designed, hand-held fiber optic connector video inspection unit. Especially useful for optical cable connector and bulkhead adapter inspection, the DFS1 delivers magnified images via Universal Serial Bus (USB) port to AFL's M200 and M700 optical time-domain reflectometers (OTDRs); C840, C850, C860 and C880 OTDRs; and certification testers. The OTDR or certification tester software displays, labels and stores captured images as part of optical cable installation and maintenance records. With electronic video inspection, the danger of eye damage from active fibers is eliminated.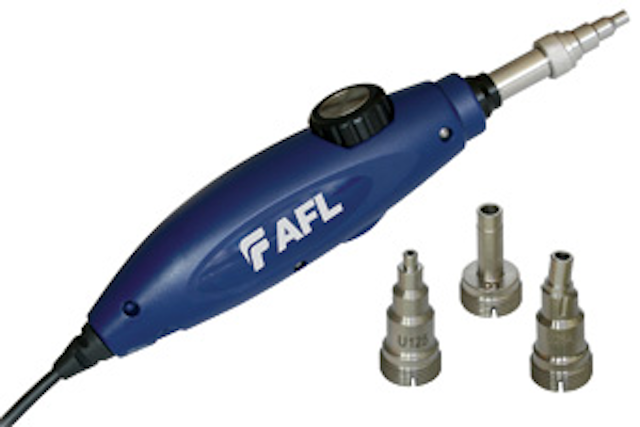 A large adjustment knob allows for easy focusing and a trigger button signals the attached device to capture the image for analysis and archiving. The DFS1 is powered through the USB port, eliminating the need for additional batteries or ac adapters.
The FiberScope is available with an assortment of adapters to support inspection of a wide range of optical jumper cable connector ferrules and bulkhead adapters.
AFL
CIRCLE 129 ON READER SERVICE CARD
---
Fiber Optic Absolute Position Sensor
Micronor Inc. introduces the Model MR330 absolute fiber optic position sensor (FOPS). The Model MR330 series position sensor is an all-optical design, immune to any electro-magnetic interference such as lightening, radiation, magnetic fields and other harsh environmental conditions. The fiber optic aspect of the sensor also makes it perfectly suited for long distance position sensing over hundreds of meters without being affected by ground loop problems. The FOPS system is based on Micronor's years of research, innovation and patents in fiber optic sensing technology.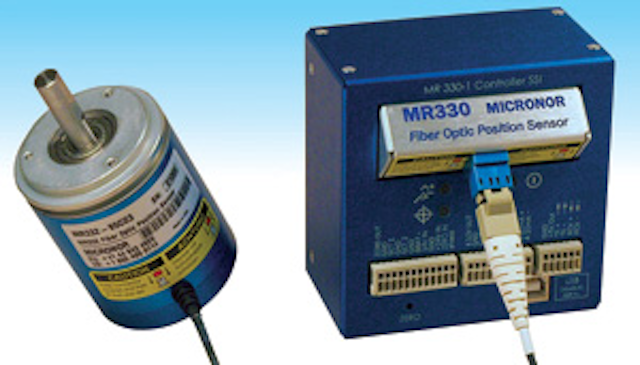 The absolute FOPS uses an optical technique embedded in a passive sensor and active controller connected by a duplex fiber optic link. The controller transmits a burst of light to the code disk in the sensor, which accurately modulates the spectral components of the light based on angular position. The position information is imprinted in the optical spectrum of the light and guided back to the controller for a precise position readout.
Micronor Inc.
CIRCLE 130 ON READER SERVICE CARD
---
Rackmount Inverter Offers Power Density in 1U Package
Schaefer's AEP-A3000R Series of highly efficient, pure sine wave inverters provide 3 kVA of power in a compact 1U rack design and is available in standard input configurations of 24 Vdc and 48 Vdc. Outputs are regulated to +/-3 percent or better. A built-in, 4-6 ms automatic bypass switch allows for redundant operation from utility power if the dc supply drops out. In uninterruptible power supply (UPS) mode, the ac input is not needed for standard inverter operation.

All models in the AEP-A3000R Series feature comprehensive protection circuitry and a front panel digital display that indicates low/high input voltage, over temperature and overload conditions. The display also indicates volts, amps, watts and temperature. Efficiency ranges from 87 percent to 90 percent. Class B Electromagnetic Interference (EMI) compliance minimizes interference to other sensitive equipment.
Schaefer Inc.
CIRCLE 131 ON READER SERVICE CARD
---
iPhone-enabled Wireless Multimeter Introduced
Redfish Instruments Inc., a provider of iPhone- and iPad-enabled electronic test and measurement equipment, has anounced the iDVM Digital Multimeter. The iDVM multimeter wirelessly connects to an iPhone, iPad or iPod Touch via an ad hoc wireless network—allowing users to acquire, visualize and share electrical measurement data on their Apple devices. The iDVM app can be downloaded free from the Apple App Store.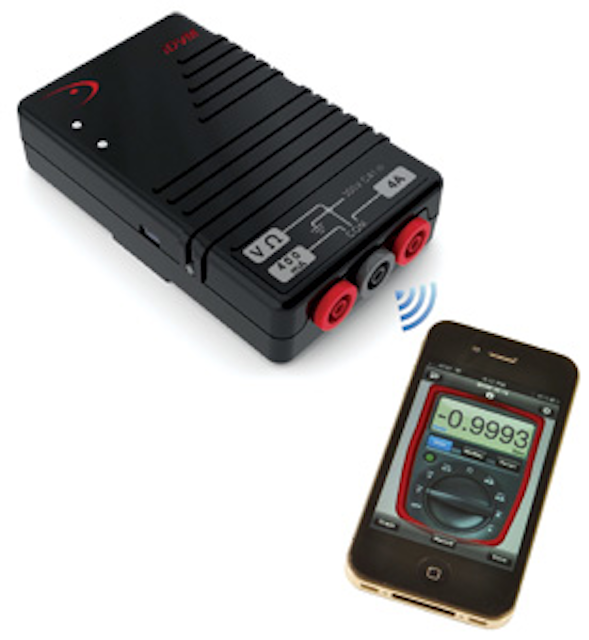 The iPhone and iPad provide a known user interface that permits customers to interact with electronic test and measurement tools that was not possible prior to the post-pc era, it's reported. The iDVM permits a user to log data over an extended period of time using the iPhone or the iPad as the storage device.
The iDVM is designed for a wide range of users—field service workers, automotive technicians, electrical or building contractors, and advanced embedded systems engineers.
Redfish Instruments Inc.
CIRCLE 132 ON READER SERVICE CARD
---
Underwriters Laboratories-1741 Listed Configurable Combiner Box Product Line
TEAL Electronics, a subsidiary of SL Industries Inc., introduces its newest product line, the TEALsolar Configurable Combiner Box for utility and commercial scale solar photovoltaic (PV) systems.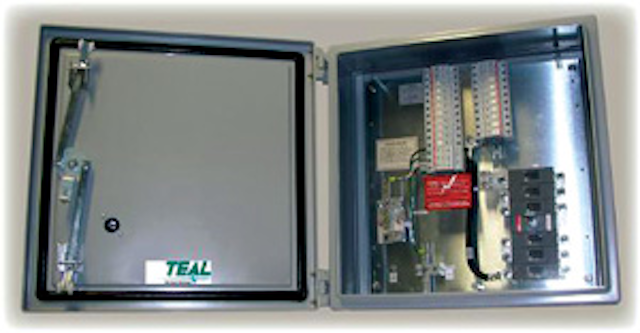 The TEALsolar Configurable Combiner Box is available in eight-string, 12-string, 16-string, 20-string, 28-string and 36-string systems, and the standard configurations include a dc disconnect and transient voltage surge suppression (TVSS) device integrated into the unit. The dc disconnect and TVSS device can be optionally removed. Fuses come standard and are available up to 30A per string in the eight-string and 12-string units, 25A in the 16-string unit, 20A in the 20-string unit, 15A in the 28-string unit and 10A per string in the 36-string unit.
Enclosure options available are National Electrical Manufacturers Association (NEMA) 3R, 4 or 4X enclosures in painted steel, non-metallic (fiberglass) and stainless steel. In addition, the TEALsolar Configurable Combiner Box provides more internal working space than most products, enabling easier installation and wiring of the units in the field.
TEAL Electronics
CIRCLE 133 ON READER SERVICE CARD
More Utility Products Current Issue Articles
More Utility Products Archives Issue Articles