Solving Common Challenges for the Wind Industry
Because the ideal location for a wind project is a remote area in a relatively harsh environment, effective wind-industry products need to combine a high level of reliability and performance.
May 1st, 2011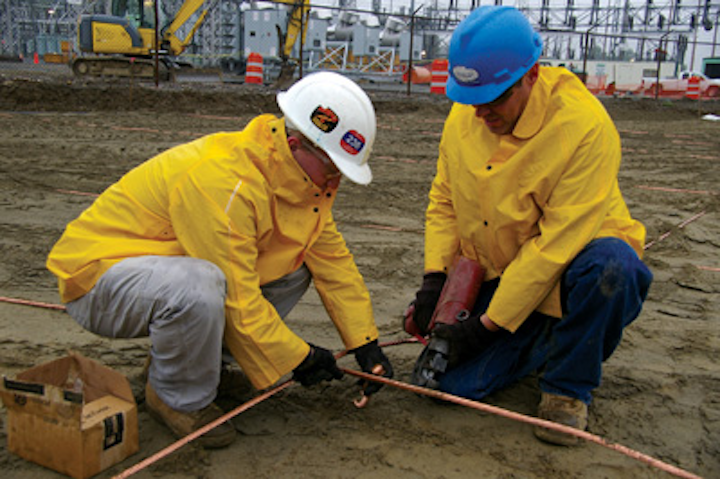 Harsh Environments Demand Durability and Performance
Because the ideal location for a wind project is a remote area in a relatively harsh environment, effective wind-industry products need to combine a high level of reliability and performance. Add to that the narrow specifications for the products used in wind farm construction, and it is often difficult to order parts in advance and ensure they will work for individual projects.
Designed to allow field adaptability and modification, the BURNDY Break-Away HYLUG line of copper and aluminum compression terminals was developed for the wind power industry. The Break-Away terminal can be easily modified in the field from a two-hole design to a one-hole design without losing its United Laboratories (UL) listing and Canadian Standards Association (CSA) certification.
In addition, field modifications can be made without the need for specialized tooling or additional training. The Break-Away also features a narrow tongue design to fit into tight spaces.
"I can't imagine there's a crew out there who hasn't been stuck at the top of a turbine without the compression terminal they need," said Craig Lawson, who began his role as the renewable energy business development manager for BURNDY in 2007.
"I hear about it all the time. That's why we envisioned and designed the Break-Away HYLUG. Its flexibility has made the Break-Away HYLUG universally accepted within the wind industry and therefore a favorite for wind projects. With the Break-Away HYLUG, you can be confident it will work in all sorts of different environments and applications that installers face," Lawson said.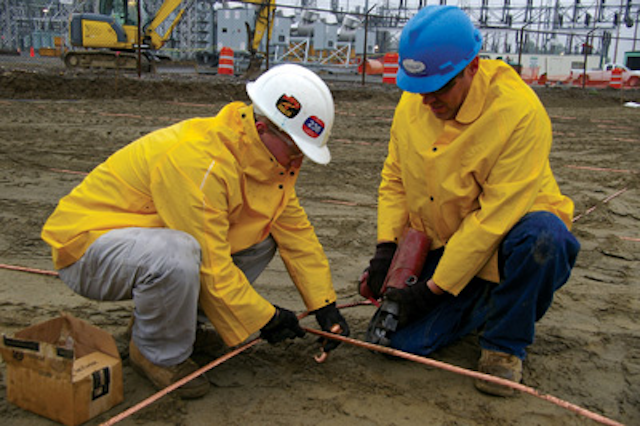 Break-Away HYLUG Features:
Rated to 90C, 600 volts to 35 kilovolts;
Narrow tongue design to fit into tight spaces;
With the slotted second stud, the terminal can be used on two-hole spacing ranging from 1.75 to 1.00 inches;
Accommodates a range of conductor combinations—American Wiring Gauge (AWG), compact, diesel locomotive cable (DLO), flex and metric; and
UL listed and CSA certified with 900 kcmil compact aluminum conductor, using BURNDY tooling platforms.
Grounding Choices Affect Long-term Reliability for Continued Output
After the large initial investment in any wind-related project, its components are expected to continue to perform with high levels of reliability. It is, therefore, vitally important to have a grounding system that is listed and certified to the highest standards to ensure top quality and performance.
"A wind turbine is essentially a power plant in the sky," Lawson said. "But, without a high-quality grounding system, major problems can occur with turbine operations now and in the future."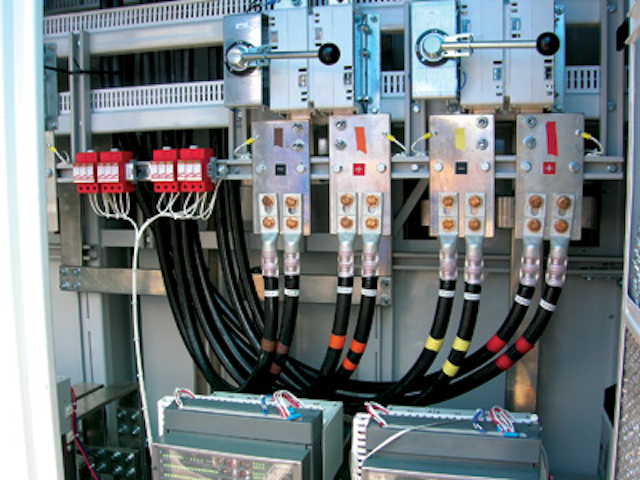 Preventing problems begins with installation. The BURNDY HYGROUND irreversible-compression system is built on design principles and technology that have been in existence for more than 60 years. HYGROUND meets stringent safety and performance requirements, including those of the Occupational Safety and Health Administration (OSHA) and nuclear power plants.
All grounding products meet and exceed standard performance guidelines—in all conditions.
"Compression connections can be made in three minutes or less in even the most inclement weather conditions: rain, wind or snow," Lawson said.
HYGROUND Features:
Acceptable for direct burial in earth and concrete;
UL 467 and 96 listed, CSA certified and Institute of Electrical and Electronics Engineers (IEEE) 837 tested;
Heavy-duty connector design carries the equivalent or greater current-carrying capacity of the conductor;
Material-pure wrought copper extrusions, rod and seamless tubing—identical material to the conductor;
Range-taking design with irreversible compression connectors that can be installed in all kinds of weather;
System engineered tooling; and
Can be installed without special training or tools.
Finding Compression Connectors and Tooling that Deliver Reliability and Performance in Harsh Environments
After traveling to remote job sites and unloading in the wind, it's the wrong time to discover the connectors or tools in the truck won't meet the specified project requirements.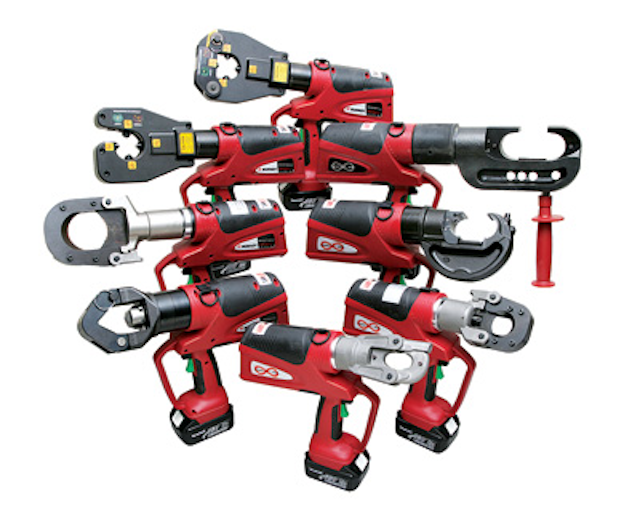 To meet and exceed project requirements, the BURNDY Engineered System—which consists of coordinating dies, connectors and tools—provides durability, reliability and performance. Each part of the system is designed to work together in unison and engineered to meet stringent, accepted quality standards.
"First we designed and built the connector," Lawson said. "Then we designed and built the die for the connector—then the tool to install the connector."
To start, each HYLUG un-insulated copper compression terminal is marked with:
Catalog number,
Wire size and type,
Die index number,
A color code for correct wire size and type identification, and
Color-coded bands identifying the location and number of crimps.
With each component clearly marked, the BURNDY Engineered System makes it easy to visually confirm that each connection is correctly installed—helping ensure continued reliability.
In addition, the company's line of PATRIOT Lithium-Ion tools offers a built-in cooling system, refined hydraulic system and tool housing with over-molded handles for comfort and improved grip.
"As the wind industry developed and matured, the need for a full system of compression-type connectors became clear," Lawson said. "While many companies offer multiple choices for individual parts, more and more wind-industry installers are discovering the value of a full system—one that is easy to install, can be inspected visually, and delivers quality and reliability."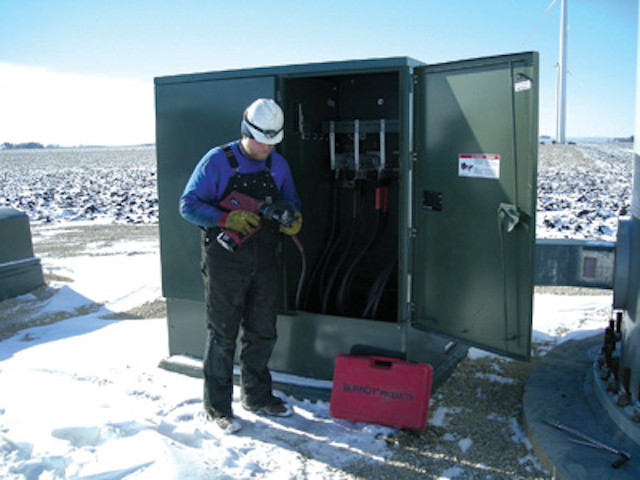 Engineered System Features:
Made in the USA,
UL listed and CSA certified,
Easy to install, and
Can be inspected visually for quality assurance.
Powering the Future
With comprehensive solutions to some of the most pressing issues that wind-related projects face, BURNDY has served as a supplier to all major wind-turbine manufacturers and seen its products used in all major wind projects during the last three to four years.
"It's gratifying to see our research and development come to life as power flows safely and sustainably from these wind farms," Lawson said. "BURNDY has been and continues to be fully committed to the wind industry and its growth. We look forward to developing new products that will support the wind industry as it continues to grow this year and in the years to come.
---
About the company: BURNDY has a history of customer and technical service. Based in Manchester, N.H., BURNDY has manufacturing sites in New Hampshire, Connecticut, Mexico and Brazil.
More Utility Products Current Issue Articles
More Utility Products Archives Issue Articles