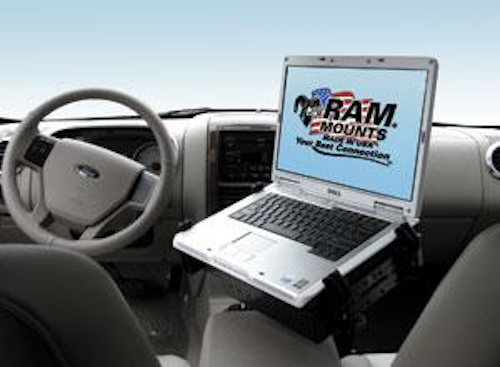 While everyone would like to say that quality is the deciding factor when choosing a product, budget constraints often force compromise. In 2005, RAM Mounting Systems introduced to market No Drill laptop mounting systems that brought an end to the cost versus quality debate. Get your hands on one of these kits and the first thing you notice is the robust feel. Without introducing a lot of bulk, the kit is exceptionally strong, keeps components to a minimum, and is simple to install and use. Early in 2005 kits were available only for domestic makes and models. Currently it is easy to find No Drill laptop kits for foreign automobiles as well.
Comparable systems often cost double what the RAM system sells for. RAM's continual efforts to keep work in-house including design, production, and packaging are what help to keep costs low. Lean manufacturing and state-of-the-art equipment make a difference as well. RAM's design team regularly receives and puts to use comments and criticisms on a daily basis from customers, which inherently translates to a better rounded product line. In 2009 you can expect the release of even more exceptional products including many new molded docks. Having already released products for Panasonic, Motion Computing, and Getac to name a few, RAM is quickly moving to the forefront of docking station design and manufacture. Eager to put forth a product that is built to take on what fleets dish out, RAM docks will certainly add to the appeal of the No Drill product line as a whole and continue to contribute to the efficiency of fleets and individuals well into the future.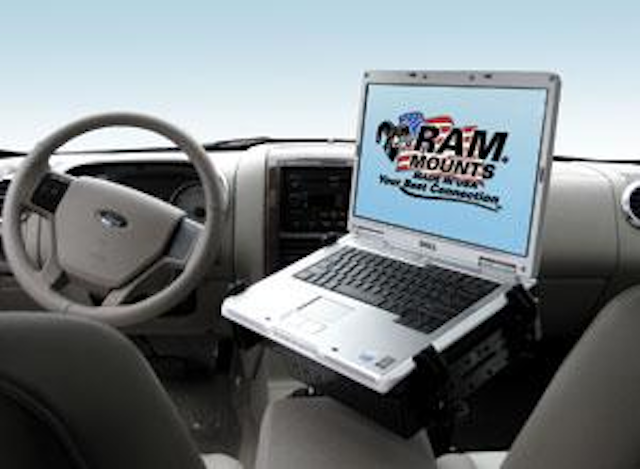 Click here to enlarge image
Currently, work truck fleets are implementing some of their most sophisticated equipment into their mobile environment. Offering professionals a complete line of products that make a mobile office not only functional, but comfortable was not always easy. Now turning a vehicle into a mobile office that is nearly as comfortable as a home office is not hard to achieve. Given some of the tough on-the-job decisions that need to be made, deciding to go with RAM may be the easiest one to make. The RAM Tele-Pole Systems, with vehicle specific No Drill bases, are the no nonsense approach to integration of mobile electronics in vehicles. The patent pending Tele-Pole design allows for extremely simple adjustment with a single knob that is easy to grasp—turn a little for swing adjustment, turn a little more for height adjustment. The universal ball and socket design is the most simple of all. No slipping, just gripping; shock and vibration are dampened as well to save your valuable electronic equipment. All that plus perfect viewing angles make this a perfect fit for any mobile office. Ergonomics and viewing angles are often overlooked but are certainly a concern for any mobile office environment. Twisting your body for typing, or stretching your neck over to see the screen does nothing but cause fatigue and back aches.
With a RAM System that is specifically designed for your specific vehicle and needs, your laptop will adjust to you. Since no two people are alike, it only makes sense to provide mounting platforms that are fully adjustable and easy to place in the most ergonomic location. Whether the laptop is used from the passenger side or driver side, the swing arm systems provide easy access for typing and viewing.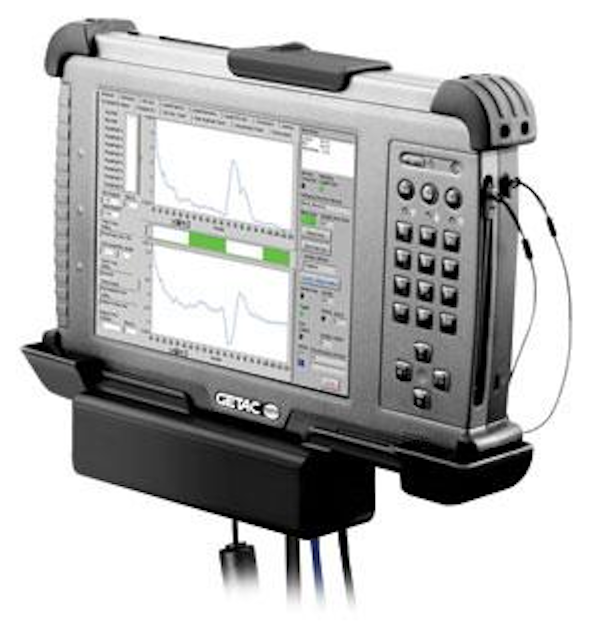 Click here to enlarge image
Supporting all of this durable convenience is an attractive metal base that is custom fit for the car, truck, or SUV, owned or leased. Built for a lifetime of use, finding a better quality product anywhere at any price will certainly prove to be challenging. All No Drill systems come standard with a universal laptop tray which will accommodate virtually every laptop made. There is no guessing whether it will work for your laptop or not. Since the mount will in all likelihood outlast the mounted device, the fully adjustable RAM Tough Tray for laptops should accommodate the upgraded laptop when the time comes. This tray is spring loaded and has four retaining arms that can be moved both vertically and horizontally to provide unsurpassed adaptability. As previously mentioned, 2009 will see the release of even more revolutionary mobile docking solutions. Compact design, lockable, and easily mated to many RAM systems, these docks will surely receive similar acclaim as did their predecessors.
Still another soon-to- be-released line of products will include equipment consoles for common fleet and police vehicles. Form and function at an unbeatable price seem to be job one at RAM. If you are a professional on the move, and in-vehicle computing is part of your daily routine, RAM Mounting Systems were developed with you in mind. Comfort and convenience will make your mobile office more efficient and RAM is ready to help you get it done.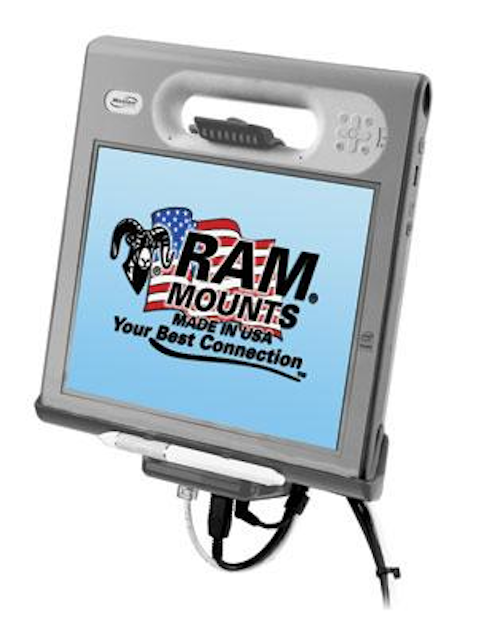 Click here to enlarge image
To make a good thing even better, 2009 will see the expansion of RAM's No Drill product line of accessories. Through input from consumer groups, trade shows, and product resellers, RAM customers will see many of their requests and suggestions come to life in the form of new product offerings. Open to consumers, RAM consistently demonstrates a willingness to listen to its customers and provide immediate solutions.
A few great examples of this willingness to please their customers are the Release-A-Pole and Adjust-A-Pole. It's all in the names. The Release-A-Pole provides a quick release feature where the telescoping pole meets the no-drill base. With the pull of a pin, the entire upper assembly can be easily removed and stored. This is a great way to take a car from work mode to family mode in seconds. Like everything else that has the RAM name, you can expect high quality and years of use from this accessory.
The Adjust-A-Pole does just as you would guess—allows you to put the telescoping pedestal exactly where you want it. Avoid interfering with glove compartments, drink cup holders, center consoles, or simply add more leg room with simple adjustments. Built to integrate into an existing system or to be included from the factory, this accessory is unique in the industry. By staying on top of new and soon-to-be-released products for both fleets and consumers, you are sure to get the best product for your new vehicle or device.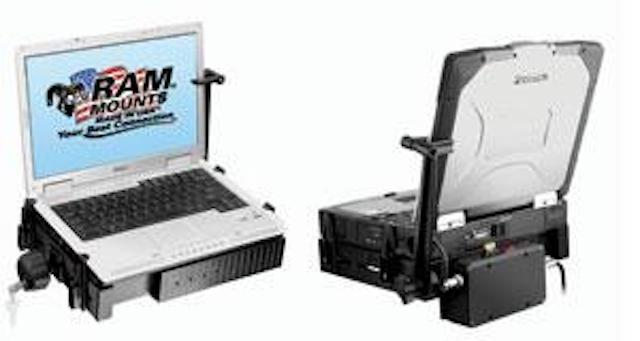 Click here to enlarge image
Beyond work, there is play. RAM not only puts a laptop within easy reach for typing but also adjusts easily for laptop viewing. This gives passengers a great way to watch a DVD movie while on the go. Keeping the kids busy on a long road trip will prove the RAM system is worth its weight in gold.
Now back to business. As stated earlier, budget constraints often force compromise. RAM has taken a step toward ending the need to sacrifice what you want or need for what you can afford.
About the Author: David Wilkinson is a member of the design team at National Products Inc. located in Seattle, Washington. Outside the office, he performs installations and testing for mounting accessories designed for portable electronics.