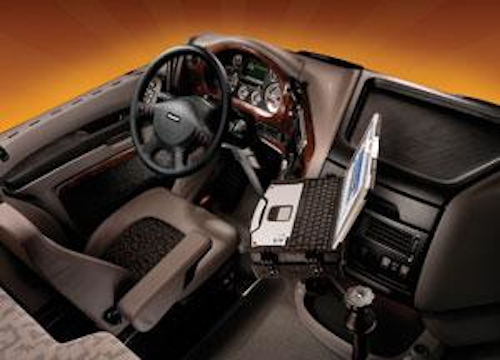 Two things that few mobile offices will do without these days are a GPS and a laptop. More car and truck manufacturers are offering built-in GPS systems than ever before and before long, full blown in-dash computers will be an available option as well. While it is cool to have such things built into the car or truck you drive, there is a lot to be said for the portability of today's powerful laptops and GPS systems. Ease of transfer from one vehicle to the next and the freedom to choose your favorite brand make aftermarket products are the most popular options for many.
Out of the box, the electronic device, providing you did your research, is just what you need. However, most laptops don't come with any mounting equipment and the mounts that come with the GPS are not always ideally suited for a true mobile office. You might say they are good for vacations but not the daily grind.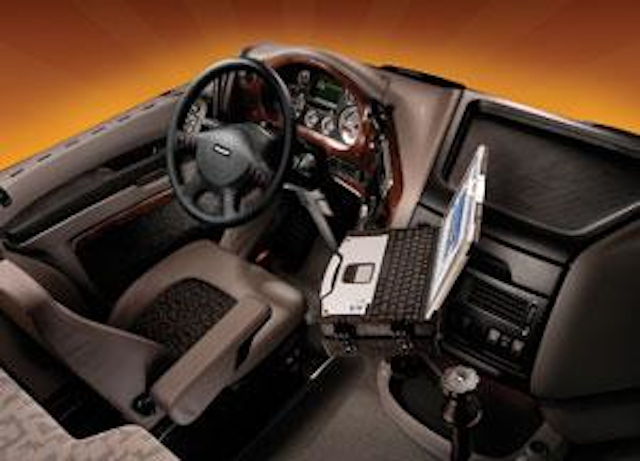 Click here to enlarge image
RAM Mounting Systems was established back in 1994 with a simple mission: create mounting systems built for real world applications and real world use. Keeping the designs elegant yet strong, and durable yet light weight, has helped to insure that over a decade later, consumers and OEMs alike trust RAM to offer the best in aftermarket mounting accessories for all of today's popular laptops and GPS systems.
While it may not be necessary to have up and running every moment of your day, few can deny the usefulness of a GPS, especially if it is used in a service vehicle. If the GPS is more to your daily life than just a gadget, but rather a tool to help get you to the job without getting lost, RAM offers some amazing mounting solutions that are both tough and complimentary to the GPS itself. Form-fitting custom cradles are available for Garmin, Magellan, TomTom, Lowrance, and many others. These custom cradles mate seamlessly to hundreds of mounting solutions and never interfere with the operation of the GPS.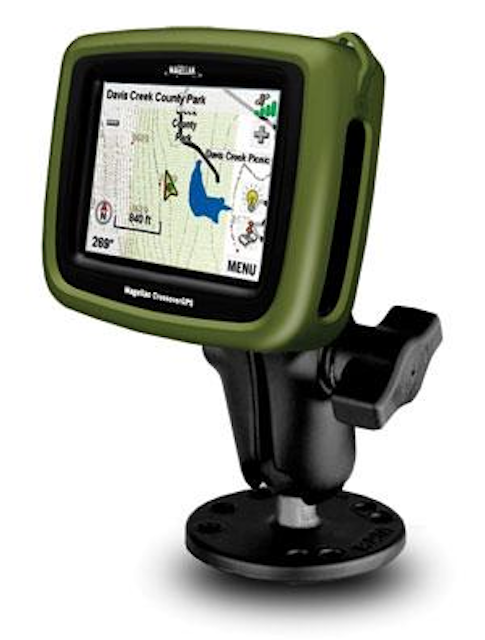 Click here to enlarge image
Most GPS systems come with a mount included, and some even come with a RAM Mount, but for those that don't, the one in the box is not always up to the task of a hard day's work, let alone years of use. From rough roads to rough seas, or simply going from one fleet vehicle to the next, RAM offers several mounting systems ready for service.
When it comes to truly portable mounting solutions that can be used on the dash or console, RAM has many options available to suit practically any application. Below are some popular choices.
Few dash mounts offer the portability of the RAM rubber-coated weighted base. With three legs that can be form-fitted to the mounting surface, and a comfortable weight of four pounds, this base has "stay put power". Regardless of the sloped or curvy nature of the dash, the R.W.B. (Rubber-coated Weighted Base) can be formed to fit it like a glove. Combine the R.W.B. with a swivel, double socket, ratcheting, or goose neck mount and you'll have one of the best auto accessories offered to support a GPS. And since these kits are modular, customers have the freedom to choose a pre-packaged kit or design their own from individual components. If you find yourself going from vehicle to vehicle within a fleet, or even your own cars, nothing beats the grab-and-go simplicity of the rubber coated base. For those that live in states where a suction cup attached to windshield is a no-no, this is a perfect solution.
As for suction cup mounts, RAM offers a wide range of this product type. The Twist Lock suction cup is a best-seller and is available in a number of styles. Get your hands on one of these and you'll agree it has insane holding power. Absolutely perfect for even the largest portable GPS systems, these kits are quality built from top to bottom. One of the most popular, the RAM ratcheting suction cup mount, has several pivot points so that once attached, both viewing and access are done with safety and ease. The twist-lock feature is as simple to use as an on-off switch providing unmatched convenience should the GPS and mount need to be moved elsewhere. Incorporating the patented rubber ball and socket design, additional shock and vibration isolation are built right in. Able to mate with many custom and universal cradles offered by RAM, this mounting system is tops among electronics accessories. Perfect for rental cars, fleet vehicles, or your daily commuter, supporting a GPS is no problem for this versatile kit.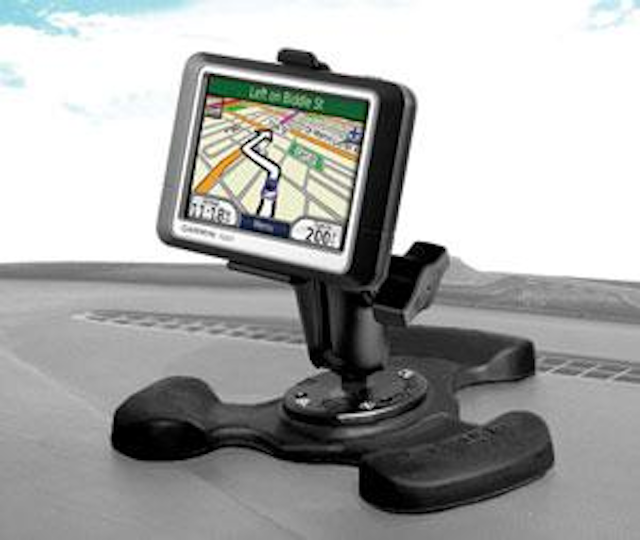 Click here to enlarge image
Use the same car often and want a No Drill option for your dash? RAM also offers mounting solutions that utilize a double-sided adhesive pad to securely hold a mount in place. Virtually any surface is a mounting surface when you use this system. Simply choose the location, clean the mounting surfaces, put the adhesive on the base, and secure to the dash; now that was easy. The adhesive will not damage the dash or stain it if removed. When you're ready to take it off, a hair dryer and five minutes of patience is all you need. Having a RAM rubber ball base ready to support your electronics is an ideal choice for any vehicle. Perfect viewing angles, ease of adjustment for multiple users, and simple installation are just some of the reasons to choose this option.
If you have the ability to fasten a mount to the dash using hardware, bases are available in many shapes and sizes with numerous hole patterns, the AMPS hole pattern being the most common. For a truly rock solid installation, nothing beats the right fasteners and a black powder coated die cast aluminum base. Quality, performance, and value are just some of the reasons why when it matters how it's mounted, more and more people are choosing RAM.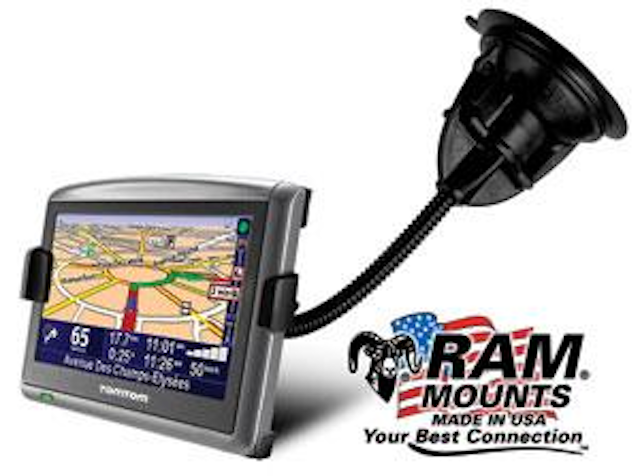 Click here to enlarge image
While using the GPS to get there is definitely half the battle, getting the job done on site is what pays the bills. Most popular foreign and domestic makes and models can be fitted with a RAM No Drill system. These kits commonly attach to existing vehicle hardware and incorporate a variety of features making them second to none in durability, performance and ergonomics. High quality, low cost kits include custom steel bases, telescoping pedestals, double swing arms, the RAM rubber ball and socket feature, and a universal laptop tray. Designed to accommodate virtually every laptop made, you won't be guessing whether it will work for you. This tray is spring-loaded and has four retaining arms that can be moved both vertically and horizontally to provide unsurpassed adaptability. With all this right out of the box, you are sure to have the most comfortable and easy-to-use mobile office available today. And to make the best even better, look for the new RAM Revolution socket arm to be included in future kits.
When it comes to a wide selection of quality products for both GPS and laptops, RAM has all the bases covered. Easy to use, simple to install, and dare we say, capable of making your day more enjoyable, are all what you can expect from RAM products. When it comes to aftermarket accessories for your electronics, RAM is the one to get the job done.
About the author: David Wilkinson is a member of the design team at National Products Inc. located in Seattle, Washington. Outside the office, he performs installations and testing for mounting accessories designed for portable electronics.