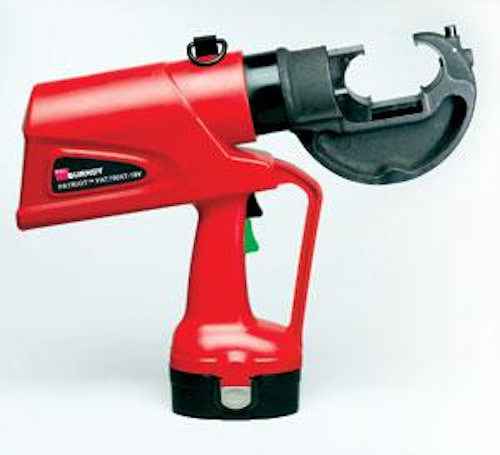 There was a time when crimpers could really cramp your style. Huge, bulky, unwieldy tools weighing up to 15 pounds, crimpers were slow performers that weighed down the user's arm and bogged down productivity. These self-contained hydraulic crimpers were not only heavy, they also required the user to manually pump the handle 40-50 times for at least two to three minutes to complete a crimp.
About 10 years ago this all changed dramatically for the better with the introduction of the first Ni-Cad battery-operated crimping tools. The streamlined design of these tools not only brought improved ergonomics and ease of use to the world of crimping, but also greatly increased the speed of the process.
Today's crimpers and cutters bring even more speed, simplicity, versatility and innovation to the industry. In looking for the right crimping or cutting tool for your application, there are a number of traits to look for and variables to consider.
Think fast
One of the principle benefits of the newest generation of crimpers is speed. Some of today's leading crimpers use high speed pumps and innovative transmission and piston designs to deliver completed crimps in about three seconds. That's down from two or three minutes with a manual pump. With the average connector requiring up to 15 crimps, the new tools are dramatically reducing the time it takes to complete an installation. Other new features like 180-degree head rotation and variable speed ram advance work to increase the efficiency of operation, even with challenging tight crimping space.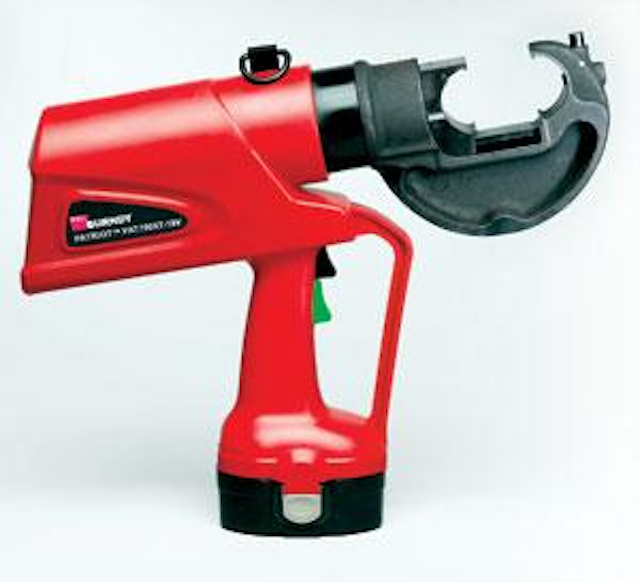 Click here to enlarge image
There may actually be jobs for which a manual crimping tool is sufficient. If upfront cost is the primary concern, and if you're only making a few crimps here and there, manual tools can be less expensive. But keep in mind that this is an initial cost, and the long-term inefficiency of a manual tool may have you paying a lot more in the long run if multiple crimps are a regular part of your work.
One hand clapping
If you're looking for ergonomic ease of use, look no further than the latest crimping and cutting innovations. These new tools combine literally tons of force with incredibly easy handling. Offering the latest in ergonomically balanced tool designed, these tools are one-hand, self-contained solutions. For example, FCI-BURNDY's PATMD6 crimping tool provides a consistent, reliable connection on a range of copper and aluminum terminals and splices, overhead taps, full tension splices and deadends. The PAT46-18V contains a state-of-the-art C-Head design with 355-degree head rotation and a retractable assist handle under the head of the tool for better handling, balancing and maneuvering in tight areas. PAT46-18V is the largest battery actuated crimping tool for BURNDY, providing 15 tons of output force with a generous two-inch jaw opening. The crimper allows users to install large varieties of splices, taps, and terminals with one tool, while providing easy placement and removal from continuous conductor lengths. With one hand operation, FCI-BURNDY's crimping and cutting tools leave the other hand free to line up the job and manipulate the connector and conductor.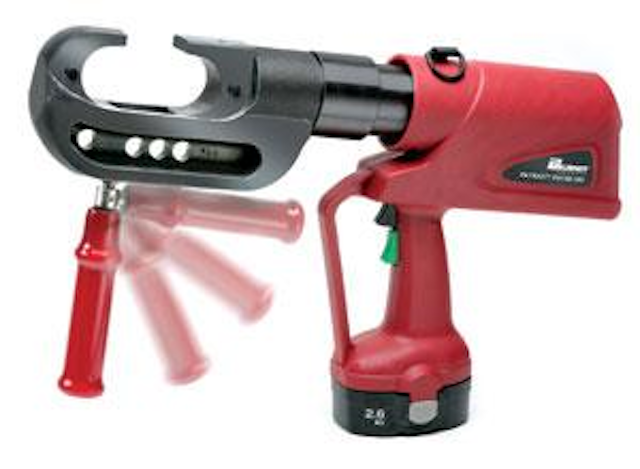 Click here to enlarge image
null
A new source of power
Some of today's battery-actuated tools, both crimpers and cutters, have actually upgraded their source of power from a 12-volt Ni-Cad, or nickel-cadmium battery, to an 18-volt Ni-MH, or nickel metal hydrite. The problem with the Ni-Cad batteries is that after a couple of charge/discharge cycles, they can suffer from voltage or memory depression. This means that, although you may start out with a fully-charged battery that's going to provide you with 100 crimps, that capacity can decrease to 70 crimps after a few recharges. With the nickel metal hydrite chemistry, you don't run the risk of a voltage depressions problem, so the performance of a battery and its associated tool is much more consistent.
Consider the job at hand
There are a number of different crimpers and cutters out there, many with features and benefits ideally suited for specific applications. Before purchasing a tool, take into consideration variables like the type of wire (copper aluminum vs. ACSR, etc.), the type of connector (electrical, automotive, military, industrial, etc.), and your particular job and/or industry.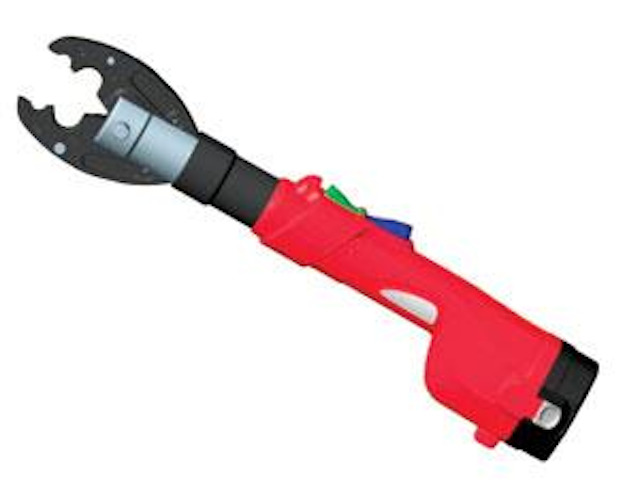 Click here to enlarge image
For example, in terms of cutting tools, certain cutters are designed to be used on copper aluminum cable as well as by utilities when they're dealing with ACSR. The blades of these cutters are designed to cut through a cable ACSR that features a solid steel core. Cutters like these are also ideal for contractors that need to make cuts on ground rods, rebar, steel bolts and high wire. However, cutters with these capabilities are often limited in terms of how large a diameter they can cut, which is important to take into consideration. There are cutters available with higher diameter capacities, of course, but these tools may be limited in terms of what type of cable they can cut.
In order to ensure that every aspect of your needs is sufficiently addressed, it is important to consider working with a manufacturer who offers a complete range of solutions, both crimpers and cutters, to ensure that you're working with a tool that is perfectly suited for your application.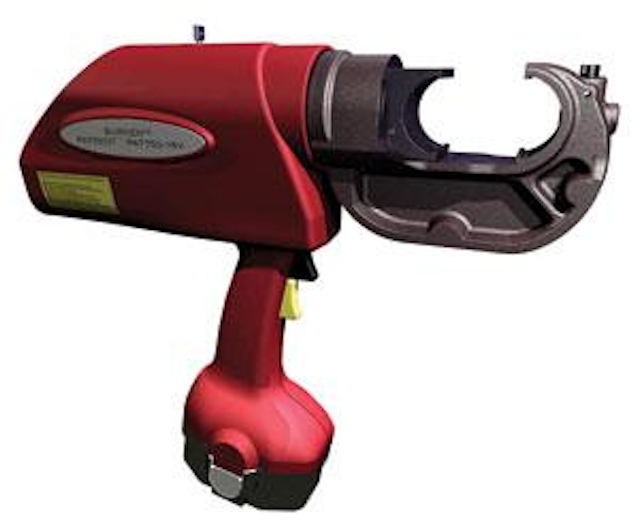 Click here to enlarge image
For example, contractors with asymmetrical connectors or ground connectors should seek out a manufacturer who offers as comprehensive a line of crimpers and cutters as possible. Although a multitude of crimpers will work when dealing with these types of connectors, a tool with a dieless latchhead is far superior to other models, because it doesn't give the end user more tool than is needed. The dieless latchhead eliminates the need to purchase and maintain expensive dies, equating to long-term cost-effectiveness for the contractor. A manufacturer with a limited offering of crimpers and cutters may not be able to provide the contractor with such an option.
Also, you should buy from a manufacturer that is UL-listed, so you can be secure in the knowledge that the tools, dies and connectors have all undergone the most stringent of testing before you bring them to the field.
A brighter, lighter future
The world of crimping and cutting tools is ever-evolving. Manufacturers like FCI-BURNDY are currently working on making tools that are even lighter, smaller, faster and easier to use. Additionally, manufacturers are also constantly striving to lower the cost of creating and, thus, buying these tools, making the next generation of crimping and cutting tools a perfect fit for every hand, every budget, and every application for which they're designed.
About the Author: Bob Poirier is the tooling product manager in the FCI BURNDY Products Marketing Department. His responsibilities include mechanical, hydraulic and battery actuated tooling products. In 1991, Bob joined FCI BURNDY Products as a Technical Service Specialist. While in Technical Services, he became an expert on the full line of FCI BURNDY products. In 1995, Bob was promoted to Technical Service Supervisor, and in 1997 his vast experience and electrical product knowledge helped propel him into the Marketing group as a Product Manager. Bob's primary focus as Product Manager is mechanical, hydraulic and battery actuated tooling products. However, as a licensed Master Electrician, Bob also has a great deal of experience in the electrical industry.