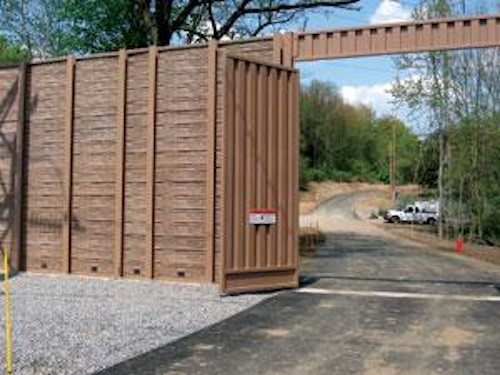 Superior Concrete Products' Modular Fence Stands Tall Around United Illuminating Company's New Substation in Trumbull, Conn.
CHALLENGE
The United Illuminating Company needed to screen a new substation in Trumbull, Conn., with a 17-foot high architectural wall to satisfy local residents' concerns about the aesthetic impact the facility would have on the neighborhood. Building a wall from typical construction materials such as brick, wood or stone would require a wider footprint to accommodate the greater height, which would gobble up valuable space and increase overall construction and maintenance costs.
SOLUTION
Superior Concrete Products installed a pre-cast concrete wall of modular design that could meet necessary wind loads, weathering, soil conditions and seismic factors without adding to the width. Superior's product also delivered greater cost effectiveness through reduced construction costs and maintenance requirements.
---
When burgeoning population growth strains a transmission and distribution system, when the sheer volume of gadgets causes overloads, or when aging infrastructure needs to be upgraded to meet modern needs, we expect our utilities to keep up with demand. New power projects are essential to keep vital services and equipment running and prevent power outages. More and more often, utilities need to work with various community groups and government agencies to accommodate a broad range of considerations before they can build new facilities. One of these issues is how to aesthetically screen unsightly structures from neighboring eyes.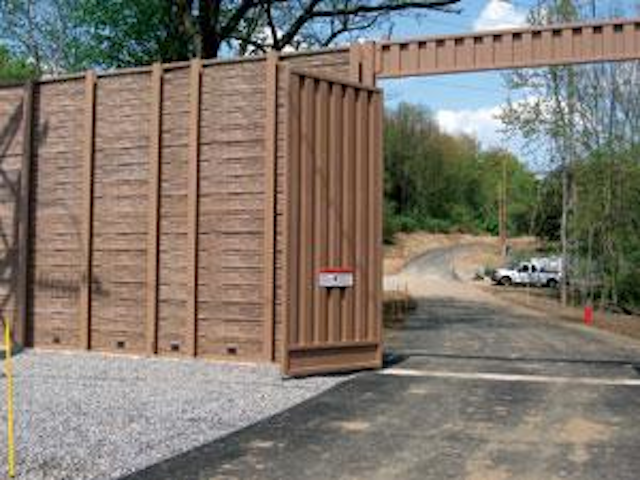 Click here to enlarge image
For The United Illuminating Company (UI), building a new substation in Trumbull, Conn., included striking this delicate balance between accommodating local homeowners' needs for a visually appealing fence and keeping a lid on costs.
Based in New Haven, Conn., UI is an electric transmission and distribution utility serving 17 municipalities with more than 320,000 customers—approximately 35 percent of Connecticut's total population—within the greater New Haven and greater Bridgeport areas.
System-wide Upgrade Launched
Recently UI embarked on an ambitious system-wide upgrade to its transmission and distribution equipment. The 10-year, billion-dollar effort currently under way began in July 2007 in Trumbull, Conn., an affluent community near Bridgeport, which had long been home to a UI switching station known as "Trumbull Junction." UI planned to turn the humble Trumbull site into a modern substation.
Previously, customers in Trumbull had been supplied from two substations—one located in Shelton and the other in Bridgeport, but these were no longer adequate. Since the mid-1990s, residential use of electricity in the Trumbull area had increased by 38 percent and commercial use had increased by 45 percent. Customer demand for electricity in the Trumbull area is expected to continue to increase going forward. Without the addition of the new substation, the greater Trumbull area was at high risk of experiencing delivery problems during peak demand periods. A new substation would also allow UI to more reliably serve other customers in the region.
After examining 11 potential sites, the Connecticut Siting Council—the state's siting body—granted UI approval to build the 58 MVA substation on the Trumbull Junction site.
To help preserve the neighborhood's ambience, area residents requested that UI construct a 17-foot architectural wall around the property to minimize the new substation's visual impact, and the Connecticut Siting Council ordered such a wall be built. The challenge was in how to build it. Although UI had installed two other architectural walls at other sites, neither was like the proposed Trumbull project. Engineering a wall higher than 14 feet would normally require a much wider footprint to stand up to necessary wind loads, soil conditions, seismic factors, weathering and other conditions, which would consume valuable space and add cost. Finding materials that would continue to look attractive after years of harsh weathering would also be difficult. Ongoing maintenance, like painting and repairs, would further drive up expenses.
Concrete Makes Solid Choice
The solution was to build a decorative pre-cast concrete fence from Superior Concrete Products of Euless, Texas. Pre-cast concrete provided an ideal balance between strength, beauty, reliability and cost that ultimately satisfied the needs of the company and local residents.
Eugene Kallaur, transmission and substation projects director for UI, had anticipated the need for an architectural wall early on and researched options. He quickly zeroed in on Superior Concrete's pre-cast concrete products as a possible solution and forwarded the Superior Concrete website link to the project's general contractor, Black & Veatch, for consideration. UI had contracted with Black & Veatch for the Trumbull substation's engineering, procurement and construction.
Black & Veatch engineering manager Arron Lewis and project manager David Koehler were already well-acquainted with Superior Concrete and had used Superior's fencing solutions on several other electrical substation projects in the past.
"The fact that they were known to Black & Veatch and had worked with them before meant a lot to us," Kallaur said. He said that around the same time, a colleague showed him photographs of a similar wall used in a project in Oregon that Kallaur liked. The project in Oregon turned out to have been built by Superior as well.
With Superior's credentials thus established, Black & Veatch was comfortable subcontracting the fence installation work to Superior Concrete.
Modular Design Scores Points
The company's pre-cast concrete products are constructed from modular interlocking panels and posts made of high-performance fiber mesh and steel reinforced concrete. Each piece is integrally colored in one of several tones. Their tongue-and-groove design makes installation easier and faster than other types of walls and fences. I-shaped posts are set into concrete piers and aligned 5 feet apart. Matching panels (5 feet long by 1 foot high) are manually inserted into the molded-in post groove to form an interlocking wall. Pre-cast trim caps are textured to match the wall, and are laid on top of each post to provide a finished and distinctive look.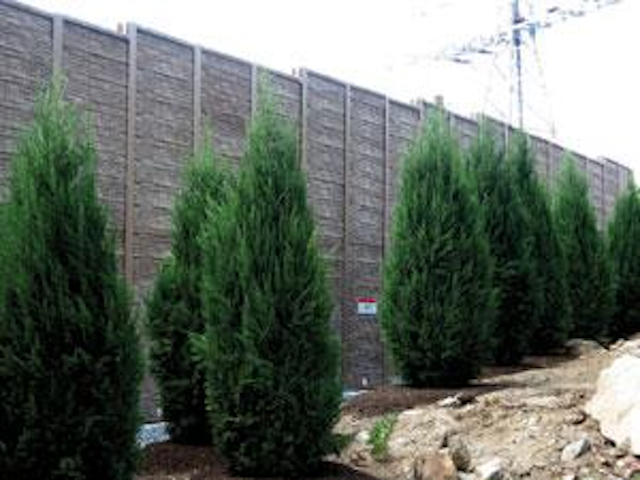 Click here to enlarge image
Superior's turnkey services include the design, manufacture and installation of high-quality modular screening walls, security fences, sound barriers and rail fencing in a variety of colors and textures. Finished on both sides to look like high-quality wood, real brick or hand-laid stone, pre-cast concrete is stronger than any of these options, providing seamless beauty and the ability to withstand harsh wind, soil and thermal movements. It's impervious to termites and cannot rot or burn. Because pre-cast concrete fencing is modular, it's also fast and easy to install, move or expand. Maintenance costs are virtually nil; pigment is mixed with the concrete so painting or refinishing is unnecessary.
Standing Tall
One other key advantage the pre-cast concrete system offered was height. Superior's product could be extended above 14 feet without widening the fence's footprint, while real stone or brick would have required a much wider base.
To build above 14 feet and maintain strength, Superior replaced its standard concrete posts with steel I-beams, which allowed them to build higher within the same footprint. The steel posts conform to ASTM A615, grade 40. The panels attain a strength of 5,000 psi at 28 days. Superior's noise-reduction characteristics are equivalent to masonry as a reflective sound barrier.
The area residents chose Superior's "Ledgestone" finish in a Pueblo color, which simulates natural stonework. Superior also integrated two custom double truck gates at either entrance to the station, which were mounted on special hinges to support their weight. Each truck gate incorporated a smaller pedestrian gate that allows workers to enter without having to open the larger truck gates. The entire fence project was completed in approximately 62 working days.
Kallaur said UI opted to further soften the substation's exterior by surrounding it with Mountbatten Juniper trees, which when mature, will help camouflage the facility.
"Our experience (with Superior Concrete) was very positive," said Kallaur. "Our goal is to build substations to the requirements that are ordered. Superior worked very well with us, and they did an outstanding job."
About the Author: Calvin Clarke is president and past chief financial officer of Superior Concrete Products of Euless, Texas.