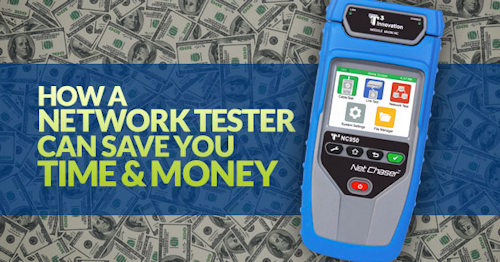 Test equipment: Network installers are often faced with a backlog of work that threatens to bury them, and delays in implementation result in reduced profitability, because too much time is being spent on individual jobs. This makes it critical for network installersto make best use of your time, so as to be as efficient as possible at managing the workload, and remaining profitable. One of the best ways to do this is by using state of the art equipment that takes advantage of all available current technology, all of which works to save you time and money.
Advantages of a network tester
A really capable network tester saves tons of time on primitive trial and error methods when you're trying to find out certain characteristics of a network, or about problems which may be present. The advanced features of a good network tester can determine whether cable is up to spec, and can carry the data load necessary to match active equipment in the network. It can sniff out split pairs, which are otherwise hard to nail down, and can detect shorts, opens, reverses, and mis-wires.
By sending signals through the lines and evaluating feedback, a great deal of information can be learned in a short period of time, and a great many problems can be quickly identified and repaired. When time is of the essence, speed of resolution really matters, and that means that hunting down issues the old-fashioned way is simply not an option. It also is a big help when results can be stored right within the unit, and retrieved for reporting purposes at the convenience of the network installer,
Having the capability to test all cables at installation time can be a tremendous time and money saver from the standpoint of avoiding repeat visits to a facility to fix or re-install some of the wiring. When you can be sure that the network cables are performing up to speed at installation time, there is never a need to make costly re-visits and repairs which eat into your schedule for taking on new projects. In addition to the conservation of time and effort, an advanced network tester will give you the kind of peace of mind that comes from knowing everything is up to speed when you leave a job site, and you won't be getting a distress call for repairs.
Network testing equipment from T3 Innovation
The Net Chaser Ethernet Speed Certifier allows you to confirm the speed capabilities and test Ethernet network cables which handle large volumes of data, up to 1 Gb/sec. You can detect unwanted noise in the network, any faults in the wiring of the cables, and verify that the cable has the capacity to handle speed capabilities of your active equipment. The Net Chaser interfaces between all the active components in your network, such as switches, routers, and servers, and all information is stored for future retrieval and reporting.
The Cable Prowler Cable Tester is a very capable device which can detect the presence of Power-over-Ethernet (PoE), test Ethernet cable configuration, and verify connectivity while testing for shorts, opens, mis-wires, reverses, and split pairs. It will support up to eight testing and ID remotes for network and telephone cables, and up to 20 network and co-ax ID's.
The Net Prowler Advanced Network Tester combines many of the features of the two devices above, and adds in additional functionality as well, to save time and money for network installers and troubleshooters. It supports Internet Protocol version 4 (IPv4) as well as Internet Protocol version 6 (IPv6), and verifies Dynamic Host Configuration Protocol (DHCP) connectivity and Domain Name System (DNS). It can test CAT3/5e/6/6a Ethernet cable configurations and confirm connectivity at the same time it tests for shorts, opens, and split pairs.
In summary
Time is money for network installers and troubleshooters, and getting a job done right in a short period of time is of the utmost importance. That means that making use of the most advanced and capable test equipment is a must, and should be a mainstay for all technicians. The forward-thinking people at T3 Innovation offer precisely these kinds of solutions that shorten time spent on install and repair jobs, and zero in on problems fast, so less time is spent on trial and error. All that adds up to more money for a network installer, who can detect network issues quickly and react to them promptly.
For more information about T3 Innovation or other products, click here to go to Utility Products' Buyers Guide.