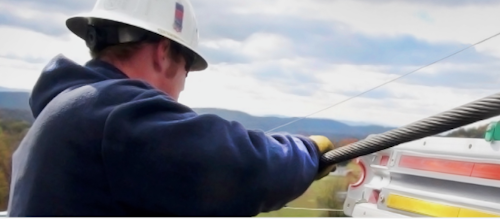 Power measurement: Smart Wires, a provider of distributed power flow control for the electric grid, has integrated control and monitoring of its PowerLine Guardian™ devices into Georgia Power's energy management system (EMS), marking an important step towards creating a truly dynamic grid.
Georgia Power, the largest subsidiary of Southern Company, currently operates PowerLine Guardians™ on its transmission network in Atlanta. The devices were first piloted in 2013 and have for the past two years demonstrated power flow control and real-time sensing capabilities. The success of this pilot prompted Georgia Power to expand its deployment in November 2014 and upgrade its fleet to the newest generation of PowerLine Guardians™.
"Now, by incorporating our PowerLine Commander software into its EMS, Georgia Power can seamlessly leverage the full potential of the Smart Wires solution," said Haroon Inam, chief technology officer at Smart Wires.
Georgia Power, the world's first utility to integrate the PowerLine Guardian™ technology into its EMS, gains valuable access to real-time grid data, such as line current, conductor temperature, vibration, sag angle and real-time fault location, as well as complete control and visibility of the PowerLine Guardian™ devices directly from the operator's main control panel.
The PowerLine Guardian™ technology allows power to be shifted away from overloaded lines and onto underutilized lines, thereby reducing congestion and ensuring reliable network operation. The resulting grid has greater resiliency and an increased capability of sourcing lower cost and renewable generation. The devices are installed on overhead line conductors and limit the electrical current flowing on the line by injecting magnetizing impedance. They can be operated autonomously, based on locally programmable set points, or controlled dynamically by the grid operator.
"The product changes the nature of transmission lines," Inam said. "The PowerLine Guardian™ technology is designed to allow utilities to solve congestion issues, manage power flow and provide real-time data and analytics on the transmission system. The sensor data appear in the same applications and screen displays as the EMS, while providing the operator with the option for manual or automatic adjustments of impedance levels of specific network lines."
Georgia Power is the first utility in the world to complete full integration of Smart Wires command software into the EMS, thereby laying the groundwork for increased widespread control and management with real-time sensor data.
"Leading utilities around the world are recognizing that distributed power flow control represents a useful tool as they seek to innovate their businesses and adapt to today's rapidly changing industry environment," commented Jim Davis, CEO at Smart Wires.
About Smart Wires
Based in the San Francisco Bay Area, with offices in the United States and in the United Kingdom, Smart Wires is the leader in grid optimization solutions that leverage its patented distributed power flow control technology. Driven by a world-class leadership team with extensive experience delivering innovative solutions, Smart Wires works with utilities globally to address the unique challenges of the rapidly evolving electric system. Smart Wires technology was developed by utilities for utilities, led by a consortium of large US utilities at the National Electric Energy Testing Research and Applications Center (NEETRAC). This core group of utilities, which included Southern Company, the Tennessee Valley Authority (TVA), Baltimore Gas and Electric Co. (BGE) and the National Rural Electric Cooperative Association (NRECA), defined the vision for the original device. Today, the technology is rapidly becoming part of the utility tool kit as more and more electric utilities explore new ways to alleviate congestion, improve network utilization, manage changing generation profiles and maintain reliable electric service.
For more information about Smart Wires or other products, click here to go to Utility Product's Buyers Guide.