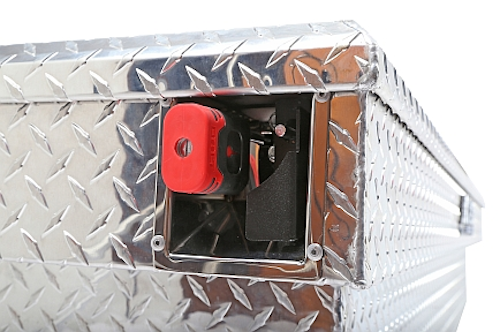 Vehicle accessory: Dee Zee Inc.'s new, maximum security Blue Label Padlock Box can be enhanced by using the convenient, one-key lock technology of STRATTEC Security Corporation's rugged BOLT(r) Padlocks. Permanently programmed to the vehicle's ignition key, BOLT Padlocks simplify the workday and complement the toughness of this patented, professional-grade tool box. When an ignition key is inserted into the BOLT lock cylinder, spring-loaded plate tumblers move up and down until they are matched to that key. The first time the key is rotated, the cylinder is uniquely coded to that key. When the key is removed, the cylinder moves into the locked position. When the key is turned again, it rotates to the unlocked position.

Dee Zee designed the Blue Label Padlock Box with a recessed padlock compartment to make it impossible to cut or break the padlock. BOLT Padlocks, crafted with automotive-quality materials, offer long-lasting, weatherproof protection for this premium tool box. In ASTM testing for functional, operational and security requirements for padlocks, BOLT received the highest grades for resistance to corrosion, impact, weather and drilling.

"Just by picking up the box you can tell it will hold up to just about anything, and BOLT Padlocks are the perfect lock choice for maximum security and convenience," said Dee Zee's Director of marketing Dan Kruzic.

For more information about Dee Zee or other products, click here to go to Utility Products' Buyers Guide.