CASPER, Wyo. (AP) — A wind farm that could become the largest wind energy project in the U.S. has received approval from state regulators but still awaits completion of federal environmental reviews.
The Industrial Siting Council voted 7-0 on Wednesday to approve Power Co. of Wyoming's proposal to build up to 1,000 wind turbines in Carbon County in south-central Wyoming. The council is responsible for permitting large-scale industrial projects in Wyoming.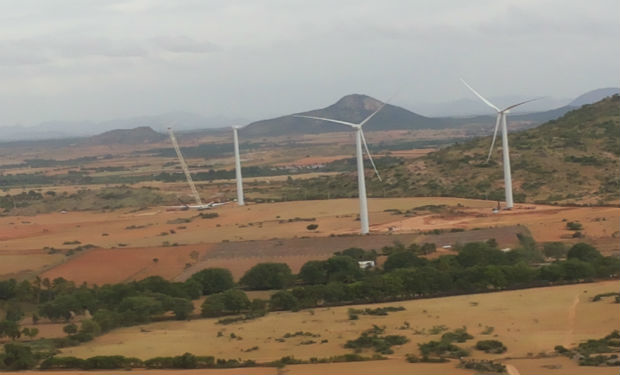 The $5 billion Chokecherry and Sierra Madre project would produce enough renewable power for 1 million homes.
The Power Co. is a wholly owned affiliate of Denver billionaire Phil Anschutz's The Anschutz Corp.
"We are very pleased that the council voted to grant PCW a permit for its wind project," company vice president and general counsel Roxane Perruso said in a statement. "This is another significant milestone in the development process."
The project still has to get approval from the U.S. Bureau of Land Management, which is doing environmental assessments of the project.
Power Co. of Wyoming has also applied to the U.S. Fish and Wildlife Service for an eagle take permit, which would allow a designated number of raptors to be killed by turbines each year in exchange for implementing conservation measures at its facility. A decision is expected in 2015.
In its application to the state, the company said it intends to provide $1.68 billion of its own money to build the project. The remaining $3.11 billion will be financed. It has already spent $45 million to date on the project.
State Industrial Siting Council members praised the company's application with the state, noting that no one spoke in opposition to the project during the two-day public hearing.
Siting council chairman Shawn Warner, a Powell Republican, said he entered the hearing apprehensive about permitting such a large project.
"They just did a first-class job in submitting what was required," he told the Casper Star-Tribune. "They literally left no stone unturned."
Kara Choquette, a Power Co. of Wyoming spokeswoman, said plans are to sell the wind farm's electricity to Arizona, California and Nevada.