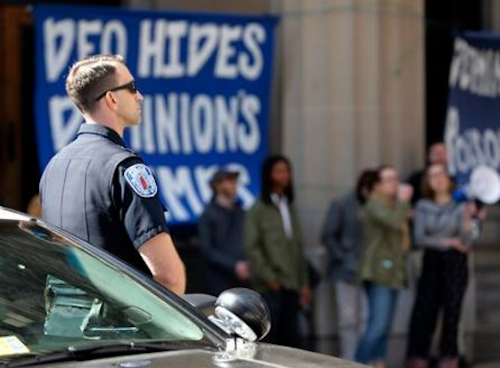 RICHMOND, Va. (AP) — Dominion Virginia Power said Friday it will pay for county water hookups or water filtration systems for as many as 35 private properties near the Possum Point power plant, where it is in the process of draining and consolidating its coal ash ponds.
The move was prompted by recent testing of groundwater wells on the plant property in Dumfries, which found elevated levels of boron, chloride, cobalt, nickel, sulfate and zinc, company spokesman Rob Richardson said. Levels at two wells in particular were higher compared with other on-site wells on higher ground, the company said.
Dominion said in a statement that although the levels were within health-based drinking water standards, the decision to offer public water hookups or filters was made to give its neighbors "peace of mind" as it conducts additional tests.
The Possum Point Power Station, located 30 miles south of Washington on the Potomac River in Prince William County, stopped using coal to generate electricity in 2003 but has five impoundments of coal ash, the potentially toxic remnant left after the fossil fuel is burned to produce energy.
The groundwater monitoring wells were put in place in September at the request of the Virginia Department of Environmental Quality as it considers Dominion's request for a solid waste permit that would let the utility move ahead with its plan to consolidate the five coal ash disposal sites into one. Environmental activists and other critics, however, worry that plan leaves a huge amount of coal ash to potentially contaminate groundwater and leach into Quantico Creek, which drains into the Potomac.
Richardson said Friday that Dominion has begun contacting the owners of the 35 properties, which are within about a half-mile of the plant. Many of those residents already have county water, not well water, he said.
"In the end, we think it's probably around eight to 11 properties that we will pay to hook up county water or add a water filtration system," he said.
The company will also be holding a meeting with the affected residents at the plant next week.
DEQ spokesman Bill Hayden said the department had received the test results from Dominion and confirmed that the levels found were within acceptable limits.
"There's nothing in the test results that violate their permit or exceed health standards," he said.
Hayden said Dominion's solid waste permit request is not likely to be affected by the groundwater levels it had found so far, though DEQ will continue to monitor the testing.
He said that the permit application is still being processed and he couldn't give a definite timeline for its approval. A public hearing and comment period will be held in early 2017, he said.