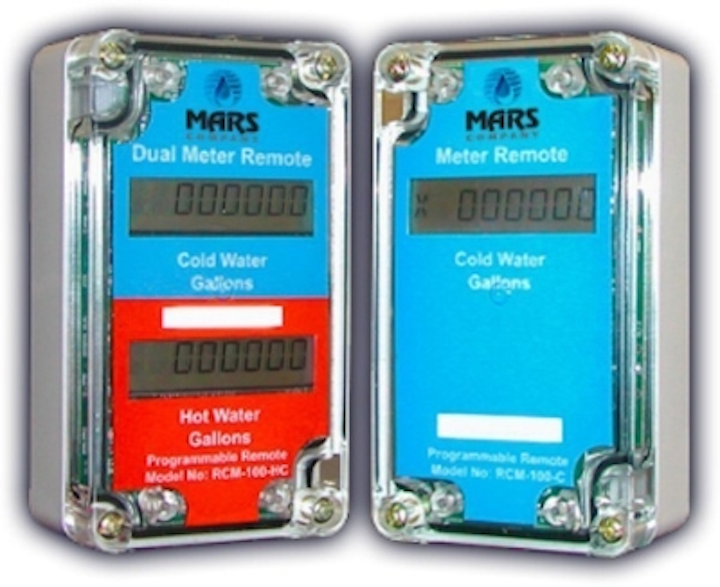 Test equipment: MARS Company, a global leader in water meter testing and technology solutions, announced today that it has launched new features for the RCM-100 Product Line. The RCM-100 has been enhanced to include key customer requested features including: (i) A Modular 3.5mm Programming Interface, (ii) Field Replaceable Battery, (iii) Tool-less Wire Termination, and (iv) full RCM-100 backward compatibility.
The RCM-100 is a remote primary display with the ability to communicate with all types of pulse equipped water meter registers. The customers and meter readers can access the meter reading without having access to the water meter itself. It is available in single and dual register models with color coding for hot (red) or cold (blue) water usage.
The meter reading is displayed on a 6-digit LCD powered by a 3.6 Volt Lithium battery. The heart of the RCM-100 is a micro-processor to interrogate an encoder or store counts from any pulse type-metering device. The LCD display continually indicates the current meter reading.
The RCM-100 has a modular 3.5mm programming interface /communication connector that can only be accessed when the unit cover is removed. This connector allows the dedicated programming device to setup and configure the unit.
About MARS Company
MARS Company is a global leader in water meter testing and technology solutions. With more than 30 years of experience assisting municipal and private utilities throughout the world, MARS has a long track record of success. MARS core business and expertise include: Patented Water Meter Testing Systems & Software Technology, Innovative AMR/AMI Technology Products and Software Solutions and Water System Specialty Products. Innovative thinking allows MARS to leverage its unique, proprietary technology, patent positioning, manufacturing infrastructure and world-class management strength, to further position itself as the leader in the water industry.
For more information about MARS Company or other products, click here to go to Utility Products' Buyers Guide.