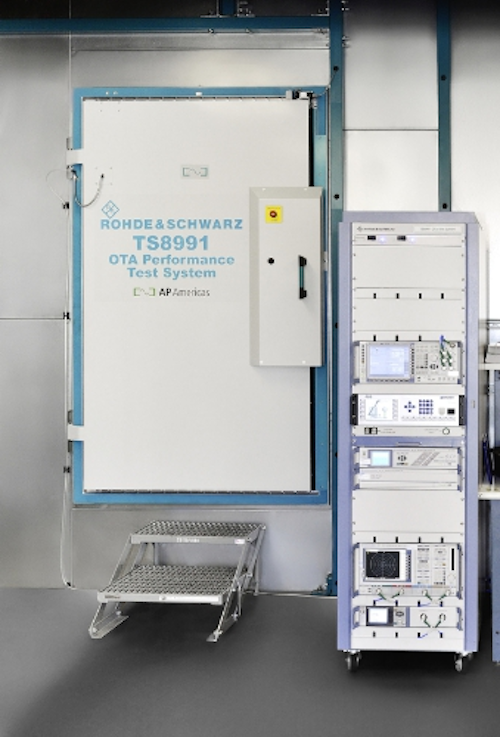 Network testing: Kyrio, a subsidiary of CableLabs, Inc., has purchased the R&S TS8991 OTA Performance Test System to test wireless devices for its expanding customer base. The R&S TS8991 test system measures transmit power and receiver sensitivity performance metrics such as EIRP, TRP, EIS, TRS/TIS, co-existence, and intermediate channel sensitivities as specified by CTIA.
As the complexity and interoperability of devices continues to become more difficult, network operators and device manufacturers must ensure that their devices perform according to stringent specifications in order to ensure a high quality of experience (QoE) for end users. Over-the-air (OTA) testing is becoming increasingly important as standards organizations and network providers look for more accurate methods to predict real-world performance of a mobile wireless device.
"At Kyrio, we understand that that there is more to conformance testing than just the test itself," said Mitchell Ashley, President and General Manager of Kyrio. "RF testing is a tricky business. Our customers have come to expect a thorough and complete analysis of how their devices actually perform in the real world. They look to us for actionable insights that will help them optimize the quality and performance of their devices. We are very pleased to be working with a partner such as Rohde & Schwarz who is helping us turn our vision into a reality."
About Kyrio
Kyrio Inc. provides world-class network testing capabilities and unparalleled engineering expertise to the premier, leading-edge network service providers and equipment manufacturers around the world. By ensuring the best network technologies are deployed to meet the demands of Wi-Fi and broadband network providers, we increase bottom line results and accelerate new products and services to market. Kyrio is a wholly owned subsidiary of CableLabs, a global cable industry R&D organization.
Rohde & Schwarz
The Rohde & Schwarz electronics group offers innovative solutions in the following business fields: test and measurement, broadcast and media, cybersecurity, secure communications, radiomonitoring and radiolocation. Founded more than 80 years ago, this independent company has an extensive sales and service network and is present in more than 70 countries. The electronics group is among the world market leaders in its established business fields. On June 30, 2015, Rohde & Schwarz had approximately 9900 employees. The group achieved a net revenue of EUR 1.83 billion in the 2014/2015 fiscal year (July to June). The company is headquartered in Munich, Germany, and also has strong regional hubs in Asia and the USA.
For more information about Kyrio or other products, click here to go to Utility Products' Buyers Guide.