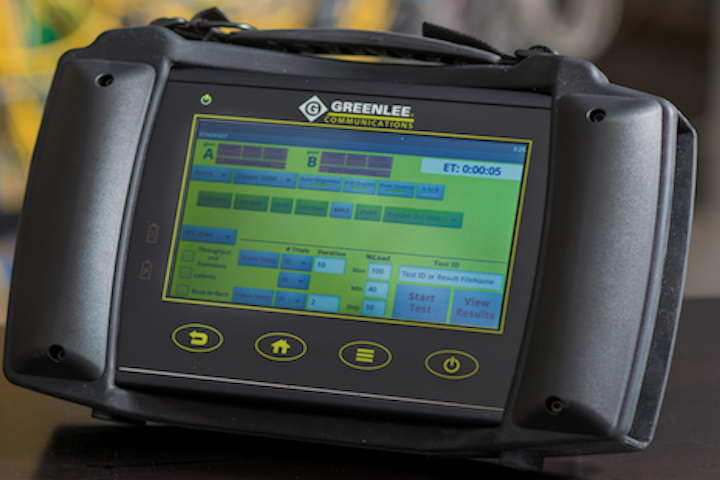 Test equipment: Greenlee Textron Inc., a Textron Inc. company, offers a new Android application enabling remote control of the DataScout multi-service network analyzer under the Greenlee Communications brand. This new Bluetooth interface and app option enables the device to be remote controlled up to 100 ft. away using any Android tablet or mobile device equipped with Bluetooth. The DataScout can also be locally controlled through the built-in ruggedized LCD touch screen in addition to WAN remote control through a web browser.

Service providers and utilities are integrating mobile devices into their workflows and seeking test equipment leveraging these devices, it's reported. The DataScout mobile application enables technicians to work independently of their test equipment, yet still retain touch screen command and control when working at the device.

Technicians traditionally expect to have a touch screen display embedded in their test devices but also enjoy freedom of movement provided by mobile device control. By integrating Bluetooth technology into the DataScout 10G, technicians now have the best of all worlds. The Bluetooth and LAN remote management options enable both onsite and remote technicians to perform testing virtually anywhere Bluetooth or network connections are available. This enhances safety by allowing techs to step out of noisy or cramped work locations as well.

As part of Greenlee's rapidly expanding line of Ethernet and transport test equipment, the DataScout multi-service network analyzer integrates eight fully independent test interface options, including dual port 1G and 10G Ethernet, T3/E3, T1/E1, DS0, PRI-ISDN, 2W/4W Signaling-TIMS, DATACOM and DDS, which are housed in a ruggedized all-aluminum enclosure for added protection. It is simple to use and fast to learn.
For more information about Greenlee or other products, click here to go to Utility Products' Buyers Guide.