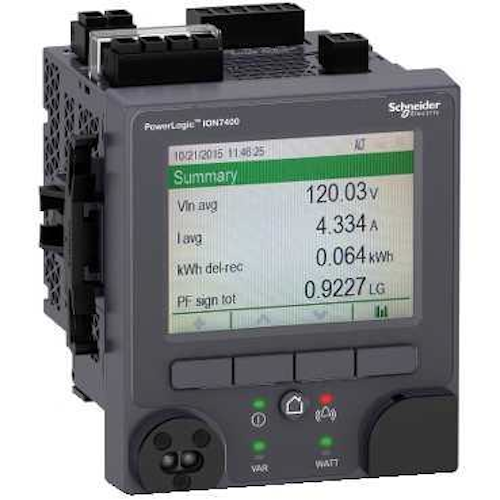 Test products:Schneider Electric, the global specialist in energy management and automation, has introduced the PowerLogic™ ION7400 three phase power meter, the newest addition to the PowerLogic portfolio. Ideally suited for feeder applications in electric utilities, the meter provides significant capabilities which include Class 0.2 revenue metering accuracy, Class S power quality, a utility-focused full color display and multi-protocol, multi-port communications. The meters also integrate seamlessly with StruxureWare™ Power Monitoring Expert (PME) analysis software or existing utility SCADA systems, can pinpoint disturbances by determining if they occurred upstream or downstream using patented disturbance direction detection (DDD), and can compensate for line loss, power and instrument transformer inaccuracies.

"Utilities today require multiple protocols and more power quality information at the feeder level to meet reliability regulations and provide situational awareness, thereby enabling them to understand system problem areas and fix them quickly," said Sandra Pedro, utility offer manager for Schneider Electric. "We designed the PowerLogic ION7400 to meet these specific needs, such as Class 0.2 accuracy from feeder meters, in order to help utilities better understand energy served to customers."

Engineered on a compact, modular and flexible platform, ION7400 meters have the versatility to perform nearly any metering application at key feeder points within a utility's substation network. In addition to flexibility that enables the meters to integrate with a utility's existing billing/SCADA system, they provide industry leading revenue management (ANSI C12.20 Class 0.2) and network management (IEC 62053-22, Class 0.2S) data, and comply with IEC 61557-12 regulations. The combined accuracy and extensive I/O options make ION7400 meters ideal for even the most demanding substation requirements. Meters are available in both panel-mount and DIN rail-mount form factors, and high-visibility color displays.

PowerLogic ION7400 meters also make use of Schneider Electric's patented ION technology platform that provides useful preconfigured functions out of the box. The platform can be used to adapt and creatively scale the meter's functionality to meet nearly requirement – now and in the future.

Schneider Electric will be exhibiting and displaying the PowerLogic ION7400 meters at DistribuTECH 2016 from February 9 - 11, 2016 in Orlando, Florida, at booth 601. Representatives will be on site to discuss the PowerLogic ION7400 meters and conduct product demonstrations. For more information about the PowerLogic ION7400 meters, please visit: www.schneider-electric.us/ION7400.

About Schneider Electric
Schneider Electric is the global specialist in energy management and automation. With revenues of $30 billion in FY2014, our 170,000 employees serve customers in over 100 countries, helping them to manage their energy and process in ways that are safe, reliable, efficient and sustainable. From the simplest of switches to complex operational systems, our technology, software and services improve the way our customers manage and automate their operations. Our connected technologies reshape industries, transform cities and enrich lives. At Schneider Electric, we call this Life Is On.

For more information about Schneider Electric or other products, click here to go toUtility Products' Buyers Guide.