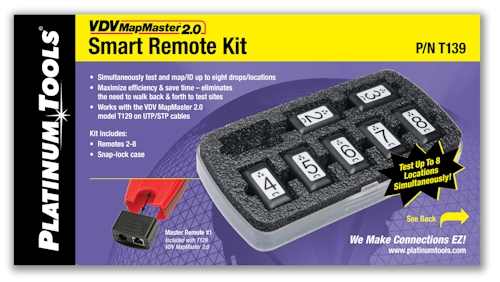 Camarillo, CA -- Test products: Platinum Tools® , a provider of solutions for the preparation, installation, hand termination and testing of wire and cable, announces the launch of the new Smart Remote Kit for the VDV MapMaster™ 2.0 voice, data, and video tester.
"Platinum Tools designed the T139 Smart Remote Kit in order to help maximize and save installers' and technicians' time by eliminating the need to walk back and forth to test sites," explained John Phillips, Platinum Tools, Inc. product manager. "Combine this kit with a T129 VDV MapMaster 2.0 to both 'Test' & 'Map/ID' up to eight drops/locations simultaneously. Smart Remotes are a 'smarter' way to go."
T139 Smart Remote Kit specifications and applications include:
• Test & Map/ID voice/data simultaneously
• Cat6, Cat5e, Cat5, Cat4 and Cat3 cables
• Shielded and unshielded cables
• Remotes 2-8 work on UTP/STP cables (Remote #1 Included with VDV MapMaster 2.0)
• Snap-lock clear case protects and alerts you if a remote is missing
The VDV MapMaster 2.0 now combines cable length measurement with continuity testing, mapping, and tone generator functions into a single unit. Made in the USA, the VDV MapMaster is capable of identifying and mapping 19 locations at one time. Whether the job is commercial or residential, the versatility and added features of the VDV MapMaster 2.0 makes it an installer's best friend.
"The CEPro Best of 2012 award-winning VDV MapMaster™ 2.0 has become popular with technicians in a very short period of time, and now we're able to provide them with additional accessories when out on a call," added Phillips. "The T139 Smart Remote Kit is just another example of how Platinum Tools designs our products with our customers' time and efficiency in mind."
For more information about Platinum Tools or other products, click here to go to Utility Products' Buyers Guide.