Cable test equipment: Arc Chaser Cable Tester and TDR Unit
Test products: T3 Innovation launches Arc Chaser Cable Tester and TDR Unit; In-the-Field Demo Available

Aug 14th, 2013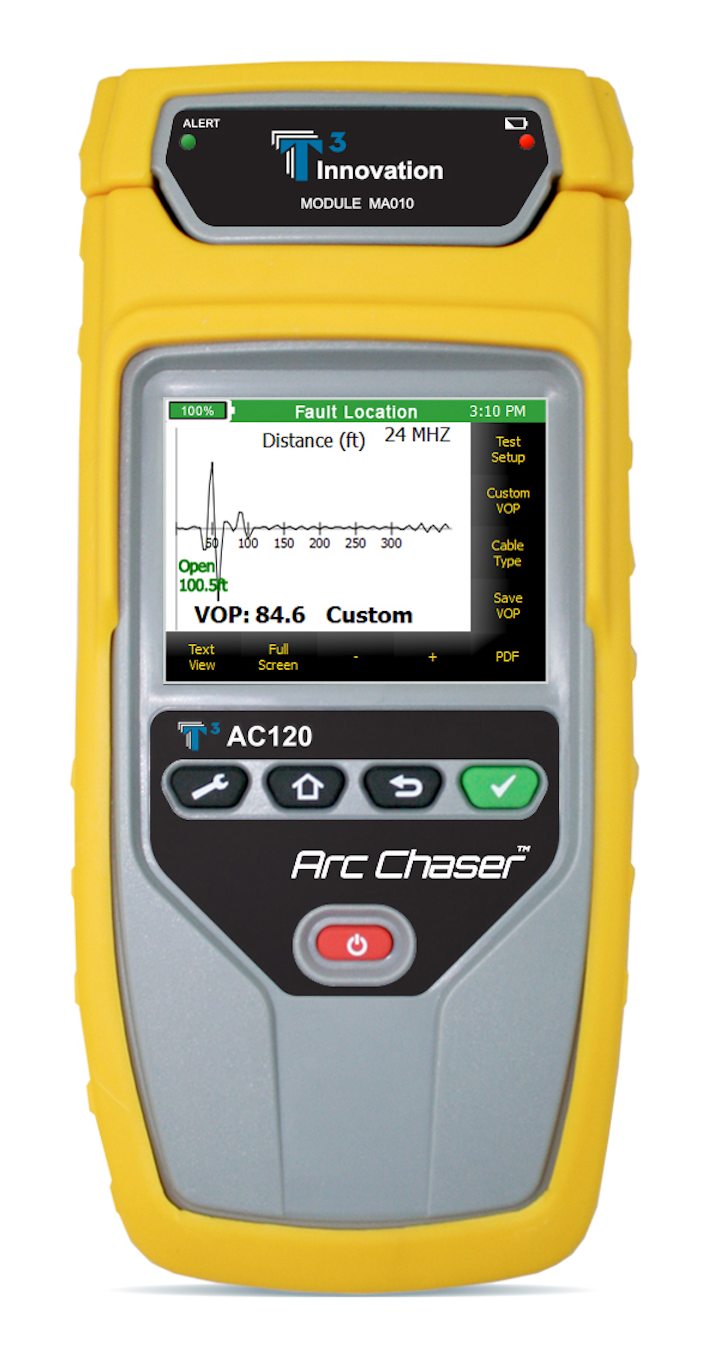 Camarillo, CA – Cable testing equipment: T3 Innovation, a provider of advanced handheld test equipment for the cable/telecommunications, datacom/networking, electrical design and maintenance, and residential/CEDIA custom install markets, announces the new Arc Chaser™ cable tester and TDR is now shipping. An in-the-field demonstration video is also now available to view at www.t3innovation.com.
"Made in the USA, the Arc Chaser Dual Mode TDR is capable of finding faults (opens, shorts, arc faults) on fully energized cables up to 600 Volts and up to 12,000 feet (3,657m)," explained Ron Vogel, T3 Innovation CEO. "Arc Chaser can monitor live cables for intermittent conditions, capturing these 'events' and reporting where and when they occur. Using advanced Spread Spectrum Time Domain Reflectometry (SSTDR), Arc Chaser is capable of accuracy to fault of better than one percent."
A Time Domain Reflectometer (TDR) is used to test for cable length, faults, junctions, and other impedance changes. Often compared to radar, TDR devices send a pulse down the cable while checking for reflections. Those reflections tell a story. For example, say a reflection is received 50 nanoseconds after the transmit pulse. The TDR will observe the time delay and convert that into distance displayed in feet or meters. Typical TDR testers require that a cable under test be disconnected on both ends for a proper test due to signal interference and, on high voltage cables, to avoid damage to the tester itself. The practical upshot of testing with the Arc Chaser SSTDR is no downtime.
"Arch Chaser's ability to test while the cable is still fully energized and functional means no additional downtime not just for the technician, but for those relying that the cable's performance always be available," added Vogel. "Not only is Arc Chaser easy to use, but its ruggedness and functionality make it a must for today's field technician."
Additional Arc Chaser specifications and applications include:
• Color touch screen display; clear and simple results in graphical or text format
• Upgradeable firmware
• Saves reports, transferrable to PCs for storage, and printing; maintain info history
• Cable fault finding; easily verify quality of entire cable length
• Tone generation; signal tracing of cables
• Cable test setup; walks users through cable test setup
• Self-calibrates to maintain accuracy over time or due to environmental change
• English or metric measurements; international applications
• 600V Category III; meets full int'l requirements for working on energized cables
• Rechargeable lithium ion battery pack; 8-10 hours of battery power in the field
• Waterproof/shock resistant transport case
• Made in the USA
For more information about T3 Innovation or other products, click here to go to Utility Products' Buyers Guide.