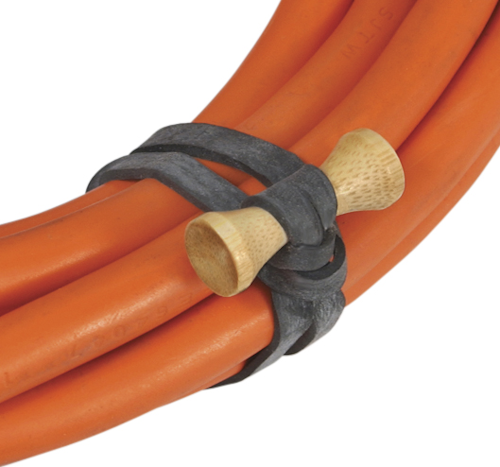 Camarillo, CA – Utility safety: Platinum Tools, a provider of solutions for the preparation, installation, hand termination and testing of wire and cable, announces the launch of its new line of Bongo Ties (p/n 19501). Now shipping, Bongo Ties are designed to work with cords and cables in virtually unlimited applications, such as electronics and IT, hardware and houseware, outdoor sports, and office and industrial scenarios.
"With a patented design allowing for quick, secure, button-type fastening for basically unlimited uses, our new Bongo Ties are simple, durable and made of high-quality, heavy gauge natural rubber, and bamboo," explained John Phillips, Platinum Tools product manager. "Wrap a Bongo Tie around twice for small jobs or attach several ties together to secure large bundles. They are quite simple, but very effective in a multitude of applications."
Bongo Ties are sturdy and designed with professional quality and use in mind. They are easy to apply and easy to remove, include a patented button-type design for a positive, secure closure, and are economical and lightweight and made entirely of environmentally friendly materials (heavy gauge, natural rubber and bamboo).
Bongo Ties specifications include:
• Dimensions: 5" long (127mm)
• Weight: 0.11 oz (3.2g)
• Maximum stretch – approximately 24" (two feet)
"With the ever increasing use of longer and additional wires and cables in commercial, residential, outdoor, and security installations, we've designed these handy ties for cables and other unruly items to help prevent tangled messes," Phillips added.
About Platinum Tools
Platinum Tools, founded in 1997, was created based upon two very simple objectives. First, develop the absolute best possible solutions for the preparation, installation, and hand termination of wire and cable. Second, implement an operational infrastructure that can deliver these products in an efficient, timely, and high quality manner.
All of our products must absolutely satisfy three critical benchmark criteria…utility of function; quality of function; and economic value. Our people are our company. They, too, must be focused on and work to satisfy three critical benchmark criteria…customer satisfaction; product knowledge and expertise; and willingness to learn and adapt.
For more information about Platinum Tools or other products, click here to go to Utility Products' Buyers Guide.