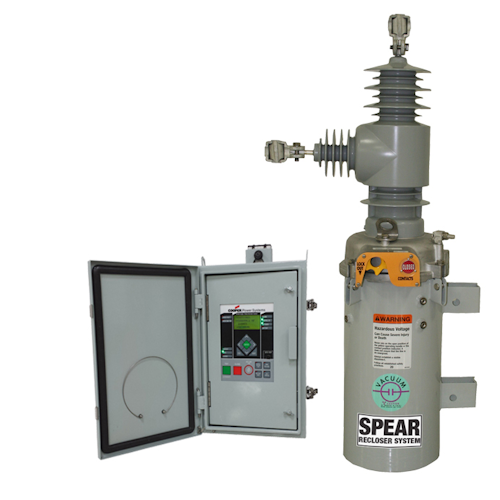 Waukesha WI – Energy management: Power management company Eaton announced that its Cooper Power Systems division has launched a new SPEAR recloser solution. This newest single-phase reliability product provides the industry with a dependable, cost-effective Smart Grid device to automate single-phase circuits up to 38 kilovolts (kV) and meet critical power requirements.

"Improving reliability in the Smart Grid is a clear trend that we continue to focus on in the development of solutions that help reduce outage times through intelligent system information and control," said Jerry Yakel, global marketing director, Distribution Switchgear, Eaton¹s Cooper Power Systems division. "Our new microprocessor-based SPEAR recloser is designed to provide users with the valuable, real-time grid and outage information they desire, right through to their Supervisory Control and Data Acquisition (SCADA) or feeder automation systems, in an efficient and seamless process."

This intelligent recloser and control package boasts full system protection, automation, metering and data acquisition, making it an ideal solution for multiple grid applications. Utilizing the comprehensive, user-friendly ProView NXG software platform, the SPEAR control hosts protection functionality and time-current curves flexibility to maximize system coordination and reduce customer outages.

Another significant benefit of the SPEAR recloser is its increased application flexibility. Complete with a separate regulated power supply, the control is automation-ready for the end-users' choice of radio. The digital communications performance can also be tailored with the user-configurable mapping of protocol Distributed Network Protocol 3 (DNP3).

The design of the gas- and oil-free SPEAR product is based on field-proven NOVA recloser technology. The encapsulated axial-magnetic vacuum interrupter and lightweight, solid cycloaliphatic-epoxy construction makes the SPEAR recloser a durable, flexible solution for demanding application requirements. The innovative, compact, low power solution also is designed to improve customer reliability, lower life-cycle and maintenance costs, decrease environmental impacts, and reduce installation time.

For more information about Cooper Power or other products, click here to go to Utility Products' Buyers Guide.