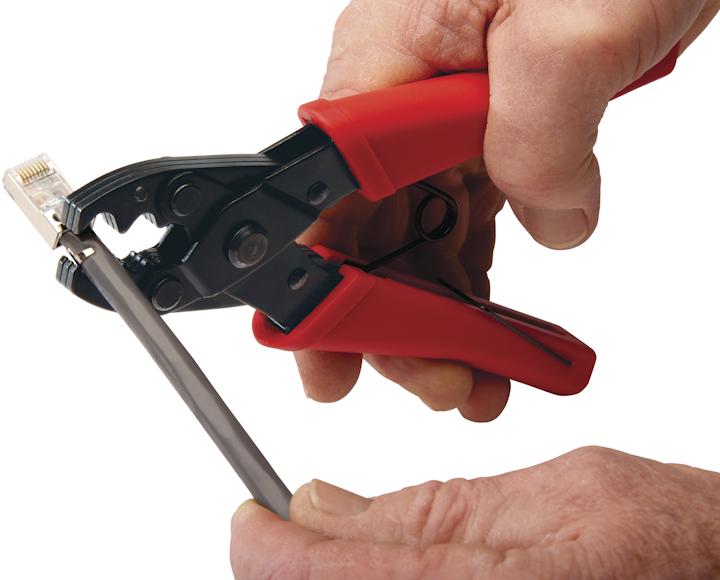 Camarillo, CA – Utility supplies: Platinum Tools , a provider of solutions for the preparation, installation, hand termination and testing of wire and cable, announces its new 360 degree CT-360 External Ground Crimp Tool (p/n 12360C) is now shipping.
"The Platinum Tools CT-360 performs 360 degree crimps on the external ground tab of shielded RJ45 connectors for Cat5e, Cat5/6, Cat6E, Cat6A and Cat7 cables," explained Lee Sachs, Platinum Tools, Inc. president and general manager. "The design allows the installer to perform a concentric termination with full control, preventing over/under crimping the external ground tab."
Specifications for the 360 degree External Ground Crimp Tool include:
• Non-ratcheted design
• Dual cavity covers wide range of cable ODs
- Maximum: 8.5mm /0.335 inch
- Minimum: 6.2mm /0.245 inch
• Spring loaded
• Simple design, easy-to-use
• Works on most external ground tabs
• All steel frame
• Black oxide finish
• Dimensions: 7.25 in. x 2.25 in. x .75 in. (184mm x 57mm x 19mm)
• Weight: 9.5 oz – 265 g
About Platinum Tools
Platinum Tools, founded in 1997, was created based upon two very simple objectives. First, develop the absolute best possible solutions for the preparation, installation, and hand termination of wire and cable. Second, implement an operational infrastructure that can deliver these products in an efficient, timely, and high quality manner.
All of our products must absolutely satisfy three critical benchmark criteria…utility of function; quality of function; and economic value. Our people are our company. They, too, must be focused on and work to satisfy three critical benchmark criteria…customer satisfaction; product knowledge and expertise; and willingness to learn and adapt.
For more information about Platinum Tools or other products, click here to go to Utility Products' Buyers Guide.