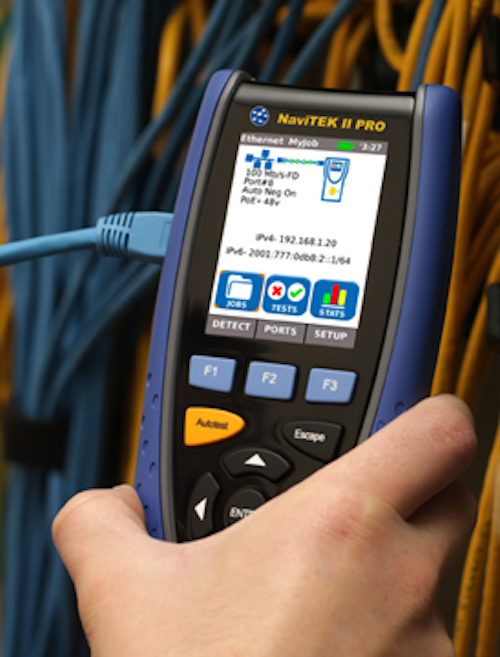 Sycamore, IL – Network testing: Today, even the simplest of networks require testers to validate, troubleshoot and resolve challenges that cause slow performance and downtime. Unfortunately, the price point of this equipment has put it out of reach of many of the technicians who need it most.
Stepping up to address those needs, IDEAL INDUSTRIES, INC. announced that it has significantly lowered the price of its award-winning NaviTEK® II, the fastest, most cost-effective cable and network verification testers available to frontline technicians, enhancing value and bringing to customers an unsurpassed testing experience right out of the box. Effective immediately, prices have been reduced by up to 35 percent and now start at only $612 (USD).
"That we've maintained the launch price of the NaviTEK II longer than any other tester we've introduced in the past while we maintained a leadership position in the testing category demonstrates the value that network professionals have found in the NaviTEK II," explained Dan Payerle, Business Unit Manager. "The NaviTEK II is clearly a breakthrough product for IDEAL and we want to make it more accessible to customers."
In addition to being a great value, NaviTEK II makes troubleshooting LAN physical and network layers more efficient and faster than ever before with port status testing up to 1 Gb/s. It is the only tester at its price level to include IPv6, PoE+, VLANs, Trace Route and a 3.5-inch color LCD and an on-screen keyboard to speed data entry of IP addresses and customer information. Engineered for rapid deployment with a minimal learning curve, the NaviTEK II allows users to view and print test results with any web browser, now special software required.
For more information about IDEAL Industries or other products, click here to go to Utility Products' Buyers Guide.