Test equipment: New Insulation Testers from Megger Safety Rated to CAT IV 600 V
Megger testing: MIT400 electrical test equipment is for use in the electrical, power and telecommunication industries.


Jun 20th, 2013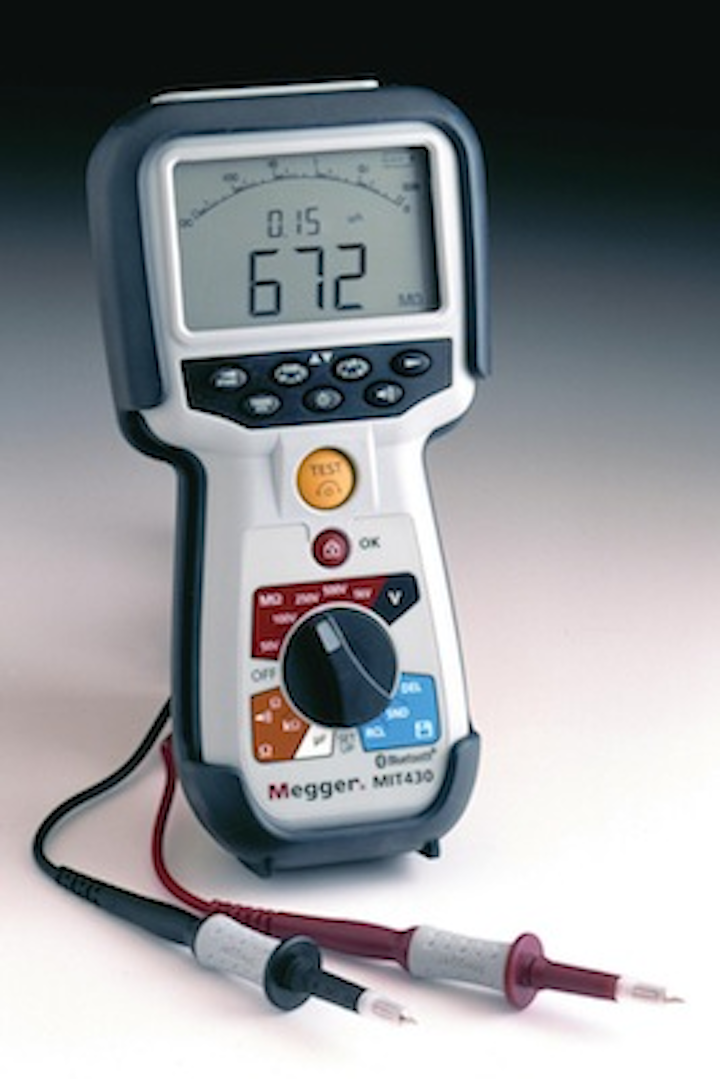 Norristown, PA—Test and measurement equipment: Megger, a provider of test equipment and measuring instruments for electrical power applications, offers a new series of insulation and continuity testers that conform to IEC1010-1 standards. Rated to CAT IV 600 V, the MIT400 series electrical test equipment provides greater user safety when testing in higher voltage environments.

Megger's industrial insulation testers offer a wide range of features making them ideal for use by utilities, industrial and commercial electricians as well as maintenance and service/repair engineers. The testers are suitable for use in high energy systems throughout the electrical, power and telecommunications industries.

The MIT400 series, which includes the MIT400, MIT410, MIT415, MIT420, MIT430 and MIT40X, offers an exceptional measurement range and features adjustable insulation test voltages from 250 V to 1000 V and 50 V to 1000 V.

A special application instrument offers voltages from 10 V to 100 V in 1 V steps. Bluetooth wireless data transfer and test result storage are available in the top-of-the-range models.

The MIT400 series combines both an analog arc and dual digital display readout. The dual digital display features a large main digital readout for good visibility of all main measurement results. Megger's patented analog arc display is incorporated in the unit to replicate the response of a moving coil analog pointer.

Four of the six testers also feature a polarization index (PI) and dielectric absorption ratio (DAR) function in addition to adjustable continuity pass/fail limit alarms. A free calibration certificate is included with each unit. Each tester is sealed to IP54 providing a weatherproof case to lessen the chance of water ingress. A three-year warranty comes standard with each product.

For more information about Megger or other insulation testers, click here to go to Utility Products' Buyers Guide.