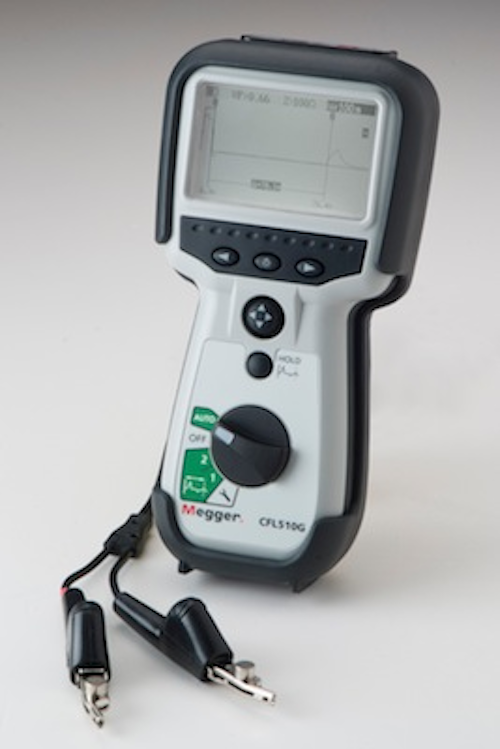 Norristown, PA—Electrical test equipment: Megger, a manufacturer and supplier of test equipment and measuring instruments for electrical power applications, now offers a handheld, time domain reflectometer (TDR) featuring a 2 ns pulse width that virtually eliminates dead zones. The CFL510G accurately locates faults less than three feet from the point of connection.

Designed for use by lineman in the communication and power industries on all metallic pairs, including twisted pair copper and coax cable, the CFL510G is ideal for CATV/cellular, power and telephony applications. The new TDR provides fast and accurate results when uncovering transmission related problems, testing the physical integrity of cables within a network as well as identifying faults on secondary power cables.

Incorporated into the CFL510G is an auto set-up feature that determines the impedance of the cable under test, sets the instrument accordingly and selects the optimum gain and pulse width chosen by the operator. This aspect makes obtaining good results for even the most inexperienced user simple.

The CFL510G features four output impedances including 25 ohms, 50 ohms, 75 ohms and 100 ohms and a velocity factor between 0.20 and 0.99.

The rugged, IP54 rated CFL510G is lightweight and powered by AA batteries. The unit comes standard with a three-year warranty.

For more information about Megger or other TDRs, click here to go to Utility Products' Buyers Guide.