Transmission and distribution: General Cable introduces GenFree II cables with 17FREE technology
Electrical insulation: Low-Smoke, Zero-Halogen insulation and jacket system cables from General Cable


Jun 21st, 2013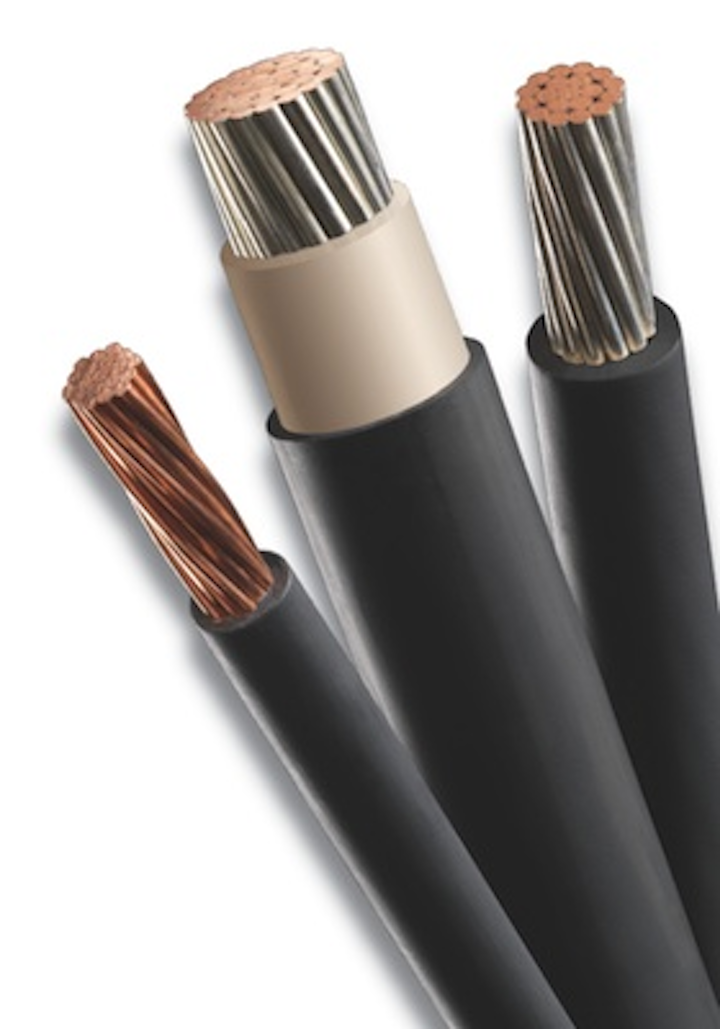 Highland Heights, KY—Electrical distribution: General Cable (NYSE: BGC) introduces its GenFree® II cables. Using 17FREE® technology, these halogen-free products are designed to be environmentally friendly, without degrading the electrical performance of the cable.

"Advancements in technology have enabled General Cable to develop a Low-Smoke, Zero-Halogen insulation and jacket system that possess the critical characteristics that have traditionally been unable to achieve in LSZH designs," said Peter Goldenberg, Product Manager, General Cable Industrial Cables. "GenFree II cables not only exceed the essential performance characteristics required in today's industrial and commercial applications, but they are a cost-effective solution when customer specifications require a Low-Smoke, Zero-Halogen construction."

GenFree II Low-Smoke, Zero-Halogen cables have been engineered to provide excellent wet and dry electrical performance at 90ºC, provide flame-retardant properties that allow cables to meet IEEE 1202 flame requirements as well as UL1685 flame/smoke testing, and also be compliant with ICEA T-33-655. GenFree II are also oil-resistant, meet UL 44 cold bend testing at -40°C, are RoHS and REACH complaint, and feature General Cable's Low Friction (LF) jacket for ease of installation.

"There was virtually no demand for low-smoke, zero-halogen products a decade ago from the North American industrial and commercial markets. However, in the past five years, there has been a noticeable increase in awareness of and call-out for cables with LSZH attributes," added Todd Sweeney, Vice President, Industrial Sales. "General Cable believes that the LSZH product requests will continue to increase steadily as new products such as GenFree II are introduced to the market, allowing users to gain low-smoke, zero-halogen benefits without sacrificing other critical cable characteristics."

General Cable's GenFree II cables are available in the following designs:

• 600 Volt UL Type RHH/RHW-2/USE-2 — dual layer composite insulation (Specification 5075)
• 600 Volt UL Type RHH/RHW-2/USE-2 ― single layer design (Specification 5275)
• 600 Volt UL Type XHHW-2 ― single layer construction (Specification 5125)

A full range of Specification 5075 dual layer RHH/RHW-2/USE-2 will be stocked as part of General Cable's standard inventory profile. At this time, Specification 5125 XHHW-2 and Specification 5275 single layer RHH/RHW-2/USE-2 will be quoted on a make-to-order basis. Contact your General Cable sales representative today to learn more about how GenFree II cables are bridging the performance gap.

About General Cable
General Cable (NYSE:BGC), a Fortune 500 company headquartered in Highland Heights, Kentucky, is a global leader in the development, design, manufacture, marketing and distribution of copper, aluminum and fiber optic wire and cable products for the energy, industrial, specialty and communications markets. With annual revenues approaching $6 billion, General Cable is one of the largest wire and cable manufacturing companies in the world. It operates 57 manufacturing facilities in 26 countries and employs more than 14,000 associates.

Going Green with General Cable
General Cable has accelerated its environmental commitment, addressing its Green Alternative Approach by identifying greener opportunities and promoting green cabling solutions wherever feasible. This includes promoting our existing green products; partnering with key customers in their green endeavors; identifying and providing resources for green product gaps; and participating as members in the U.S. Green Building Council and collaborative ventures such as the Green Suppliers Network (GSN).

For more information about General Cable or other cables, click here to go to Utility Products' Buyers Guide.