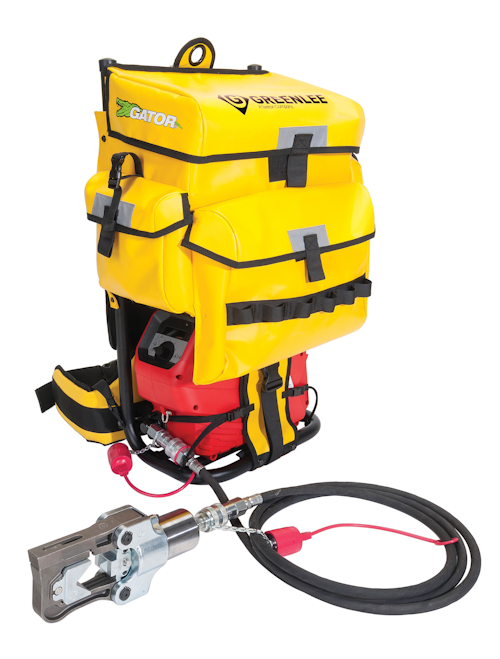 Utility safety: Greenlee Utility / A Textron Company (NYSE: TXT) now offers the Gator Pack ­- a new backpack developed to help line crews safely and easily transport equipment faster, safer, and easier.

The Gator Pack (GATOR-PK) features 13 square feet or 0.37 square meters of storage, divided between three internal pockets and three external compartments. Additional space is available to securely transport a Greenlee EHP700L Battery-Powered Hydraulic Pump. This design allows line workers to carry a wide range of heads, jaws, hoses, connectors, and many other tools at the same time.

"Gator Packs mean line crews can carry everything they need for the job ­ which improves their productivity," said Ryan Berg, Product Manager for Termination Tools at Greenlee. "But they¹re not just high capacity, they're ergonomic too. We took time designing this product to find the most comfortable carrying position. Three adjustable straps allow for better weight distribution ­ which makes all the difference when carrying heavy loads.²

The Gator Pack features fully adjustable hip, shoulder, and chest straps, which allows users to distribute weight more efficiently. This in turn helps reduce the risk of injury when carrying heavy loads. Greenlee Utility recommends that users do not overload the pack ­ ideal carrying weight is approximately one fifth of the user¹s body weight.

The Gator Pack is constructed from high visibility, triple-reinforced vinyl for added durability, visibility, and water resistance. A hang tab is also included for secure hoisting to elevated work locations.

Greenlee
Greenlee is known as a global leader in the professional tool category. The Rockford, Illinois-based company develops high quality innovative products distinguished by customer-driven design and differentiated by supply chain excellence. Greenlee also leverages its powerful brands such as Greenlee Communications, Greenlee Utility, Paladin and Klauke in the electrical, construction and maintenance markets worldwide. More information is available at www.greenlee.com.

Textron
Textron Inc. is a multi-industry company that leverages its global network of aircraft, defense, industrial and finance businesses to provide customers with innovative solutions and services. Textron is known around the world for its powerful brands such as Bell Helicopter, Cessna Aircraft Company, Jacobsen, Kautex, Lycoming, E-Z-GO, Greenlee, and Textron Systems


For more information about Greenlee or other products, click here to go to Utility Products' Buyers Guide.