Work light: High power LED light cart from Larson Electronics
Utility supplies: Larson Electronics announces high power LED light cart designed to provide a portable lighting platform capable of illuminating large work areas. The WAL-WBC-2X300LED Portable LED Work Area Light Cart features dual 300 watt LED light heads capable of illumination an area 64,000 square feet in size and a rugged wheeled cart for easy maneuvering.
Oct 8th, 2013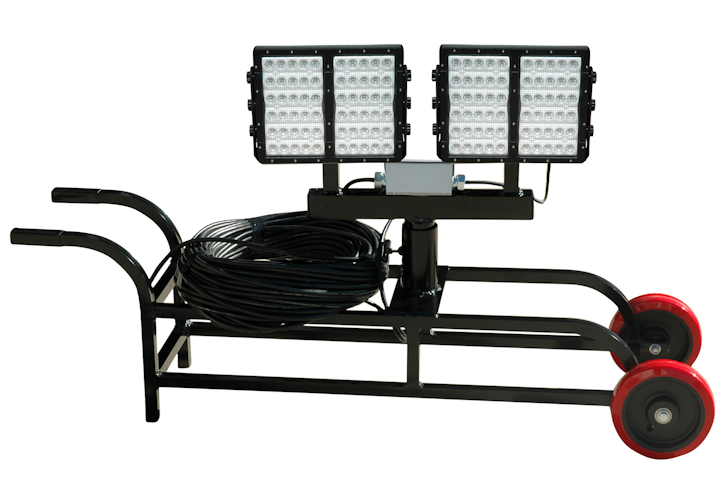 Safety lighting: The WAL-WBC-2X300LED portable LED work area light cart from Larson Electronics is a versatile and powerful lighting system that provides high power illumination in an easy to deploy design. This high output light cart features dual 300 watt LED light heads mounted to a rugged yet lightweight aluminum cart with solid rubber no flat tires. The LED lamp assemblies are mounted upon a rigid square platform with adjustable brackets that allow operators to adjust vertical positioning. The entire mounting assembly can be swiveled on the cart for more adjustability, and can also be removed from the cart for easier transport to and from the job site.
These LED light fixtures are waterproof and resistant to the damaging effects of vibrations and impacts and feature extruded aluminum construction, built in electronic heat control, shatterproof polycarbonate lenses, and high quality Cree XLamp-XPG® LEDs. These lamps produce a combined total of 59,160 lumens, enough to illuminate 64,000 square foot work areas, and have a 50,000 hour operational life rating providing much longer lamp life than typical halogen or HID fixtures.
The wheeled light cart is constructed from aluminum for durability and light weight and is fitted with integral handles for easy lifting and solid no flat rubber wheels for reliability and long life. This high power light cart also includes 200 feet of heavy duty SOOW cord to provide plenty of length for moving the system around the work area. The WAL-WBC-2X300LED light cart operates with the standard 120-277 VAC current commonly found in most industrial/commercial environments and is ideal for demanding industrial, utilities, emergency services, and construction applications where high power and portability are critical to the effective performance of duties.
For more information about Larson Electronics or other products, click here to go to Utility Products' Buyers Guide.