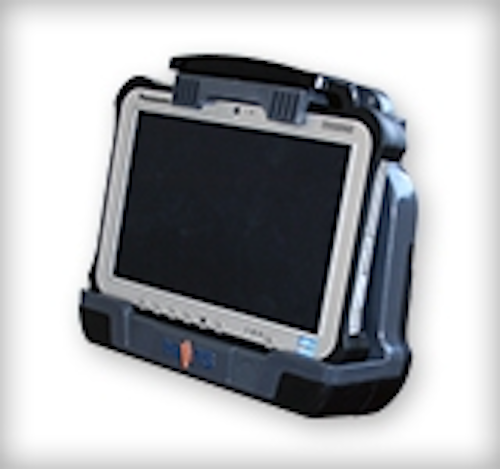 WARMINSTER, Pa. -­ Vehicle docking station: Havis Inc., an ISO 9001:2008 certified company, recently announced that its new Docking Station for the Panasonic Toughpad FZ-G1 is now available for pre-order. Havis has been working closely with Panasonic to develop a Toughbook Certified docking station that is compatible with all configurations of this Windows-based 10-in. tablet.
By providing compatibility with all tablet configurations, Havis ensures proper docking and connectivity across a fleet of mixed models, and allows any tablet upgrade to fit seamlessly into the fleet. Compared to the normal configuration, the full configuration of the Toughpad FZ-G1 features thicker depth, an optional extended battery, and an optional smart card reader. Both configurations offer the optional hand strap.

Coming Summer 2013, the Havis Docking Station for the Panasonic Toughpad FZ-G1 will include models featuring a dual high-gain antenna to improve range and Lind power supply with customized cord length and connector tip. The product family will also offer a mount-only version without the electronics of a docking station.
The docking station models with electronics utilize recessed port replication to provide connection to essential peripherals, while protecting cable connections and allowing for strain relief to prevent accidental disconnects. They are equipped with best-in-class circuitry and support fully-powered USB 3.0.
The Havis Docking Station for the Panasonic Toughpad FZ-G1 is undergoing extensive quality testing to meet and exceed Panasonic's Toughbook Certification requirements. This testing includes MIL-STD 810G vibration testing, in-vehicle crash simulations, and extreme durability and cycle testing. This testing ensures that the tablet will stay securely mounted through rugged driving conditions and work environments.
Havis built this durable yet lightweight dock with theft deterrence, longevity and stability in mind to help mobile workers maximize productivity in their mobile office. To help customers complete their docking and mounting solution, the Docking Station for the Panasonic Toughpad FZ-G1 is compatible with a number of available mounts, as its mounting base fits the universal VESA 75mm hole pattern.
For more information about Havis or other products, click here to go to Utility Products' Buyers Guide.