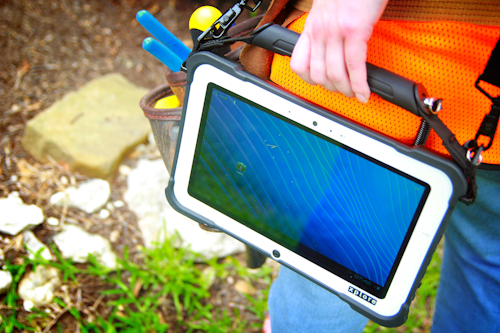 Austin, TX – For mobile workers, Xplore Technologies Corp. (NASDAQ: XPLR), manufacturer of powerful, long-lasting, rugged tablets, has introduced the RangerX -- the company's first rugged Android tablet, which blends sleek versatility with Xplore's proven powerful rugged performance. The lightweight tablet is cited to provide the largest storage capacity on the market, has a brilliant outdoor viewable display and is certified as being fully rugged, holding both IP65 and MIL-STD 810G ratings.
"With more than 15 years of testing, research and development, Xplore has demonstrated the ability to bring proven technology to the rugged space," Mark Holleran, president and chief operating officer for Xplore Technologies, said. "We're adding to that legacy with the RangerX, the most durable Android tablet available."
The lightweight 10.1-inch tablet is ideal for field service applications in industries such as utilities, energy, warehousing, logistics, transportation, military and public safety. In addition, the RangerX is the only rugged Android tablet to provide an optional integrated module with Gigabit Ethernet and HDMI-In connections, making it ideal for satellite, cable, broadband and telecommunication providers.
"Our customers in the carrier space want to be able to reduce the number of tools their field service workers need to get the job done," added Holleran. "With the capability provided by the optional HDMI-In and Gigabit Ethernet, not only do they have the perfect tool for work-order management, but they can also validate and diagnose installation or service issues on-site with one device."
The RangerX is 2.2 pounds, and looks and feels more like a contemporary tablet than a traditional rugged device. The tablet has a battery life up to 10 hours to maximize time in the field and boost productivity, which allows for a full working shift on one charge. In addition, the tablet¹s vibrant outdoor viewable, multi-touch display allows for seamless transition from indoors to outdoors.
"The RangerX is not only fully rugged, but also offers a wide range of multifaceted capabilities to adapt to the needs of enterprise, field service and data collection workers facing various elements," Philip S. Sassower, chief executive officer and chairman of the board for Xplore Technologies, said. "The new RangerX highlights our commitment to expand our product offerings in order to meet specialized customer needs."
For more information about Xplore Technologies or other products, click here to go to Utility Products' Buyers Guide.