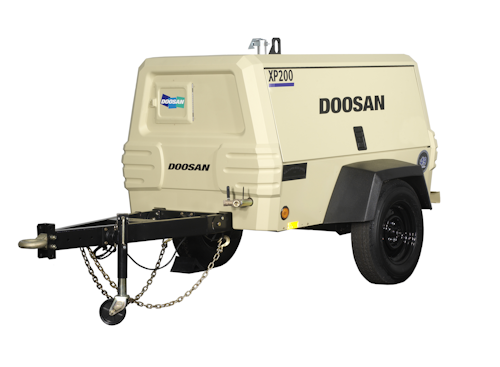 STATESVILLE, NC – Utility equipment: Doosan Portable Power is delivering a new power level in its air compressor lineup with the introduction of the Tier 4i-compliant XP200WJD. The new model produces 200 cfm at 125 psig, making it ideal for countless applications, including general construction, sandblasting, pneumatic tool operation and pipeline testing.
"Our customers' needs are constantly evolving, and our responsibility to best serve them is to ensure that we operate with a certain amount of flexibility, so that we answer those needs efficiently and effectively," said Juan Rubio, assistant product manager, air compressors, Doosan Portable Power. "Our customers have expressed a need for a model that delivers 200 cfm at 125 psig with the same productivity and reliability they receive from our P250 model -- so, we went to work."
The XP200WJD maximizes jobsite productivity with an eight-hour runtime at 100 percent load. Dependable even in extreme temperatures, the model boasts a three-degree limited ambient temperature improvement, delivering reliable performance in conditions up to 118°F.
Easy-to-access service points and simplified maintenance enhance machine lifetime. Pnuematic lift side doors provide easy access to service points -- from hoses to filters and fuel tanks -- while a rear panel simplifies heat exchanger cleaning. A spin-on oil separation system offers the industry's easiest maintenance, while an engine and airend diagnostic module provides operators with at-a-glance maintenance and servicing information.
The rugged design, easy transportability and flexibility to meet a multitude of applications also make the XP200WJD an ideal model for rental fleets. Jobsite efficiencies are gained with the industry's largest tool storage system that puts tools required within easy reach. A three-position, adjustable pintle eye accommodates a variety of vehicle hitches while a folding A-frame drawbar with heavy-duty safety chains allows for easy attachment and towing stability. Rugged terrain is managed with peace of mind, as heavy-duty, independent rubber-torsion suspension running gear and high ground clearance wheels reduce shock transfer to internal components. The model also comes standard with a corrosion-resistant steel enclosure.
The XP200WJD is powered by a Tier 4i-compliant John Deere engine, and includes a one-year, 2,000-hour bumper-to-bumper warranty; two-year, 4,000-hour engine warranty; and two-year, 4,000-hour airend warranty. An optional five-year, 10,000-hour extended powertrain warranty is available if genuine Doosan fluids and filters are used at recommended maintenance intervals.
Doosan Portable Power offers the industry's largest lineup of Tier 4i-compliant air compressors.
For more information about Doosan Portable Power or other products, click here to go to Utility Products' Buyers Guide.