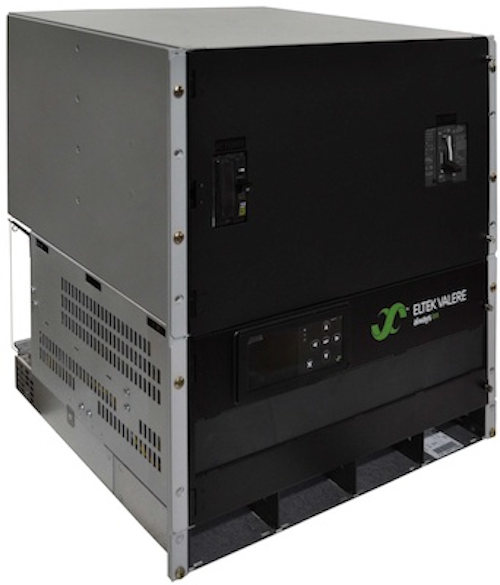 Eltek Valere has announced the Industrial Building Block (IBB) high efficiency (HE) DC power systems designed for high reliability 24VDC to 220VDC industrial applications such as power generation and distribution, railways, mining oil and gas extraction and others.

The new systems extend Eltek Valere's global industrial power system market leadership and mark the company's entry into the U.S. industrial power market. The IBB systems replace industrial battery chargers with a modular system that brings higher reliability and enhanced monitoring and control in a form factor that is compact, lighter and easier to install.

The core of the IBB is the Eltek Valere Flatpack2 HE wide output range (WOR) switch mode rectifier, an extension of the company's flagship rectifier that has sold more than 300,000 units worldwide. The rectifier features 94 percent power conversion efficiency for greener operation and lower power costs compared to the 85 percent to 90 percent efficiency offered by typical battery chargers.

"Managing power for reliability and efficiency is increasingly critical in industrial applications, and the IBB provides a true upgrade for the future by using next-generation power technology," said Lars Dousa, vice president of industrial power at Eltek Valere. "The modular design is a significant change that has many benefits ranging from reduced power waste and cost to rectifier redundancy to less weight for easier installation."

The Flatpack2 HE WOR achieves a mean time between failure (MTBF) of more than 300,000 hours, compared to the 100,000 hours MTBF commonly offered in battery chargers. Additionally, the IBB has N+1 redundancy through the use of multiple, plug-in rectifier modules that operate in parallel and share the load. The failure of any single rectifier has no effect on the overall load and mean-time-to repair can be less than five minutes.

The rectifiers also can be configured as DC-DC power converters to adapt 85V-300V DC power to 48V or 24V DC power, to power communications equipment without a separate power infrastructure.

The Smartpack2 controller is a key component of the system and delivers a wide range of remote battery monitoring and testing functionality that can simplify maintenance and ensure maximum battery life. The controller also has the processing capability to support existing interfaces to SCADA systems and the ability to be upgraded as new protocols emerge.

"Eltek Valere has a long history of worldwide market leadership in industrial power systems," said Alan Pitts, Eltek Valere's president for the Americas. "Now we have the features and the specifications to bring this advanced technology to new customers in the Americas. You can expect that the Americas market will become a significant part of our industrial power business in the future."

The IBB product line includes the IBB 250 and the IBB 500, systems that provide capacities up to 250A or 500A respectively. Both IBB models can be configured in cabinets that can also accommodate batteries, inverters, converters or load breakers into a complete system managed by the controller. The IBB 250 is also available in a rack-mount configuration.

The Eltek Valere IBB product line is available immediately from Eltek Valere's worldwide sales force and resellers. The Flatpack2 HE WOR meets the International Electrotechnical Commission (IEC) 61000-6-5 Electromagnetic Compatibility compliance standard for equipment installed in industrial power stations and medium and high voltage substations.

For more information about Eltek Valere or other DC power systems, click here to go to Utility Products' Buyers Guide.