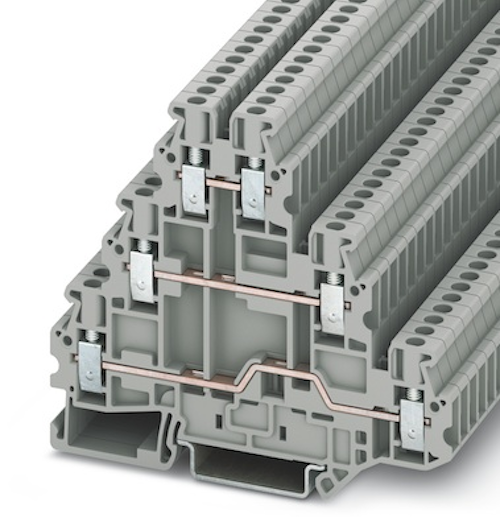 Middletown, Pa.—Phoenix Contact's UT series of screw-clamp terminal blocks now comes in a space-saving, three-level version. The UT 2.5-3L accepts solid, stranded or ferruled wires with 26-12 AWG.

Push-in bridging on each level saves space while distributing power. Vertical bridges electrically connect all three levels to one another. Each terminal point has a large labeling space for easy identification.

The UT 2.5-3L series features Phoenix Contact's Reakdyne screw-clamp design to prevent screws from backing out. Components are manufactured from corrosion-resistant copper alloy. This robust design makes the terminal blocks ideal for mission-critical applications.

UT 2.5-3L terminals have current ratings of 300 V at 20 A or 600 V at 5 A under UL file # E60425. These limited ratings are applicable for use in or with industrial control equipment where the load on any single circuit does not exceed 15 A at 51-150V; 10 A at 151-300V; or 5 A at 301-600V, or the maximum ampere rating, whichever is less.

The series is part of Phoenix Contact's CLIPLINE Complete system, which features standardized push-in bridging, marking and testing accessories for all connection technologies.

For more information about Phoenix Contact or other screw-clamp terminal blocks, click here to go to Utility Products' Buyers Guide.