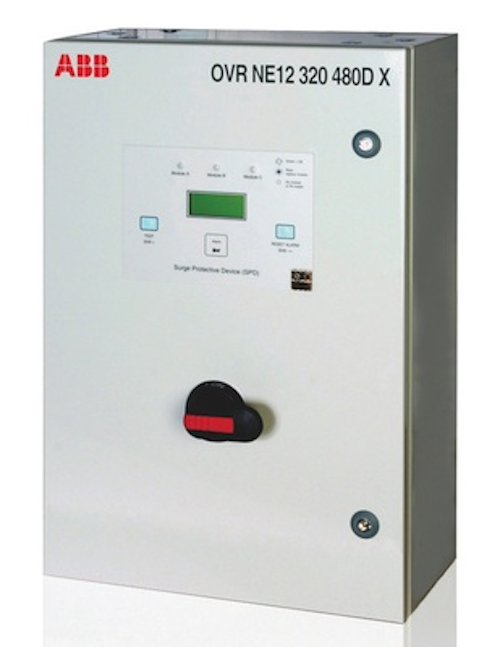 New Berlin, Wis.—The ABB Low Voltage Products division has released the OVR NE12 enclosed surge protective device (SPD), designed for a long service life protecting valuable equipment from damage caused by transient surges from lightening strikes, and surges from upstream equipment and utility load switching. The OVR NE 12 is a multistage protector with fast acting metal oxide varistors (MOV) and an EMI/RFI noise attenuation filter to limit overvoltage to values compatible with the sensitive equipment connected to the network. Extensive damage and expensive repairs can result from transient surges if surge protection is not present. The OVR NE12 is ideal for critical power facilities such as hospitals and data centers, renewable energy installations, water and wastewater systems, and other surge-sensitive manufacturing and commercial operations.

The OVR NE12 is a UL 1449 3rd Edition certified Type 2 SPD contained within a NEMA Type 12 enclosure, designed for installation indoors on the load side of the main breaker or fuse. The new SDP uses MOV technology to achieve a high level of protection performance and allows for ease of module replacement. Each OVR NE12 comes standard with status lights, alarm, auxiliary contacts, EMI filtering and a fused disconnect. An additional benefit is an optional surge counter/diagnostic LCD display that records the date and time of surges 2kA and above, in addition to providing enhanced information on unit status.

"The OVR NE12 enhances ABB's range of surge protection devices and builds upon our reputation of being a leading provider of high quality circuit protection products," said Jeff Disbrow, product manager of enclosures and DIN rail products at ABB.

The OVR NE12 is available in three service voltage versions - 240/120VAC Split Phase, 480VAC Delta, and 480Y/277VAC; and two protection levels - 160 and 320kA per phase (Imax). It is optimally used in addition to ABB OVR DIN rail SPDs at branch panels and equipment, creating a multi-level approach to protection.

For more information about ABB or other surge protection devices, click here to go to Utility Products' Buyers Guide.