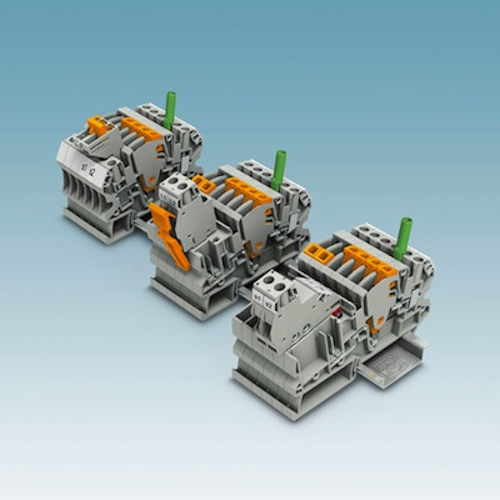 Middletown, Pa.—Phoenix Contact's newest test disconnect terminal blocks save space in the control cabinet while increasing safety and reducing assembly time. The UTME 4 series features pluggable COMBI connectors in a compact 4 mm2 profile.

The test disconnect blocks have short-circuit plugs for a "make first, break last" operation. This ensures the CT circuit is shorted out prior to test and measurement, preventing inadvertent actuation and improving safety for the system and its operators.

The series' narrow profile saves cabinet space, which is often at a premium in switchgear installations such as power generation. A screw-free knife disconnect lever makes it easy to see the position of the switch, and there are bridging channels on either side of the disconnect lever. The pluggable shorting component locks into a bridging channel.

The user can individually configure the necessary shorting, bridging, and test accessories required for power monitoring operations. To accommodate accessories, UTME 4 terminal blocks have bridging channels on both sides of the center disconnect section. These can be configured with shorting components, test plugs, and push-in FBS bridges from the CLIPLINE Complete line of accessories.

The UTME 4 series is rated at UL 300/600 V, 25/5 A, AWG # 26-10 and IEC 500 V, 28 A, AWG # 24-10.
For more information on Phoenix Contact or other test disconnect blocks information, click here to go to Buyers Guide.