Test and measurement: Voice/Data/Video cable tester line
Cable test equipment: Klein Tools expands is Voice/Data/Video cable tester line with the Commander Series. Cable testers include test, location, identification, measurement, PoE and reporting features.
Mar 21st, 2014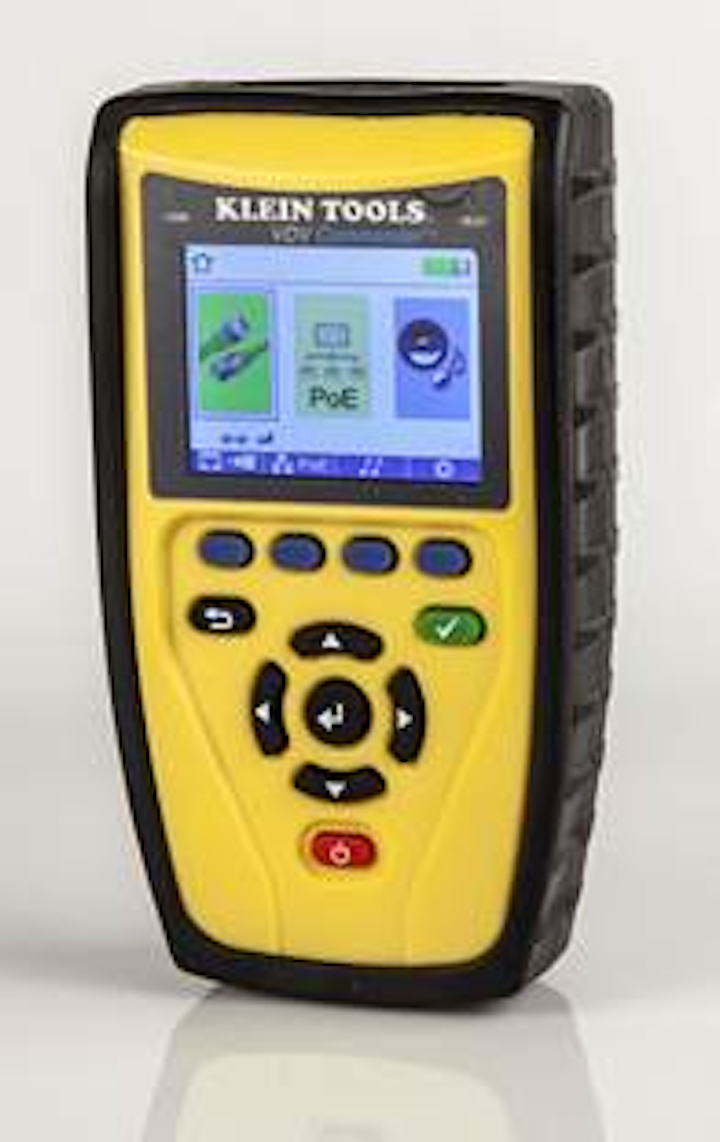 Test products: Klein Tools expands its Voice/Data/Video product line with its new full-featured Commander Series testers. This high-end product has extensive cable testing capabilities, TDR technology for distance to a fault measurement, Power over Ethernet (PoE) detection and testing, link status and capabilities, as well as report management functionality. With one tool, professionals can confidently determine the status of each wire in a data, PoE or communications/video system.
Klein Tools' Commander Series is made specifically for testing of coaxial, network or telephone cables. The Commander Series consists of two kits: The Commander Test Kit (VDV501-828) and the Commander Test & Tone Kit (VDV501-829). Product capabilities include:

• Test coaxial, data (RJ45) and telephone (RJ11) cables
o Identify wire faults including miswire, open, short, split-pair, reverse pair and verify shielding
o Wiremap - displayed in color per TIA-568A/B industry standard
• Measure cable length and distance to a fault with Time Domain Reflectometry (TDR) technology
• Detect, identify and test Power over Ethernet (PoE)
• Locate and identify cables with Location ID remotes for data and coaxial cables
• Test and identify location in one step with Test-n-Map ID Remote for data and telephone cables
• Identify a hub or switch or visually locate cable runs with Link Light
• Trace cables, wire pairs and individual conductor wires with Tone Generator (requires an analog tone tracing probe included in test & tone kit)
• Perform active network (Ethernet) testing ­ detect link speeds and capabilities
• Save, export and print up to 256 cable or network tests

For more information about Klein Tools or other products, click here to go to Utility Products' Buyers Guide.