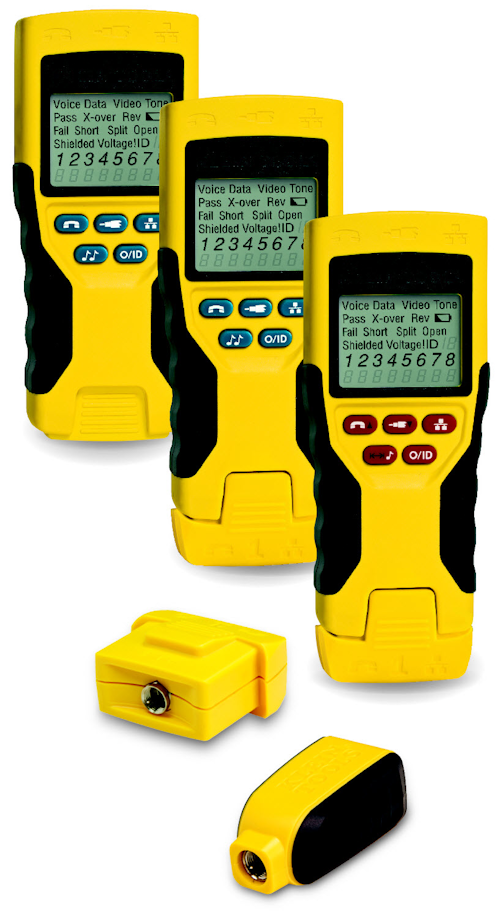 Test equipment: Klein Tools advances its Voice/Data/Video (VDV) product line by offering the new Scout® Pro 2 Series of cable testers. The Scout Pro 2 is a multi-functional tester that tests voice, data and video connections. It also locates cable runs with location ID remotes, supports multiple tones to decipher wires and can measure cable length to a fault, on a reel or in a box. Scout Pro 2 is compatible with Klein Tools' new Test-n-Map remotes which save time by testing, mapping and identifying a location in a single step. By utilizing the tester and remotes together, the Scout Pro 2 Series will reduce installation verification time by up to 50%.
The Scout® Pro 2 Series Cable Tester:
• Tests continuity on voice (RJ11/12), data (RJ45) and video (F-connector) connections
• Indicators include: miswires ­ wiremap, opens, shorts, split pairs
• Locates cable runs to wall outlets with location ID remotes
• Supports multiple tones and control of pins carrying tone with integrated tone generator
• Measures cable length in feet or meters (LT models only)
• Compatible with single-step Test-n-Map Remotes

Test-n-Map Remotes:
• Test, map and identify a location in a single step
• Cut testing and identification time in half
• Test and identify up to eight locations at once
• Compatible with all Scout® Pro 2 Series testers
• Compatible with Scout® Pro LT testers
For more information about Klein Tools or other products, click here to go to Utility Products' Buyers Guide.